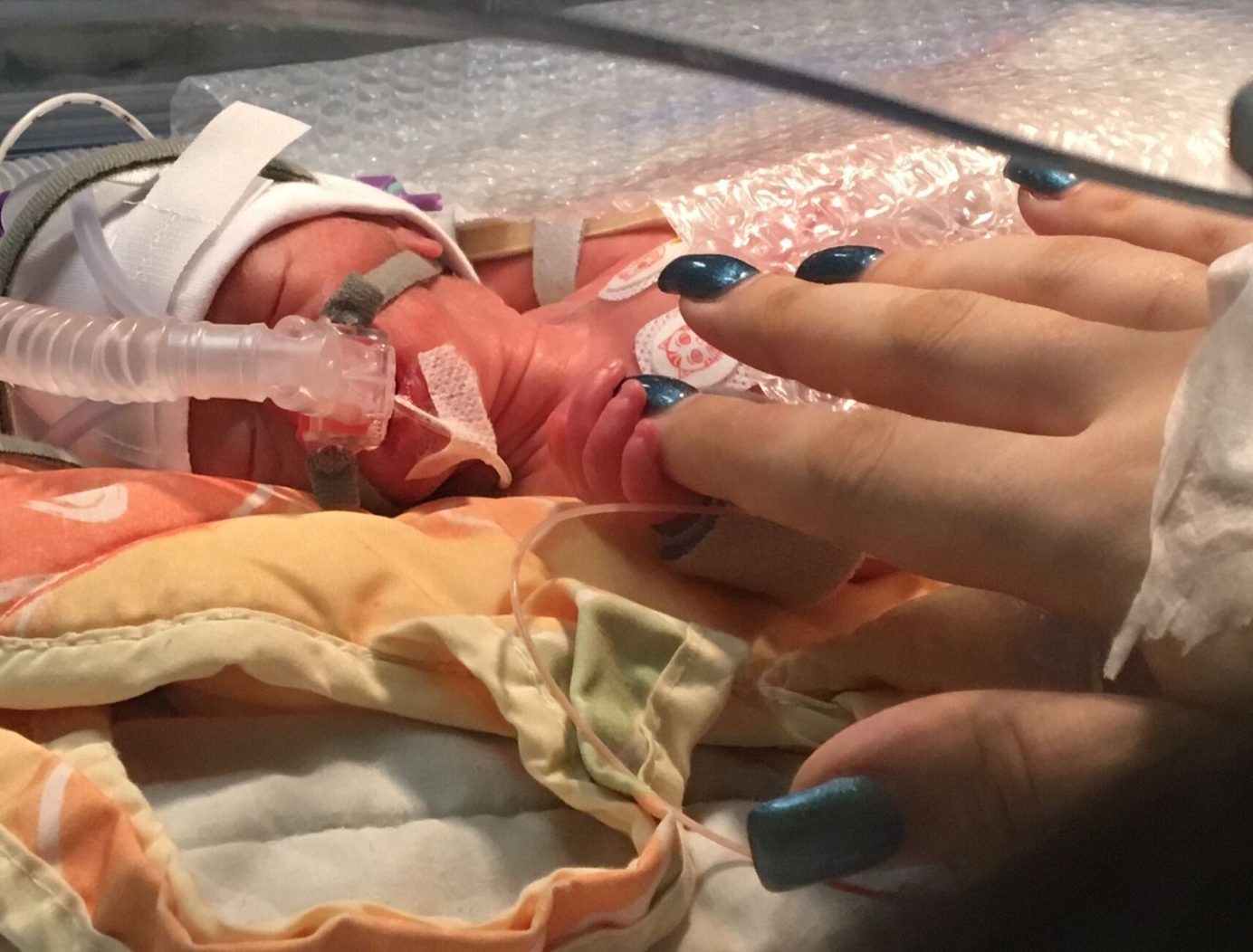 Grave Situation: 12 Weeks Early - Wren's Story
On 27 March 2018, I was suddenly rushed into hospital where I was told my baby would be delivered 12 weeks early. I had developed pre-eclampsia and HELLP syndrome, and needed an emergency caesarean section in order to save both myself and my baby, Wren.
Wren was born still in her amniotic sac weighing a tiny 822g. Initially, she was doing really well, needing very little respiratory support and was mostly in a stable condition. There were small hiccups in the first couple of weeks and she needed support for blood pressure, she had a bleed on the brain and a heart murmur. They suspected she had sepsis, but she was treated for this and was doing well.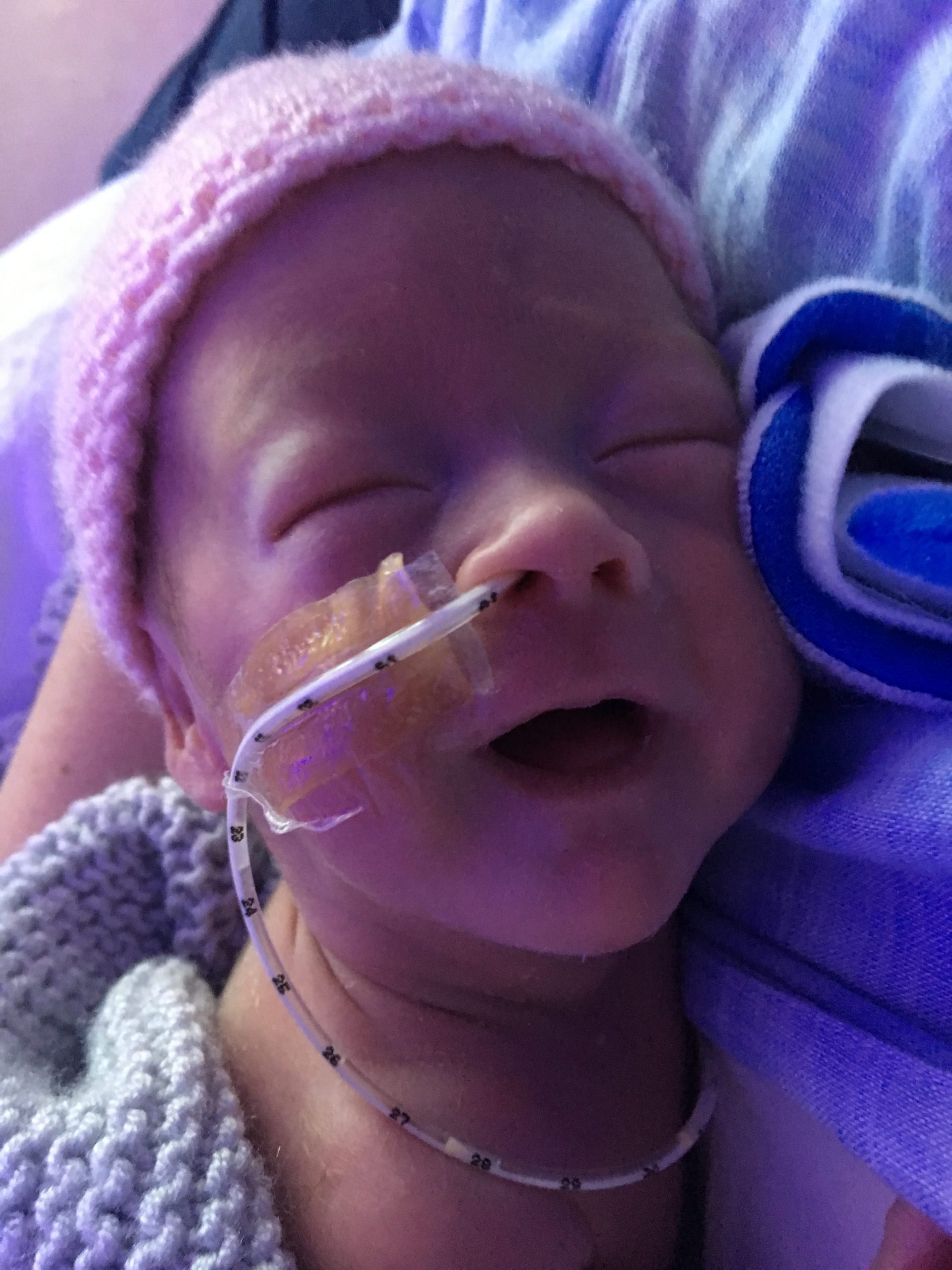 At just three and a half weeks old, Wren was transferred to our local hospital as we had moved house during the time she was in hospital and were quite a far distance from her. The transfer went well, but over the next few days, she began to rapidly deteriorate. She was given test after test, but nothing came back as conclusive.
One night, we received a terrifying call to say she had become extremely unwell, and that it was likely she would need an emergency transfer to the Trevor Mann Baby Unit (TMBU) in Brighton over an hour away. We had only been back in our local hospital for four days, and now we were heading to a specialist hospital and being admitted to the highest level NICU. They had diagnosed Wren with NEC, a serious intestinal illness.
"She was so small and vulnerable"
She was four weeks old when she was transferred to Brighton by a special neonatal ambulance, and weighed over just a kilogram. I just remember thinking, 'this can't be happening, why is this happening?'
We arrived at Brighton in the early hours of the morning, dazed and confused. We waited a further five hours for the team to stabilize Wren. We were told we were in a very grave situation, it was petrifying. She was so small and vulnerable, but luckily they felt she didn't need to go through any bowel surgery at that point.
It was during this agonising wait that we learned about the Ronald McDonald House. The nurses put in a referral, and by 2pm the same day we were checked in with a private space to gather our thoughts.
We were still in shock, and I look back and remember that I don't think I even took in the House when I first walked in. I don't even think I spoke.
"I Just remember when we closed our bedroom door, a sense of relief washed over me. We had somewhere we could go and just be alone."
We started to have hope that Wren was pulling through. She was improving, and the team looking after her were really honest with us about the situation. But only a few days after being admitted, we received yet another terrifying phone call. Wren was in her worst condition yet, and we needed to get to the hospital immediately.
"The Brighton House is just moments away from the ward, so we hurried down, not knowing what to expect."
The doctors told us that surgery was the only way to save her life, but it came with its own complications. How much of her bowel had died? What was the success rate after surgery? Thoughts were running wild through our minds, but we knew we needed to do anything to save our baby girl. The surgery was to take a minimum of four hours, so we thought the worse when we were told that two hours into the surgery, Wren was coming back on to the ward. We instantly thought there was nothing they could do and we would have to say goodbye to our little girl.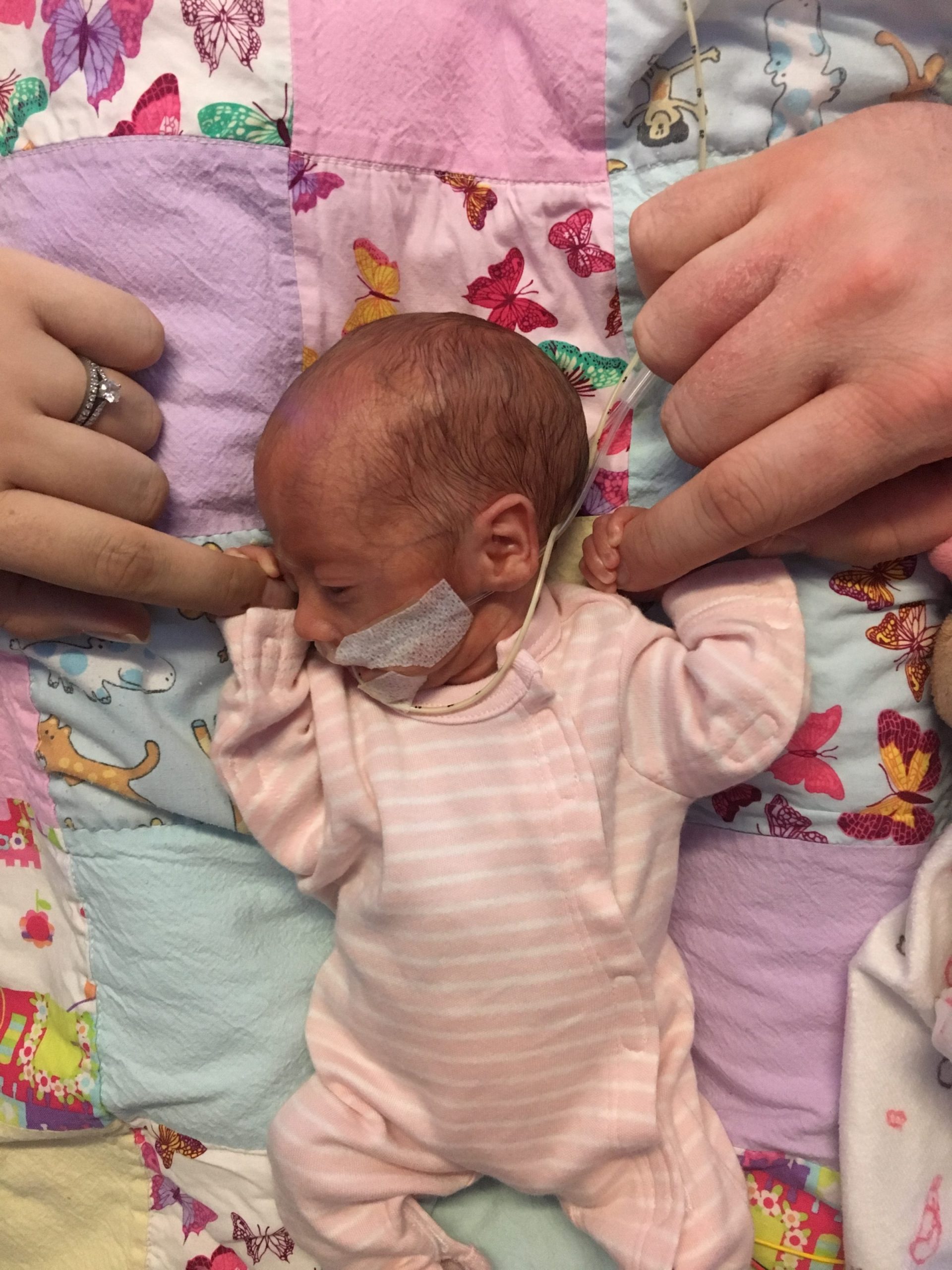 Unexpectedly, Wren's consultant came towards us smiling. He told us it wasn't NEC, and they were surprised to find that she was born with a band of tissue looping around two sections of her bowel. This is what had been causing her bowel to die off.
It was still a struggle to stabilise Wren and remove the dead bowel, but they were just happy it wasn't NEC as that meant her chances of recovery were much higher. Weirdly enough, none of this was related to her prematurity, it was just one of those medical anomalies, but we were so thankful that she was in the right place with the right team who acted and saved her life.
"Our little girl was finally coming home."
The weeks that followed were incredibly challenging and every day the situation could change. We had come so close to losing Wren that we took each day as it came and held on to any little positive step. She needed further surgery, and we didn't realise how difficult post-operation recovery would be.
She was in so much pain and because of the many blood tests, cannulas and procedures her veins were shot to pieces and couldn't replace her long-line (a line that gave her artificial nutrition from a vein in her leg to her heart). So the consultant took the risk and began to see if she could tolerate feeding, and to our amazement, she took to it with no bother!
She was moved to a special care nursery and prepared for discharge. Our little girl was finally coming home.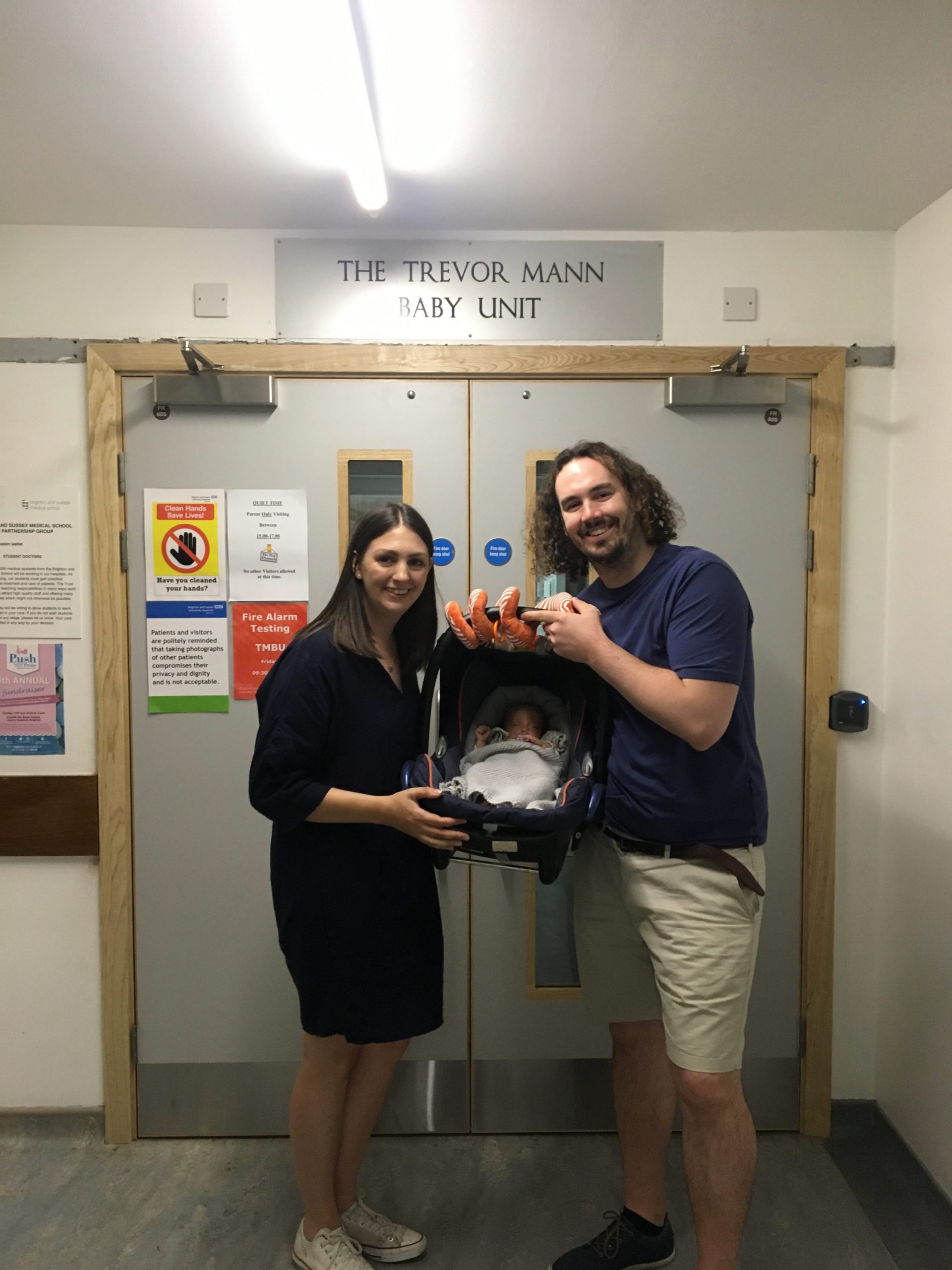 Through this journey, we were supported by Ronald McDonald House Charities UK who provided us with free family accommodation and all the facilities you would normally find in your home.
"It's a really supportive environment."
I spent a full ten weeks in Brighton and only went home three or four times. Being able to be a family and have everything we needed so we didn't have to travel anywhere else was crucial for us. My husband and I could just support each other and be there for Wren without any outside concerns. We focused purely on her, and that really pulled us through it.
I didn't realise how much it would mean having other families around us who were going through similar journeys. No one can quite understand the stress, worry and pain you are going through in those moments unless you have been living them yourself. Because of the communal living areas, you can tell who is having a bad day and whether they need space or a shoulder to cry on. It's a really supportive environment.
The other families, nurses and House staff all became our friends. They were familiar faces, and warm hugs after a long day. It was so nice how invested the House staff were in our situation. They really made us feel like part of a family. The staff take away that clinical feeling you have when you leave a hospital and they make it so homey. It's vital in the wellbeing of parents going through this.
"The House allowed me to be a mum"
I could be with Wren all day and not have to worry about travel, money or any other commitments. I could hold her, sing to her and cuddle her all day without thinking if I needed to get a new parking ticket, or how would I get home in the evening. I was post-C-section, so I couldn't drive for the first few weeks and relied on my husband. But with the House, I was just a walk away.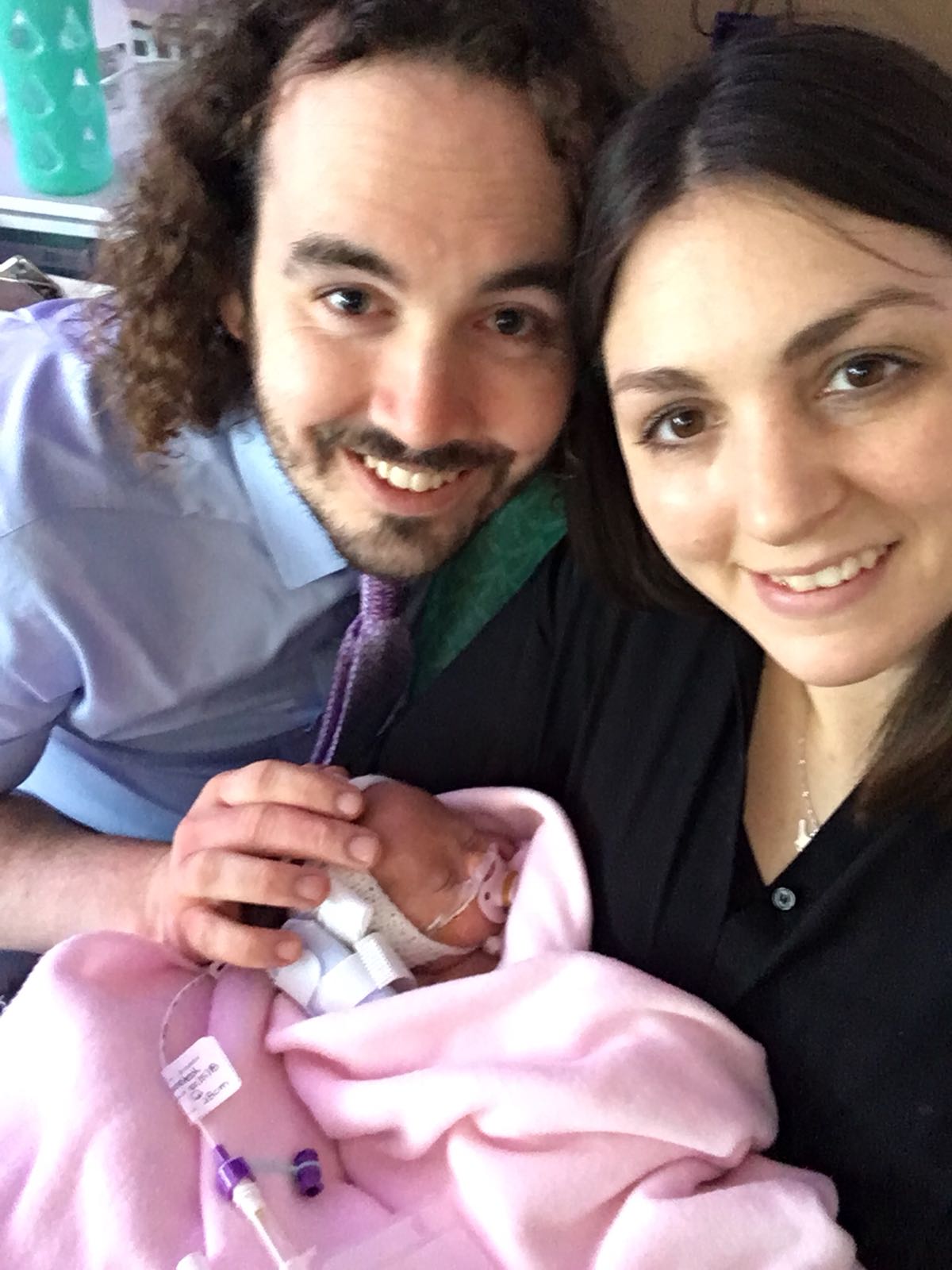 Being so close to Wren allowed our bond to grow naturally in such a clinical environment and artificial environment. I truly believe she was able to develop and heal because she had her parents there by her side, knowing she was loved and supported.
"I stayed as much as i could through the painful procedures, comforting her and encouraging her strength."
I think this is why she's such a cuddly baby! I was able to sit and cuddle her for hours on end. And, strangely, I almost see it as a privilege, because not many new mums would be able to sit and hold their child for hours and hours without having to tend to something else. The nurses handled all the medical bits, so we had uninterrupted time together and that was so special.
We unexpectedly left after seeing the consultant and being told we were ready to be discharged. I didn't have much time to process what was happening, and it was incredibly emotional saying goodbye to the staff and the other mums. In total, Wren had been in hospital for 14 weeks, ten of those in Brighton.
"Until you're in the situation, you can never imagine how vital the service this Charity offers is."
It's a lifeline for families during the worst time of their lives. It's that little bit of hope, comfort and support that stays with a family for the rest of their lives. Kindness and charity are so undervalued, but when it's needed, the level of appreciation is more than can be expressed.
The support Ronald McDonald House Charities UK offers reduces the burdens of travel and finances when families are faced with this situation. It gives them the opportunity to focus on their child and be where they need to be to help them heal. I wish no one had to be in that situation, but when they are all they want is a loving and safe environment, close to their child.
"By supporting this Charity, you are giving hope, a sense of normality, support and closeness to a parent and a child during a dark time."
I will never forget the people who supported us in the House, and for all those that donate after reading this – thank you. You are making more of a difference than you realise.
Help us provide free home away from home accommodation to support families with children in hospital with a donation.