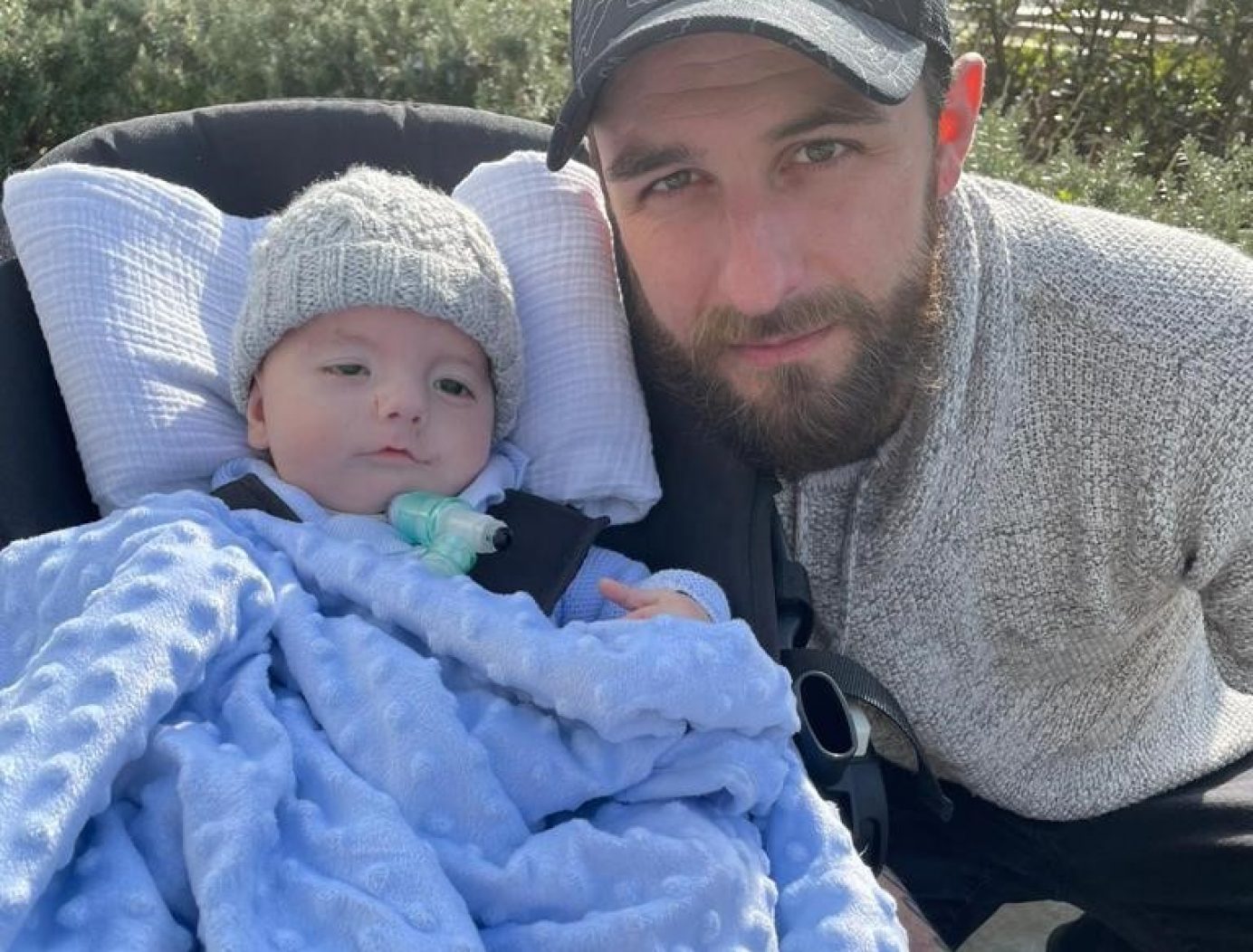 One Day at a Time: Teddy's story
Amber and I found out we were having a baby towards the end of March 2020, just as the Covid-19 lockdown had begun and radical changes were being made everywhere – especially at the hospital. It was explained to us both that only Amber would only be allowed to go to the 12-week scan towards the end of June. It was at this scan that our baby was showing to have increased fluid on his neck, which could indicate any number of issues.
At the 16-week scan, it was confirmed that Teddy had micrognathia (small chin) as well as clubbed feet. From Blackpool Hospital we were immediately referred Saint Mary's Hospital in Manchester and had a further scan at the Fetal Medicine Clinic the following day, who would monitor the pregnancy. We were asked at most appointments if we would like to end the pregnancy due to the potential problems that Teddy may have, although this was not an option for us.
Following this appointment, we needed to have follow up scans every three to four weeks and at some of these, it was explained to us that Teddy had stopped moving and that it may be part of the problems that he has. It was still unknown what was wrong with Teddy and what he could present with when he was born. We continued to hope that he would be fine and that the doctors had got it all wrong. It was explained to us on several occasions that Teddy may not survive birth and that we should be prepared for this eventuality – the health professionals that were present when Teddy was born had even been briefed that the baby they were about to deliver was unlikely to survive.
When Teddy arrived, he was not breathing. He was rushed into a side room to be ventilated, but this was not possible due to his jaw being locked shut. Doctors were also unable to get a tube down his throat or through his nose which meant he had to be rushed for a tracheostomy being just over an hour old. The doctors and consultants could not understand why Teddy was unable to breathe by himself and  explained to us both that we needed to take things one day at a time and hope that he would be able to begin to breathe for himself.
Due to all of Teddy's complications, we were unable to go home and be away from him. Ronald McDonald House Manchester were so fast at providing a bedroom for myself and Amber and we could not have been more relieved that we did not need to be far away from Teddy's side at any point during his journey. Over time, Teddy was diagnosed with moebius syndrome – a neurological condition that effects the cranial nerves controlling facial expressions, meaning Teddy is unable to show his emotions. He also presented with slight damage to his brain stem which was the reason he could not breathe independently.
When we first arrived at the Ronald McDonald House Manchester, we both felt nervous initially – mainly due to the impact of Covid-19 and all the restrictions. We did not know how things would work in the House or even if many families were able to stay there. However, our nerves were immediately suppressed as soon as we met the wonderful and welcoming staff, who showed genuine concern for Teddy and ourselves. As well as having such a positive impact on Teddy's recovery at the hospital with both his parents close by, having a bedroom at Ronald McDonald House Manchester has also had helped myself and Amber tremendously with our personal mental health. Knowing that in an emergency we can be just a few minutes away, instead of an hour from home, really helped put our minds at ease.
Thinking back on special moments during our stay at the Manchester House, I remember waking up on Christmas Day morning feeling that I could not make it such a special and magical day as I would have normally done if we were at home – it really got me feeling down leading up to the day. I remember opening the bedroom door to find a selection of wrapped Christmas presents for us all and the moment I saw the smile on Amber's face, I felt extremely thankful for all the amazing effort that the House had gone to make it memorable.
Teddy is still not ready to go home as we reach Father's Day, although he has now been moved to a ward and is no longer on the Intensive Care Unit. Teddy will spend his life on a ventilator but continues to show such amazing strength every day. We are now working our way towards our home being ready to welcome Teddy into it and we will forever be grateful for the doctors, nurses, consultants and Ronald McDonald House for doing everything for us as a family to keep us together and supporting Teddy through his hospital journey.
Help us provide free home away from home accommodation to support families with children in hospital with a donation.