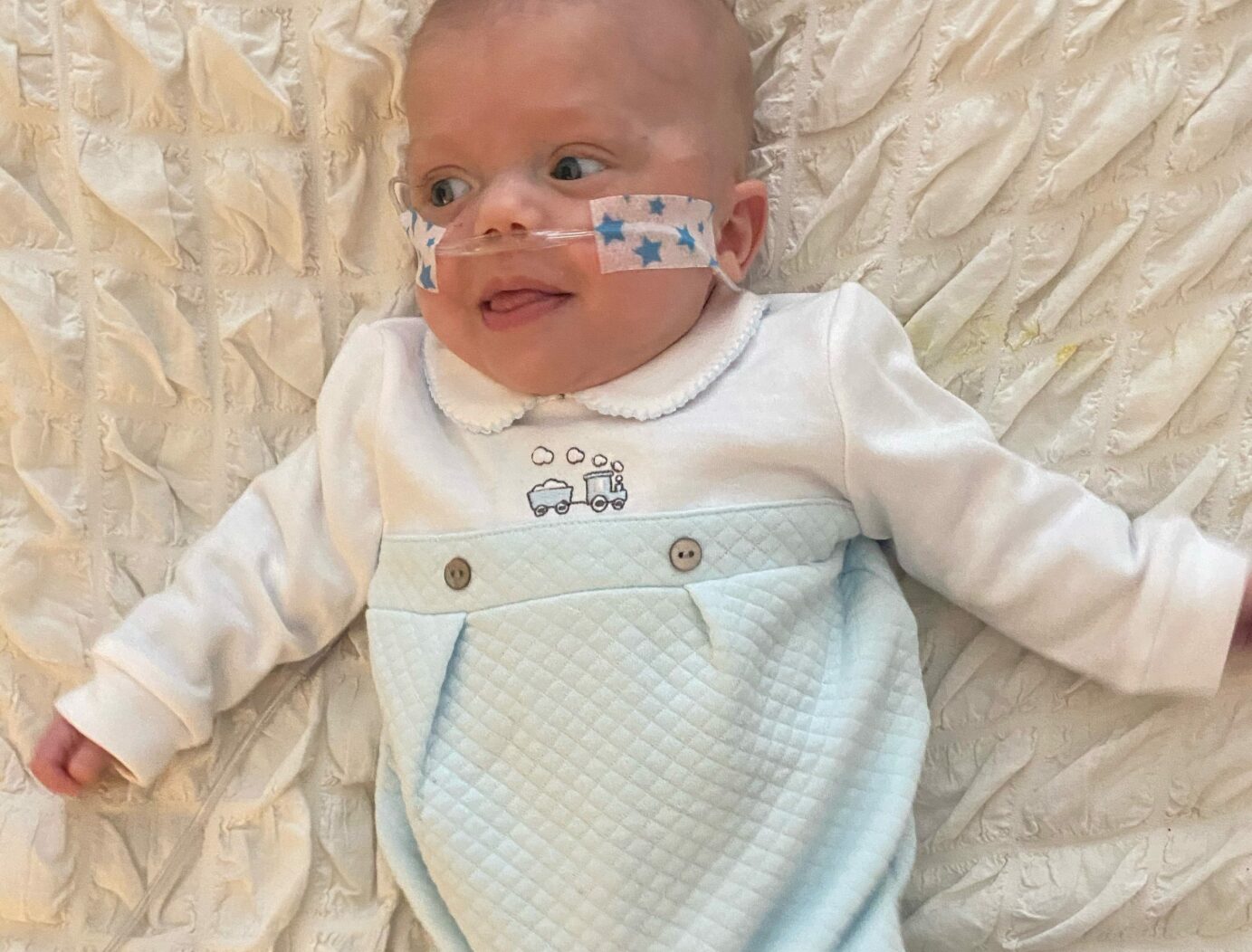 Finally Home: Tommy's story
Tommy was born 16 weeks before his due date at our local hospital in Kent. At seven days old, doctors noticed he had a perforation in his bowel and told us he would need urgent surgery as he was septic, so we were rushed to the Trevor Mann Baby Unit (TMBU) in Brighton. My husband, Craig, and I were still in a state of shock from his early arrival and at that moment, we didn't realise the extent of medical attention and care that he would need – until we arrived in Brighton.
Tommy underwent emergency surgery, having three centimetres of his bowel removed and a stoma created. Other than our tiny baby having surgery when he was so small and fragile, our biggest concern was where we were going to stay. All we knew is that we were two hours from home, and we wouldn't be going back for some time. Our initial instinct would have been to get a hotel but Covid obviously removed all possibilities of that. Craig drove his van to Brighton, with a pull-out bed in the back, and we had every intention of sleeping in it to save us travelling to and from hospital twice a day.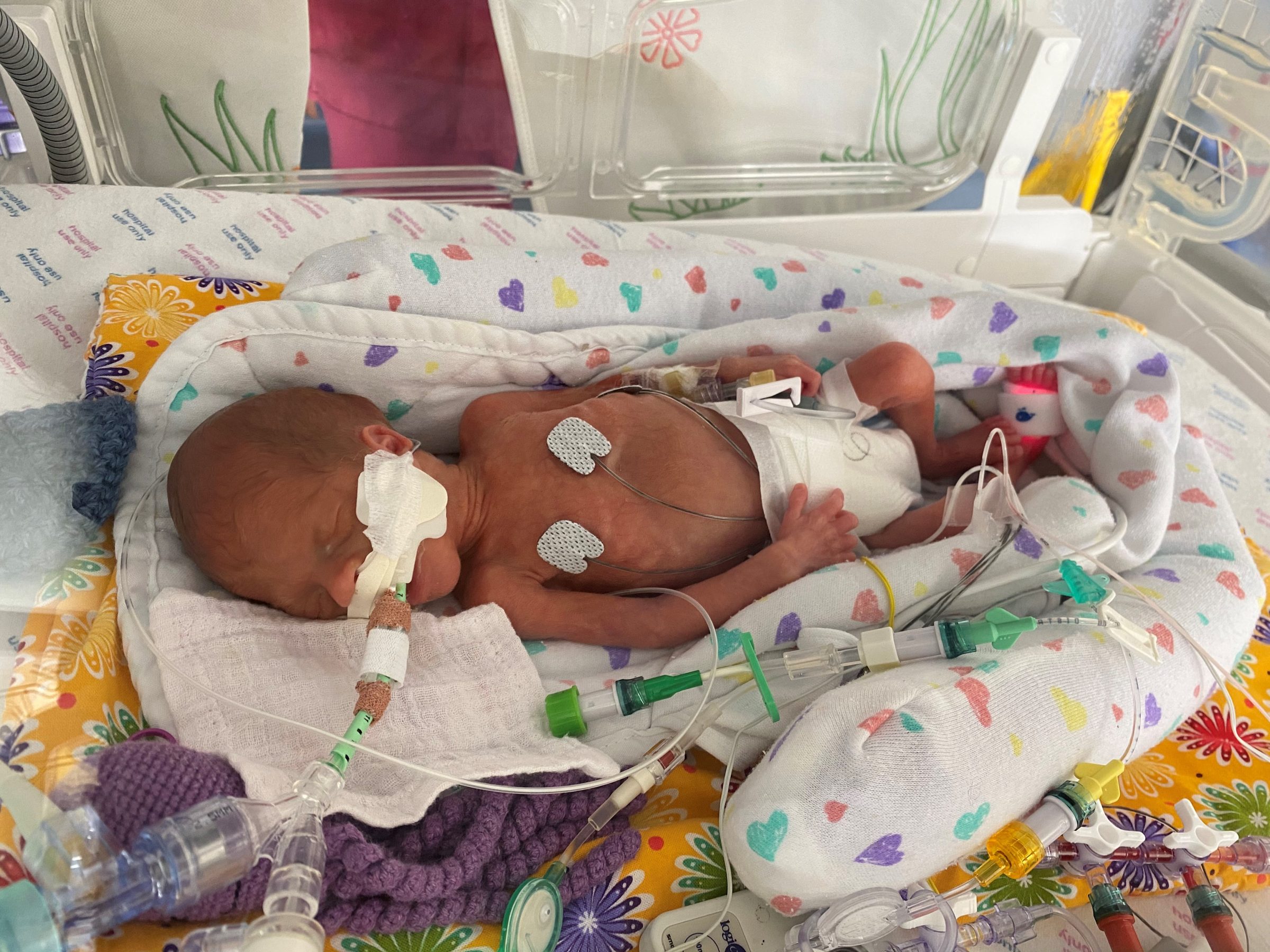 It never really resonates with you what Ronald McDonald House Charities is, until you are in that situation. Walking into the Brighton House for the first time was surreal and very emotional.
The level of relief you feel is insane. We were elated to have somewhere to stay for as long as we needed it but the emotions that hit you… it's just an indescribable feeling.
As grateful as we were for the room, we were suddenly 'those people' – parents of a sick child, desperately relying on a charity for their help. However, 'help' does not come close to explaining what the House actually provides. After a whirlwind week, I hadn't thought much of cooking, washing my hair or sleeping if I'm entirely honest, and then here was this sanctuary being offered to us, for free. Everything we needed was right there, and all just a couple of minutes away from our son.
You walk into this House and just think 'Oh my goodness'. No words can describe how that feels, but suddenly the boxes in McDonald's and the adverts we had seen on TV all made sense.
Two weeks after Tommy's stoma surgery, it was evident that it hadn't worked, so he had to go for a second surgery to have another stoma created. During this procedure, doctors discovered that his small intestine had been dragged across his colon and had fused to it, which led to another seven centimetres of his bowel being removed.
We stayed in hospital for just over five months, most of which was in Brighton, but we also were lucky enough to be able to use Ronald McDonald House Southampton for a couple of days when Tommy had to have PDA (Patent ductus arteriosus) surgery. This surgery was to mend an open duct in his heart that did not close after birth like it was supposed to.
Those five months were a blur as our little boy endured so much. He'd already had three surgeries, had a grade one IVH (Intraventricular haemorrhage) bleed on his brain. He had two separate occasions of having sepsis and had developed grade three ROP (Retinopathy of prematurity) in both eyes – which meant having to undergo two lots of laser eye surgery within a week of each other to save his eyesight.
He had a major stoma prolapse, which had shut off some of the blood flow and caused part of his bowel to die, and was rushed into surgery for an emergency reversal. After this, a total of 20cm of Tommy's bowel had been removed since he had been born. Luckily, his second stoma surgery worked. It was a very close call as the hospital team doubted that he would be strong enough to survive a third surgery.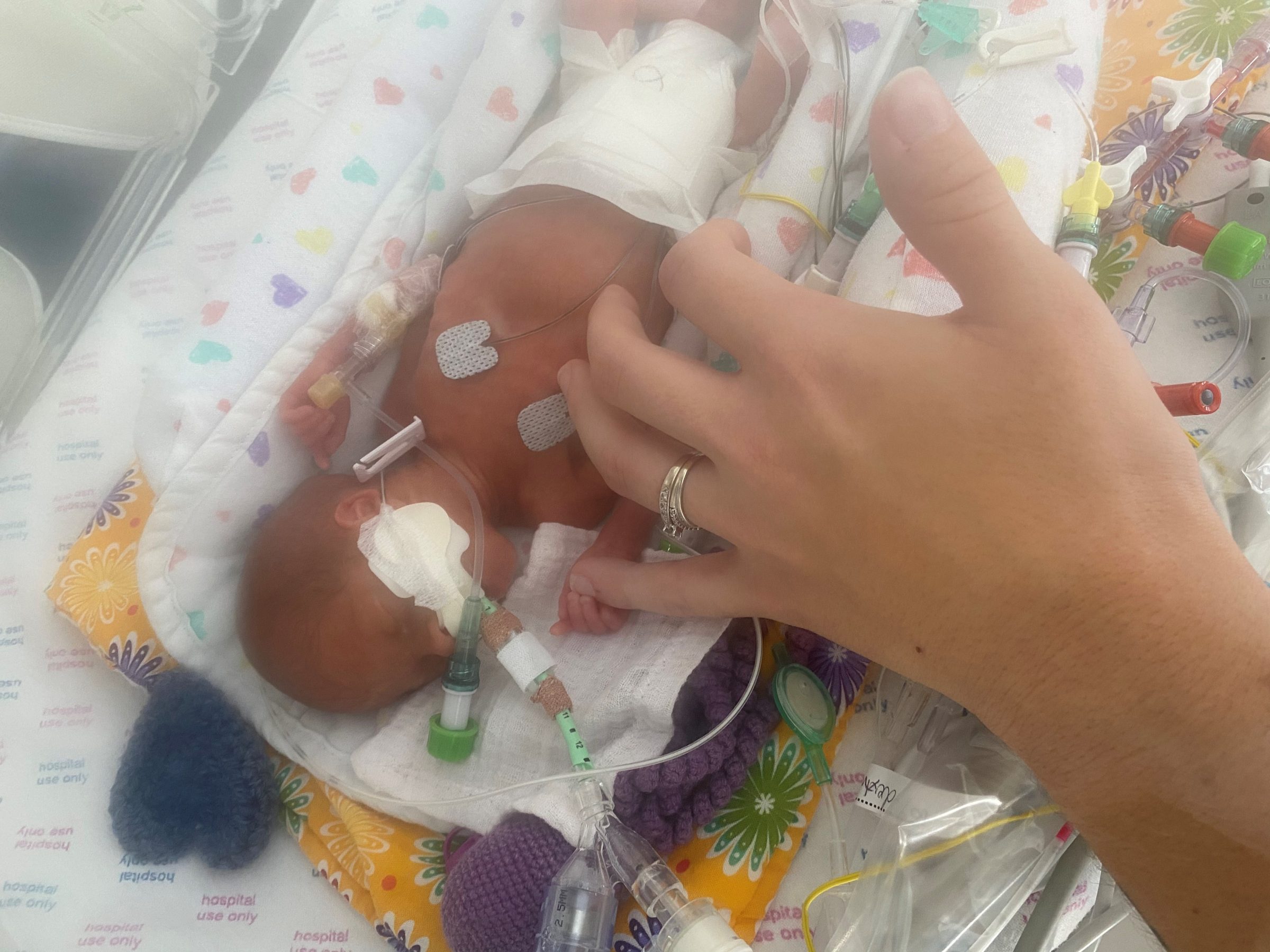 Things slowly started to seem like they were getting better and, before long, we were transferred back to our local hospital in Kent. Tommy seemed to be doing well and was starting to get a bit stronger. But after just ten days he got incredibly sick and we were rushed straight back to Brighton.
Tommy was so poorly; he became septic for the third time and lost over 300ml of blood due to a haemorrhage. He had no usable veins left because they'd been worn out, so he had to have a surgical longline put in just so we could feed him.
The only slight relief we had is that we knew we had the Ronald McDonald House.
Everything had been going so well and was then turned upside down – I think Craig and I were almost at our emotional limit. The support the House team gave us was incredible and meant so much.
We could never visit Tommy together because of Covid, and without the House it would have been so tough without anywhere else to go. Knowing that we could get to each other within two minutes was very reassuring. There were so many times Tommy became critical within the hour; you do not realise how much you rely on being close to each other for support.
I genuinely believe that being close to Tommy had a positive impact on his recovery. I sat with him for 10-12 hours a day which, although it probably wasn't 'healthy' for me, was how I dealt with everything going on. I knew every inch of Tommy's medical history, which meant I was able to make changes and decisions in his premature development and I had a lot of involvement in decisions to do with his care. He came on leaps and bounds and I truly believe having us close to him helped – he started to improve dramatically, and we were able to go back to our local hospital.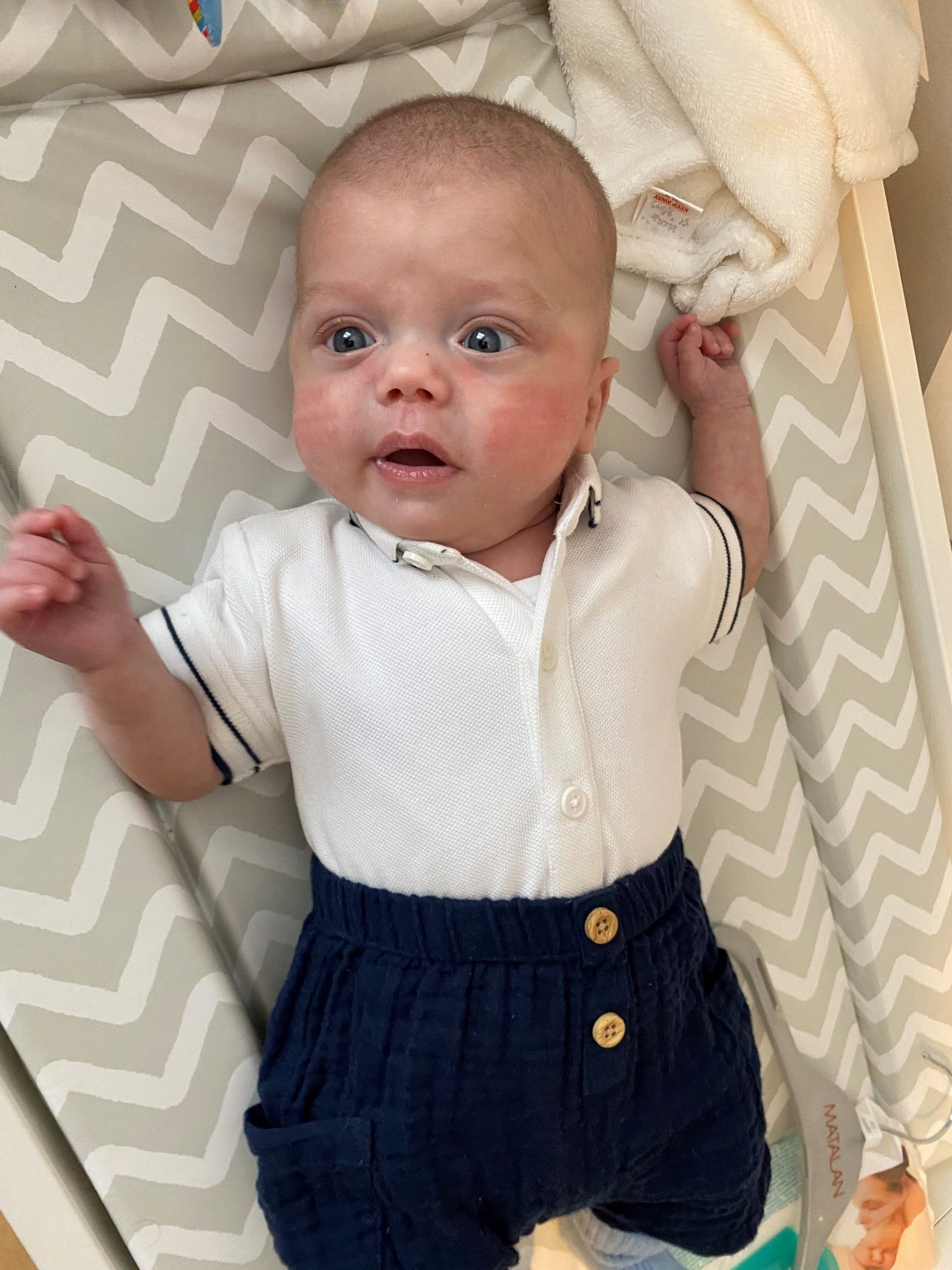 It was really emotional leaving the House. I felt like a part of my life had finished. It sounds stupid because it was awful, but I was going to miss the nurses and House staff, and the routine I had going. Everyone wants to go home, but I had built a life there for almost six months which, at the time, I simply hadn't envisioned ending. Speaking to the same people day-in-day-out and then just not having them in your life anymore is quite a hard thing to come to terms with.
After 170 days, Tommy was discharged from hospital.
We are so thrilled to have our boy home and he is doing so well.
One of the biggest milestones in the weeks he's been home is that he has started smiling! Babies normally start mimicking what they see at around eight weeks old, which is when they would normally start copying the smiling faces of their parents. Tommy spent over five months in hospital during a global pandemic and had never seen a human face without a mask on. It is such a small thing, but it means so much.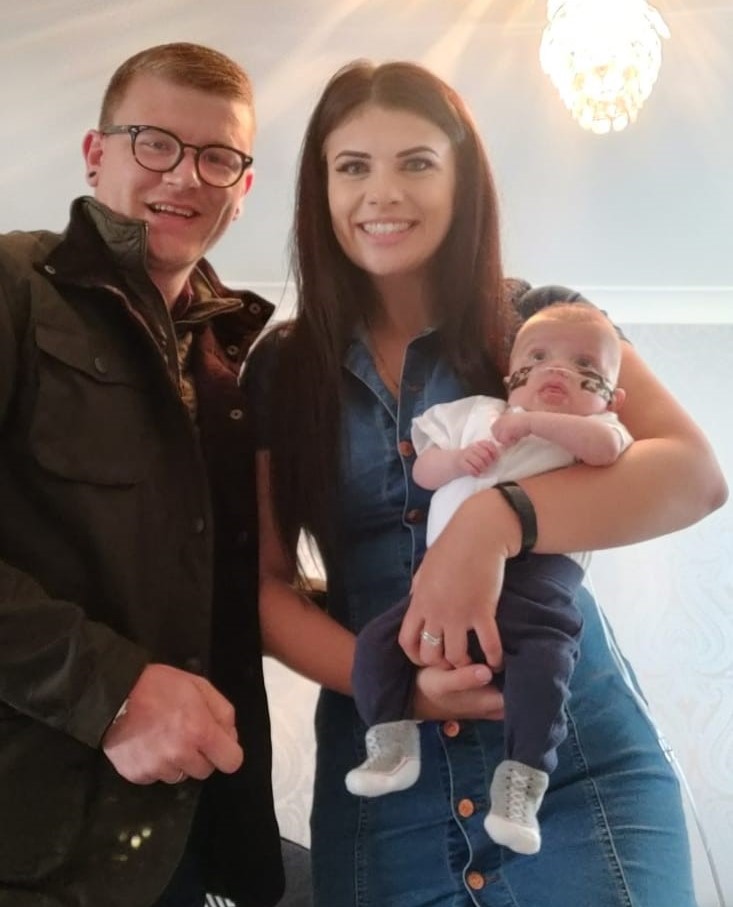 Help us provide free home away from home accommodation to support families with children in hospital with a donation.