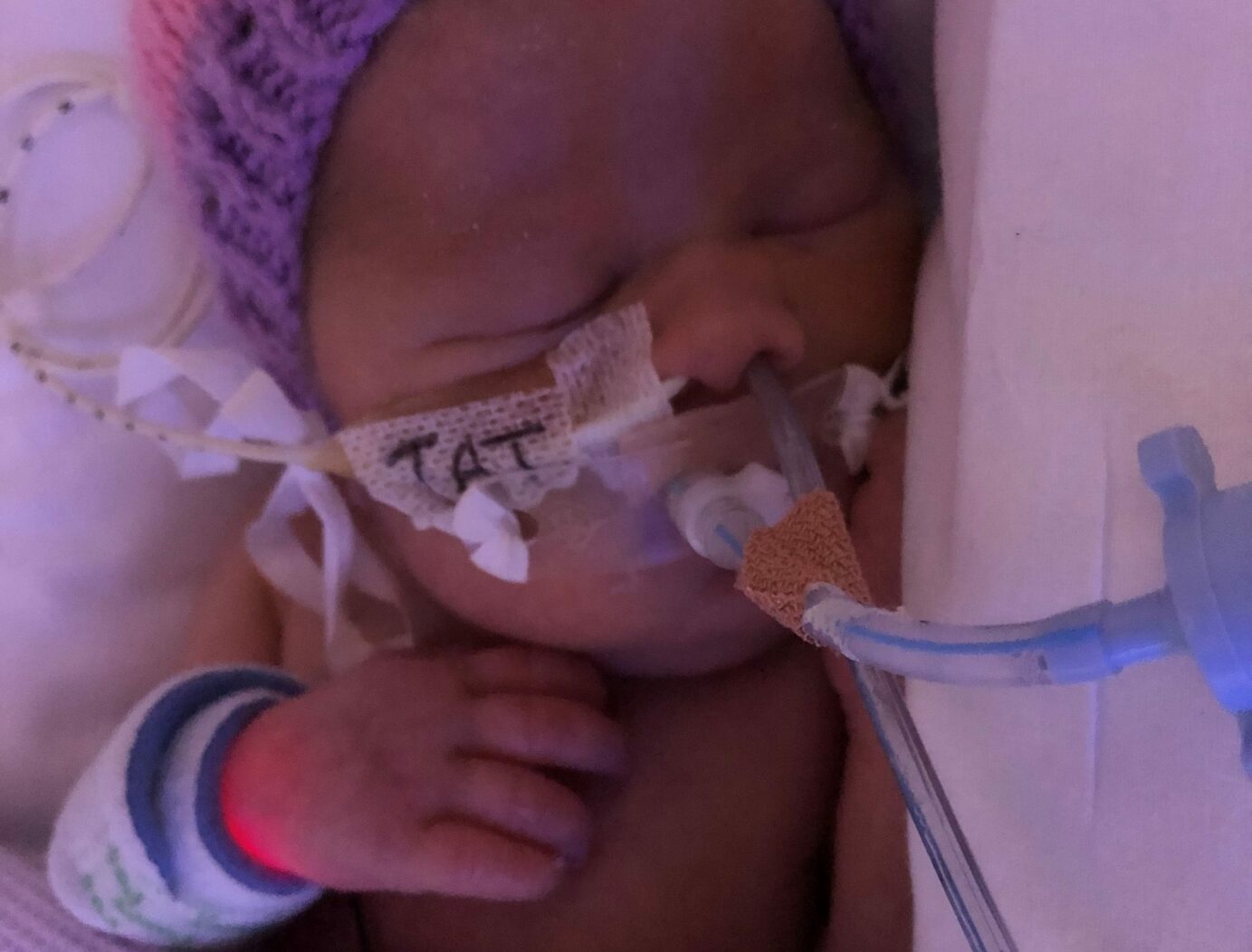 A Difficult Start: Quinn's story
Seven weeks before her due date, Sarah and her partner, Chris, were given news they never expected; their baby would likely be born prematurely. A scan had revealed a potential problem with the baby's stomach, called Duodenal Atresia. They were informed that a neonatal team would be on standby at the birth, ready to take care of the baby.
Sarah and Chris were sent home, but returned to the hospital eight days later. Due to the COVID-19 pandemic, partners were not allowed into the hospital until mum went to the delivery suite. Their daughter, Quinn, was born later that night, but their joy soon turned to worry.
"We got to see her briefly, but she was quickly whisked away by the neonatal team," said dad, Chris. "The X-rays were completed as planned, but unfortunately the doctors found further anomalies with Quinn's oesophagus."
It was decided that Quinn would be urgently transported to St Mary's Hospital in Manchester, as only they had the required equipment and skill set to help Quinn's complicated condition.
After a long consultation with the surgeons, doctors and nurses at St Mary's, Chris and Sarah were told that Quinn would be taken to theatre as soon as possible to repair her bowel and join her oesophagus back up. Given the fact that Quinn was just a few hours old and seven weeks premature, this extensive surgery put her life at significant risk.
"We were, as any parents would be, completely devastated. We had not prepared for this at all, as neither our 12- or 20-week scan had shown any issues. It was a major shock to the system."
As they waited on news from the theatre, Chris and Sarah settled into a room on the intensive care ward. They had been told the surgery would take between five and six hours – it ended up taking 12.
Although the surgery went as well as it could, a further heart defect was discovered during a routine scan, meaning Quinn would need further surgery down the line.
"We stayed by Quinn's incubator day and night, hoping she would recover from her surgeries under the supervision of the intensive care doctors and nurses. We were told after two nights that the parent room we were using would be required by another couple, so we needed to vacate it. We were still in a state of shock, so making any practical decisions about where we would go seemed daunting."
To their relief, one of the nurses mentioned that the Ronald McDonald House Manchester could be a possible option for accommodation. The nurse put in a referral, and they were given a room at the House that same day.
"Given the demand for rooms, we felt extremely lucky to get one. The staff at the hospital had nothing but good things to say about the House, so we were confident it would be an ideal base for us."
Chris and Sarah have now spent almost a month living at Ronald McDonald House Manchester, and while little Quinn is making progress, she still has a ways to go – she requires a further operation on her heart which will need to be addressed at Alder Hey Children's Hospital in Liverpool.
For now, Chris and Sarah are grateful to be staying close to their youngest daughter: "It's been vital for us to be close to Quinn – it's essential for her chances of recovery. Ronald McDonald House Manchester has given so much support to us and countless other families in need, during the most testing and at times heart-wrenching experience of our lives. I would urge you to do whatever you can to support this Charity."
No block selected.Open publish panel
Help us provide free home away from home accommodation to support families with children in hospital with a donation.