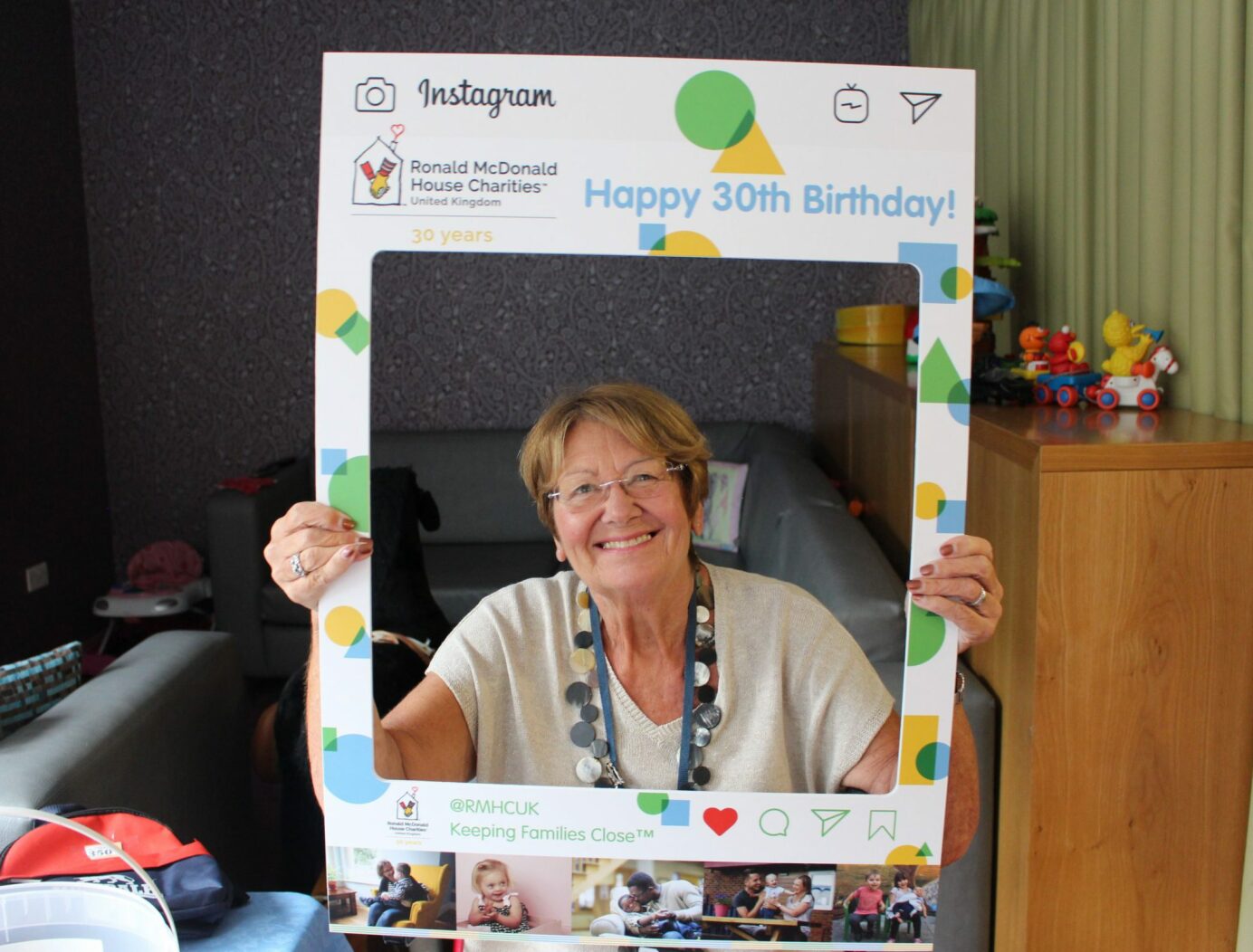 Volunteers Week | Three Cheers for Bridget
"I loved my job, and found it to be both rewarding and challenging. I liked the unpredictability of never knowing what the day would bring. I loved being part of a team, and of course the interaction with not only the children, but the whole family."
Bridget is one of our fabulous, long-standing volunteers at Ronald McDonald House Manchester. Unless she's on holiday, Bridget visits us every Tuesday with a big smile on her face and a willingness to help. She is the Queen of Lucky Dip; selecting treats and wrapping them up ready for the children to come and spend their pocket money. The parents also love buying them as a special treat to take over to their poorly child just moments away in Royal Manchester Children's Hospital.
Bridget is such a gentle and caring person and is always asking how people are and what they've been up to; she is very well thought of within our team. Bridget is also great fun and will regularly volunteer at our House events, and doesn't shy away from a bit of fancy dress!
It's not just in recent years that Bridget has enjoyed helping people, she worked as Paediatric Nurse for over 40 years, the majority of which were spent on a very busy 30-bed children's ward.
Bridget said "I loved my job, and found it to be both rewarding and challenging. I liked the unpredictability of never knowing what the day would bring. I loved being part of a team, and of course the interaction with not only the children, but the whole family."
Despite a long and successful career, when it came to retiring Bridget wasn't ready to completely stop work and volunteering at Ronald McDonald House Manchester felt like the perfect next step. "Having spent all my working life with sick children and their families, I know first-hand how important it is for the recovery of the child, to have the close support of not only their parents, but also their siblings. The Charity offers a true home away from home environment for all concerned which is an invaluable service. It offers some sense of normality and is one step removed from life in the hospital."
We're very lucky to have Bridget's experience and expertise as a former nurse. It's great how she fully understands the impact of our work and the importance of our Houses that accommodate over 6,000 families each year.
2020 is International Year of the Nurse and Midwife. It is a time to reflect on the skills of these medical professionals, the commitment and expert clinical care they bring, and the impact they make on the lives of so many. This year is also an opportunity to say thank you. We want to say thank you to Bridget, not only for her incredible length of service to nursing but for being such a special part of our Manchester team.
Help us provide free home away from home accommodation to support families with children in hospital with a donation.