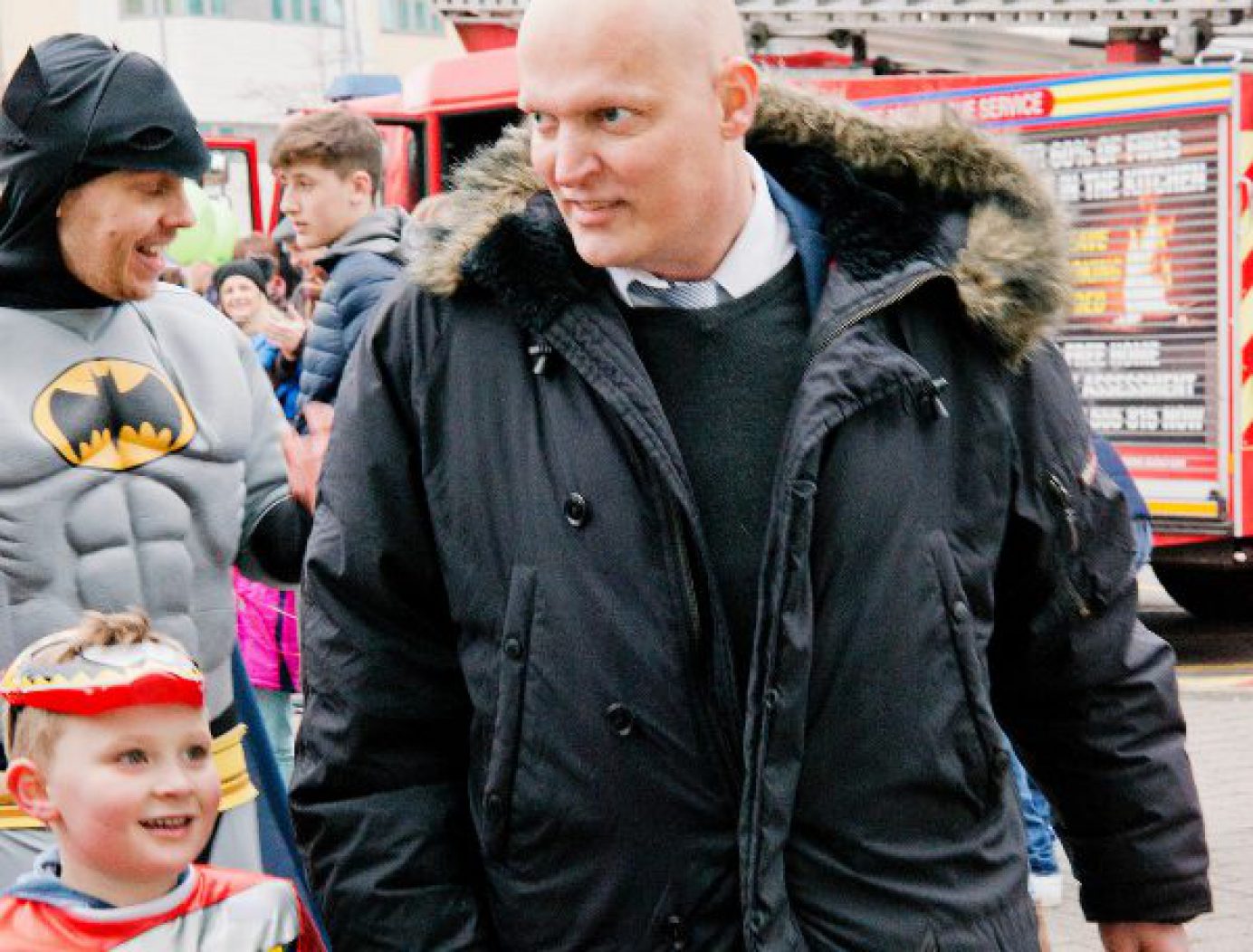 We are deeply saddened to hear that our friend Steve Burne passed away on 4 October 2018, after being diagnosed with terminal cancer in 2017.
Steve was a passionate supporter of Ronald McDonald House Charities UK and a true believer in caring for families with sick children receiving treatment in hospital. As a proud Mancunian and a well-respected figure in the Manchester property industry, it was only natural that he would be involved with Ronald McDonald House Manchester when it opened in 2012. Whether it was designing the building with the firm he founded, AEW Architects, or attending events, or providing support for staff, his dedication was outstanding.
On being diagnosed with terminal cancer, Steve wanted to leave a lasting legacy for his family and the families helped by the charity he loved. He challenged his friends, his community and the Manchester property industry to raise £250,000 to convert living spaces at the Manchester House into five new family rooms. Thanks to the passion and dedication of this incredible man, the amount raised has reached over £400,000 in only nine months and has made the 'Steve Burne Rooms' project possible.
The 'Steve Burne Rooms' will be Steve's legacy, enriching the stay of families who stay at Ronald McDonald House Manchester. Three of the five new rooms will provide more space, compared to standard bedrooms, for families who are away from home for a long time. Where a child is well enough to leave the hospital ward for short periods, these rooms will enable them to stay on occasion with their family in the House; a welcome break for a child who spends all their time on the hospital ward.
Even during his difficult cancer treatment, Steve still had the time and thoughtfulness to visit the House on a regular basis and to support the team. It is a mark of his selflessness that Steve drew a parallel between his own treatment and the struggles of our families. He said, "When I was in a coma after my cardiac arrests, my boys would virtually camp out in the hospital, to make sure they were near me. When I came out of the coma, I thought about the families that we have in our House and whether we could do more? Even as an adult, I needed my family around me, so to think about children feeling alone, or parents not being near their child is devastating."
We would like to extend our condolences to Steve's family and share some words from the team at Ronald McDonald House Charities in honour of this inspirational man.
"Steve was an inspiration. His passion to help others and make a difference to their lives was extraordinary. It became even stronger when he became ill, and he has left us all with a legacy of positivity and achievement that we must live up to."
JON HAWARD, EXECUTIVE DIRECTOR, RONALD MCDONALD HOUSE CHARITIES
"Steve has been a big part of our team here at the Manchester House for many years, and I know I speak for everyone when I say he will be hugely missed. His determination to help us support families with a child in hospital was outstanding and he always put their needs first. The exceptional fundraising that has funded the new Steve Burne Rooms will be something that we will forever be grateful for as it means we can support even more families from the Royal Manchester Children's Hospital and St Mary's Neonatal Unit, something he was so passionate about. We will never forget his courage, passion and selflessness and more importantly our friendship with him."
MIKE FAIRLEY, MANCHESTER HOUSE MANAGER
"Thank you for all the love, care and interest you showed to our Charity, the Manchester House team and all our families. We will miss you so much but you will always be a special part of our House."
SALLY CANNON, MANCHESTER DEPUTY HOUSE MANAGER
"Sometimes, in our daily lives, we meet someone that we know will be able to make a difference – Steve was one of those people. From the first time I met him, I realised that, as a family man himself, he had an instant rapport with the families we try to support – put simply, he just "got" it! He has been a colleague, advisor, mentor, sounding board, and, more importantly, my friend, for many years – I will miss him terribly, and my heart goes out to his family at this sad time."
ANNE WARD, HEAD OF PROJECT DEVELOPMENT
"Steve understood that supporting our Charity meant more than raising vital funds and awareness, which he did tirelessly, but he absolutely understood and championed our desire to provide family centred care, spending so much of his time at our Manchester House, having a cuppa with our families, attending events and building friendships with our families… Steve always went that extra mile, he took the time to get to know all the staff at the House making sure he was on hand should he ever be needed.
On a personal note, Steve has always been an amazing support to me over the years and I felt honoured when he needed support to be there for him. Over the last eighteen months, we worked so closely together to realise his legacy of providing much-needed accommodation for even more families.
It was an absolute privilege to be part of this and build friendships with Steve's family and friends."
JO WILKINSON, NORTHERN OPERATIONS AND DEVELOPMENT CONSULTANT
"I was proud and privileged to be Steve's friend, he was fun to be around, either in a business meeting or on a night out. He was so intelligent and could articulate in only his unique way. My abiding memory will always be when "The 4 Amigos! (Steve, myself, Jamie and Roger) cycled across Vietnam in aid of the Charity along with a team of other supporters. I read Steve's blog from that trip on a regular basis and again more recently when I heard of his passing, it brings a smile to my face when I reminisce of those good times and I am sure that's the way Steve would want it. Whilst my thoughts go out to Steve's family at this sad time, they should be immensely proud of the incredible superhero he was."
TONY MORTON, HEAD OF INCOME GENERATION
"Steve you are a legend and will forever be in our hearts, thank you for everything."
ANNA BULLOCK, SENIOR REGIONAL FUNDRAISER
Help us provide free home away from home accommodation to support families with children in hospital with a donation.