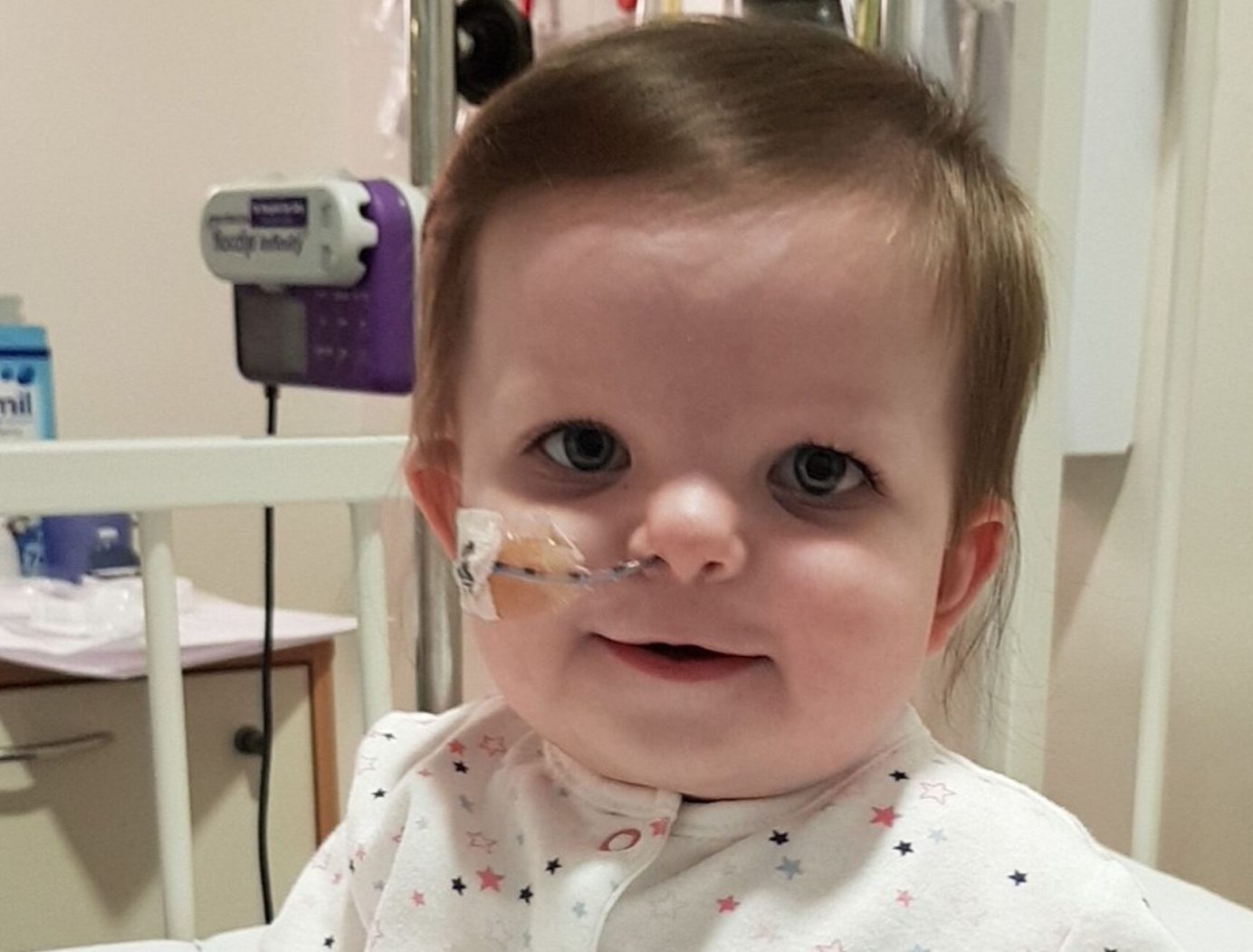 Somewhere to Recharge: Harriet's Story
I was overjoyed to learn I was pregnant with our little girl! As soon as we found out, my husband and I started preparing to welcome our new family member to our home in Belfast, Northern Ireland.
But our joy turned to anxiety when doctors told us our baby was suffering from Tetralogy of Fallot at a routine 20-week scan.
"OUR BABY WOULD NEED TO HAVE SURGERY AFTER SHE WAS BORN"
The consultant explained to us that Tetralogy of Fallot is a rare condition caused by a combination of four congenital heart defects that commonly occur together. The defects affect the structure of the heart, causing oxygen-poor blood to flow from the heart and through the body. It can normally cause your baby to have blue-tinged skin because their blood doesn't carry enough oxygen.
Our baby would need to have surgery after she was born to correct the heart defects. In Belfast, children's hospitals don't perform paediatric cardiac surgery, so we would need to be transferred to a specialist children's hospital in London – Evelina London Children's Hospital.
We were devastated to learn there was something wrong with our baby girl, but doctors and nurses helped to reassure us that by going to London, we would be getting the best care possible for her, care that we just couldn't get back at home in Ireland.
Throughout the rest of the pregnancy, we tried to stay as positive as we could. The hospital were great at keeping us well-informed of what was to come which helped to reassure us. We had regular scans to monitor our baby's progress and a birthing plan was put in place.
At 38 weeks, Harriet was born via a planned caesarean section and taken immediately to the neonatal unit for close observation. After four days in hospital, we were able to take her home for the first time with support in place from the district nurses, the cardiac team and the health visitors.
As part of our antenatal care, we were introduced to the Children's Heartbeat Trust who work solely with families in Northern Ireland affected with heart disease. They informed us that whilst we were in London, we would have the opportunity to be referred for free family accommodation at the Ronald McDonald House Evelina London.
"WE WERE HEADING INTO AN UNFAMILIAR CITY, BUT KNOWING THAT WE WOULD BE SUPPORTED WHEN WE GOT THERE WAS FANTASTIC."
We were overwhelmed! We had no idea the House existed and that they would let us stay there for free, for as long as Harriet was in Evelina London Children's Hospital.
Of course, in the run-up to our transfer to London, we were apprehensive like any parent would be knowing their child needs to go for surgery. Knowing we were heading to a specialist hospital helped. We knew that the surgeons at Evelina London Children's Hospital were experts, so we just had to put our trust in their hands and be strong for Harriet. We were heading into an unfamiliar city, but knowing that we would be supported when we got there was fantastic.
We were admitted to Evelina London Children's Hospital and checked into the Ronald McDonald House soon after. The free family accommodation was so clean, tidy and comfortable. It was a refreshing environment to walk in to after spending hours at the hospital. The staff were on hand to help us with anything we needed.
For the next week, my husband and I didn't leave Harriet alone in the hospital before, after or during her surgery. So for us, the Evelina London House provided a perfect opportunity for us to take it in turns to have a break away from the hospital, but one of us to stay by her side. The House was five minutes away, which made it all the more reassuring that should something happen you could just run back.
"THE HOUSE GAVE US THE CHANCE TO RECHARGE FOR HARRIET"
The House gave us the chance to recharge for Harriet so we could properly care for her in the hospital. It's a place to eat, sleep, shower and rest, all whilst still being a stone's throw away.
If we didn't have the House, we would have been lucky enough to be provided a hotel by the Link Nurse in Northern Ireland, however it would never have been as close as the Ronald McDonald House, and nowhere near a homely. It was practical for us for a longer period of time.
Once Harriet was stable after surgery, we were transferred back home to a Belfast hospital.
I will always remember opening the door to our room in the Evelina London House, and having complete silence. It gave us a chance to reflect, unwind and recharge for our daughter. We were able to meet so many families during that time who also benefitted from the House.
Knowing that this Charity is there to support families has made us very happy and thankful. We were mostly grateful for the opportunity to be close to our daughter without the additional stress of money, travel and finding accommodation.
"I WOULD ENCOURAGE EVERYONE TO DONATE, AS YOU NEVER KNOW IF YOU MIGHT NEED THE HOUSE TOO."
We never knew where our loose change was going in McDonald's, but now we do – we're thrilled! Ronald McDonald House Charities UK is so valuable to families who find themselves with a child in hospital. I would encourage everyone to donate, as you never know if you might need the House too.
Help us provide free home away from home accommodation to support families with children in hospital with a donation.