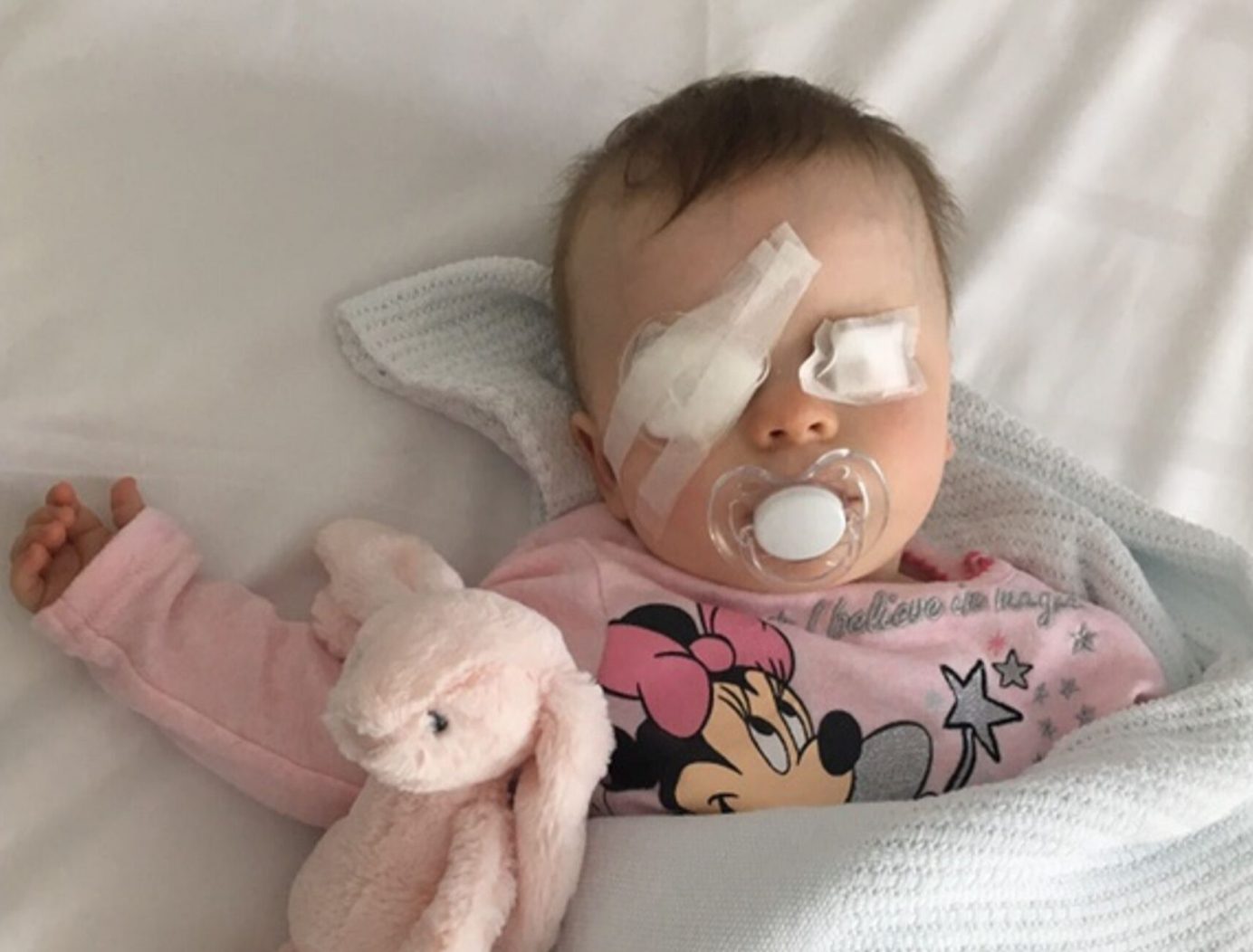 Scotland to England: Aurora's Story
"We travel from Aberdeen to London for the specialist treatment our baby needs" – dad, Matthew.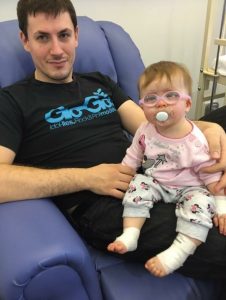 Aurora was diagnosed soon after birth with Bilateral Microphthalmia and Congenital Cataracts; a rare condition in which one or both of the eyes are unusually small with a clouding of the eye lens. She was referred to an eye specialist at her local hospital in Aberdeen, Scotland. Aurora underwent her first cataract operation at just seven weeks old and then had a second operation on her other eye two weeks later. Her progress was closely monitored and at six months there was concern about the increasing pressure in both eyes and she was diagnosed with Childhood Glaucoma, caused by the removal of the cataracts. This is a serious condition that damages the optic nerve and in Scotland, children are referred to Moorfields Eye Hospital in London for specialist treatment.
For this Aurora and her parents, Matthew and Lauren, travel from their home in Aberdeen more than 500 miles for regular medical consultations and surgical interventions. Due to how long it takes to travel to London and the timing of Aurora's appointments, they need to stay overnight. We spoke to Matthew about Aurora's progress and how Ronald McDonald House Moorfields supports their journey.
"We were shocked when we were told that we would need to go to London for treatment. Our surgeon in Aberdeen is very competent and Aurora's been looked after really well. We had no reason to think that she would require treatment elsewhere. It was an unwelcome surprise, but we thought okay – we can deal with one trip to London. But at that point, we didn't anticipate that by the end of the year we would rack up eight trips in seven months! "The first time we travelled to Moorfields Eye Hospital we got up at 5am for an early flight to London and arrived for our appointment without too much trouble. But coming back to Aberdeen, we missed our flight and didn't get home until after midnight the next day. The travelling was a nightmare and it just wasn't practical to try and do it all the same day.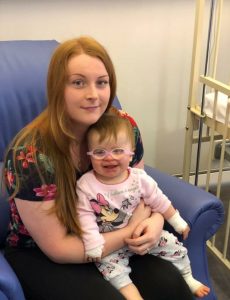 "When we were at Moorfields for the first time, we met a father whose two children both had glaucoma and they were staying at Ronald McDonald House Moorfields while receiving treatment. He recommended the House to us, and the hospital had also suggested it, so we decided to avoid any further travel nightmares and stay there next time. "The pressure in Aurora's eyes needs lots of monitoring and eye drops. If the pressure gets too high, then it could damage the delicate nerve fibres in the optic nerve which takes vision information from the eyes to the brain. When that happens, people with glaucoma can lose some of their eyesight. The surgeries involve a tiny tube being inserted into Aurora's eyes to help lower eye pressure and we've had other examinations performed under anaesthesia.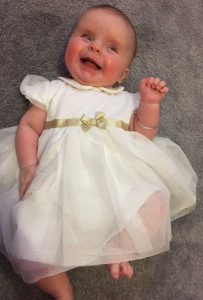 "We travel to London for routine consultations and also surgery. Usually, we stay one night in the House, but we have to stay an additional night for the surgical procedures. We travel down and Aurora has her operation early the following morning and then she's released as an out-patient that evening. Then Aurora has a post-op appointment the next day and as long as everything is fine, we then travel home to Aberdeen.
"Staying at the House has been great. It's clean, comfortable and so easy for treatment as the rooms are located directly above the hospital. The House exists to support families with ophthalmic conditions and it's so friendly. You don't walk in and feel as though people are looking at you thinking – what's going on here? Everyone is in the same boat and that helps take the added stress out of the whole experience.
"The hospital carries out elective surgery so the rooms in the House can be pre-booked. As soon as we have appointments at the hospital confirmed, I call or email the House Manager and within 30 minutes our room is arranged. Even when we've had to return unexpectedly a week later, the House has been able to accommodate us. They've never let us down. We have our own room with a TV that we can chill out in after Aurora's surgeries and there's also a shared lounge area and kitchen in the House, which we use to prepare her meals. The House also provides a crib which is already set-up in the room when we arrive.
"The House is located on-site at the hospital and offers specially-designed equipment for the blind and visually impaired. We've seen lots of families staying at the House whose children have little or no sight being fully-supported with their day-to-day life. The House is such a great facility and it helps so many families every year. "The hospital has an outstanding reputation for ophthalmic treatment, and it's the largest facility in the world for the prevention, treatment and cure of children's eye disease. We met a family who travels from Greece frequently so their two-year-old son can get specialist treatment and they said how stuck they would be without the expert care of Moorfield's Hospital and the option to stay at Ronald McDonald House.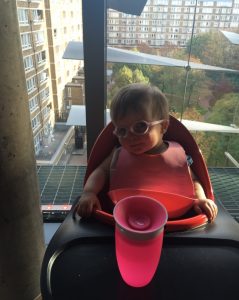 "I don't know what we would have done without the House. We don't have family or friends in London. It would be a big struggle to cope with Aurora's condition, the travel, and finding accommodation every time we came to Moorfields. My wife, Lauren, is providing constant care to Aurora and as a result, Lauren's been unable to return to work. If the House didn't exist, we'd have the added pressure of finding somewhere to stay close to the hospital and paying for it, which is a financial burden that I'm glad I don't have to worry about.
"We're very grateful to Ronald McDonald House Charities for their continued support. Aurora is now 15 months old and has another surgery at Moorfields coming up and further routine appointments in London to monitor the pressure in her eyes. With her eyes still growing and developing, it's early days but we hope that the treatment will stabilise the pressure so that it can be controlled going forward."
Help us provide free home away from home accommodation to support families with children in hospital with a donation.