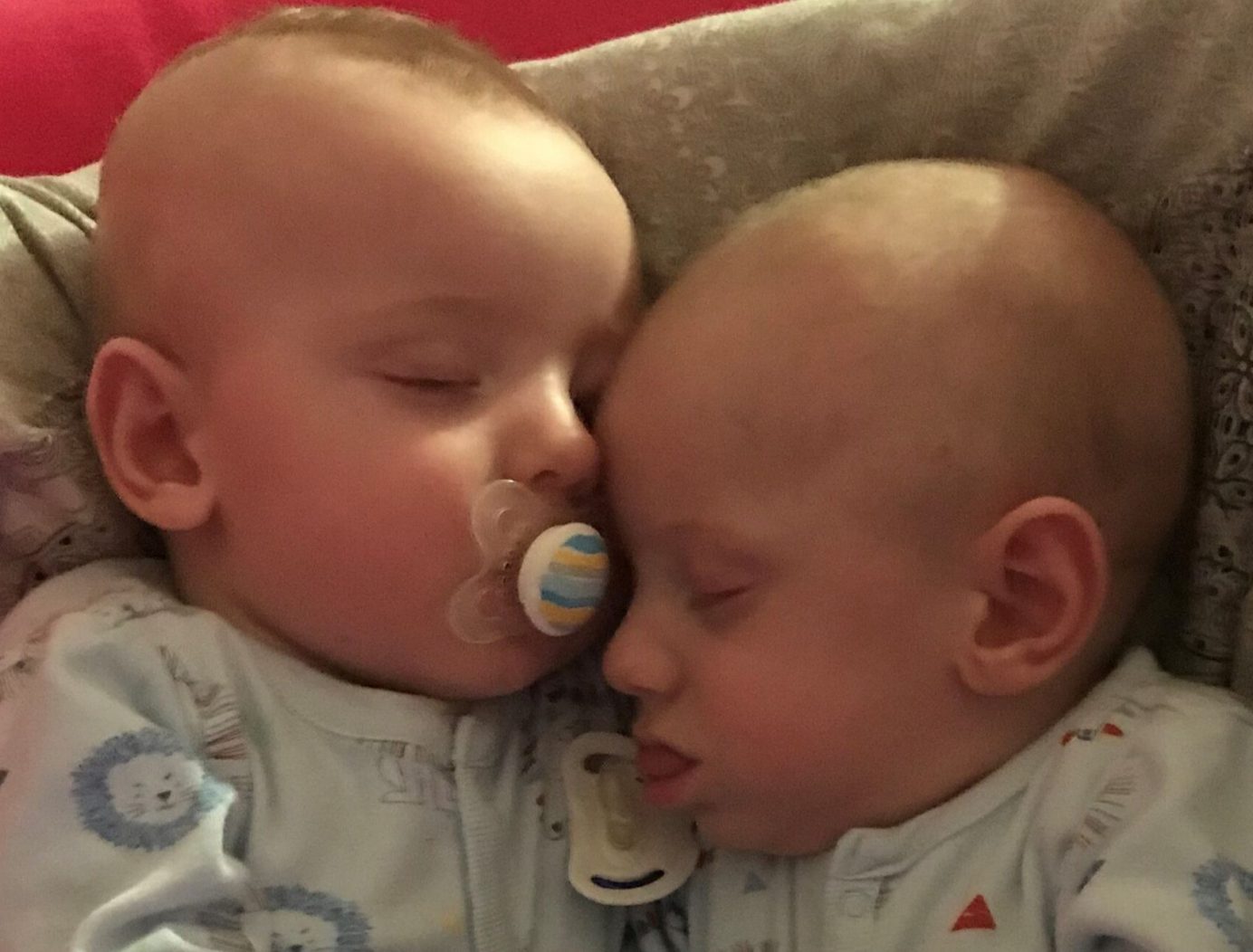 Reason to Fight: Albie and Reuben's Story
In August 2017, I gave birth to twins boys at our local hospital in Surrey. Albie was born weighing 750g, and his brother Reuben weighed just over one kilogram. It was a traumatic birth, and both my babies were rushed into intensive care without even so much as a look at them.
They were born breathing but needed extra support. When I went down to see them several hours later, I was shocked. They were so small and hooked up to lots of beeping machines. You could physically see their chests working so hard to keep alive – it was only then that it all hit me.
It was a 'wait and see' situation. By day nine Albie became critical after an x-ray showed that his bowel had punctured in several places and was leaking into his body. He needed urgent surgery at the specialist children's hospital St George's in Tooting but was too poorly to be transferred, and at one point the hospital chaplain came to offer support. We thought we were going to have to say goodbye to one of our babies. What followed was a horrible few hours of uncertainty, but finally, Albie became stable enough to travel and we were rushed to St George's Hospital. I had to sit in the front of the ambulance and throughout the journey all I could hear were alarms going off in the back where one of my babies was fighting for his life, travelling further and further away from my other baby who was still in intensive care.
When we arrived, Albie was getting prepped for surgery. I sat in the family room at St George's Hospital as doctors told me that his chances of survival were slim, and to prepare myself for the worst. That day, I had to sign a consent form with the word 'death' on it – it broke my heart.
I was shown a room in the hospital I could stay in whilst Albie had his surgery, but I was warned if a more serious case came along I would be asked to leave so another family could use it. The nurses explained that there was something called the Ronald McDonald House on the hospital grounds, which offered free family accommodation and that they had put in a referral for me and I would be contacted when a room became available.
Several hours later, I had the chance to see Albie before his surgery. I didn't know whether that would be the last time I would see my baby alive.
The next four hours were excruciating, just waiting for bad news. My partner had to stay at St Peter's Hospital with our other baby and I sat alone preparing myself. Suddenly, Albie's doctor popped in and told me that he had survived the surgery! Even though he was passed the first hurdle, he was still very poorly. When I was taken to see him again, he was covered in wires, on so much medication and a ventilator. I only left his side to sleep in the hospital's family room, every other waking hour I would be by his bedside. I saw awful things where he was being treated, but I refused to leave him.
Eight days later, Reuben was transferred to St George's Hospital as well to be with his brother. He had changed so much since I first saw him.
After two weeks of being in St George's Hospital, we were offered a room at Ronald McDonald House Tooting. It came at the perfect time, as we had just been asked to leave the hospital's family room and it was also the day that Albie needed to be resuscitated and intubated again – it was so stressful so knowing we had somewhere to sleep that night was a big relief.
When we stepped into the House, I felt a massive weight off my shoulders. We had somewhere we could stay until we didn't need it anymore. There wasn't a fear of being asked to leave. We had somewhere to relax and reset, but be close to our babies. House Manager Rachel showed us around and explained how everything works so we could just settle in straight away.
The Ronald McDonald House was so inviting and comfortable. It made it so much easier to deal with our stressful situation. We met other families who were going through similar situations there, so we could vent and share our feelings with the only other people in the world who understand what you're going through.
A few of the parents would come in later from being with our babies, and sit up all night drinking tea and snacking. It was a place where friendships that last forever were built.
I honestly don't think we would have managed emotionally or mentally without the Ronald McDonald House and the amazing members of staff and families within it. My family could come and stay with me when I needed them, and my partner could return to work knowing that I was close to our babies and in a safe place.
The twins were between life and death most days, but I believe being able to run to them when they needed us most kept them fighting.
If we didn't have the Tooting House, I have no idea what would have happened. There was no way I was going to leave my babies, and I would have probably slept in my car. But our stay turned into nearly 80 nights, how could I have kept up my strength living like that?
Albie and Reuben were transferred back to their local hospital, and the finally discharged home. It was a long battle, full of lots of tears, but we're just so happy to have our family together. We were so sorry to say goodbye to the Ronald McDonald House, it had truly become a home to us and it will always have a place in our hearts.
You never know how much Ronald McDonald House Charities UK is needed until it's your turn to use the Houses. Without being so close to our babies, they could have died without either one of us getting the chance to say goodbye, but at the House, the hospital can ring directly to your room and you can be there in minutes.
I only wish other families didn't have to go through these situations, but if you do, focus on the positive. Be your baby's reason to fight and remember this awful time isn't forever – soon you'll be home.
Help us provide free home away from home accommodation to support families with children in hospital with a donation.