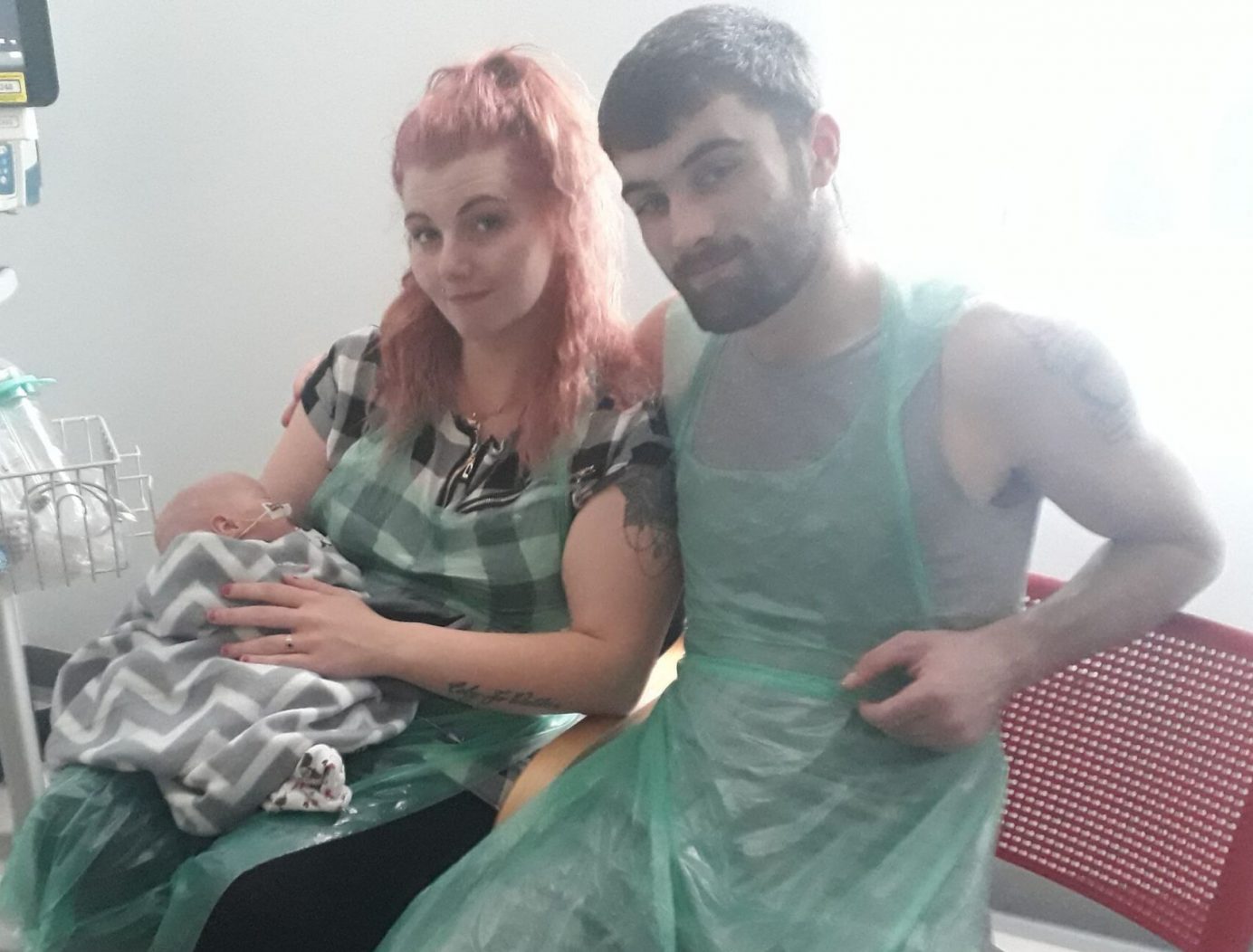 Rare Conditions: Tommy's Story
Lori was surprised to find out she was pregnant and had every reason to expect that she was going to have a healthy baby. As the days went by, her instincts told her that there was something wrong with her pregnancy and at 12 weeks she discovered her baby, Tommy, had gastroschisis – a rare birth defect that affects just 1 in 3,000 babies every year.
Gastroschisis is a very serious condition that happens early during pregnancy when the wall of the baby's abdomen fails to form completely so their intestines develop outside of their body, protruding from a hole beside the belly button.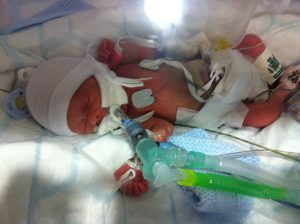 The amniotic fluid inside the mother's womb irritates the intestines causing them to shorten, twist or swell; causing complications. Most babies are born premature and all require surgery at birth.
Lori and her family, who live in Kent, all stayed at Ronald McDonald House Camberwell to be close to Tommy after he was born prematurely by C-section in King's College Hospital in London. Following surgery, Tommy's first days were in intensive care on a ventilator. Initially, he responded well to treatment but Tommy's health deteriorated and the family nearly lost him twice.
"My 4-year-old boy, Coby, kept saying 'Mummy has a baby in her tummy' and I just said 'no Mummy just has a big belly' but he was right; I bought a pregnancy test and sure enough my partner and I were expecting our second child. As time went on, I began thinking something was wrong. I don't know how I knew but I could tell; I didn't know what it was or why I felt that way but I was sure. Everyone said that I was just worrying about having another baby and that everything will be fine. I went to my local hospital for my scheduled 12-week scan, and that's when we found out. The Sonographer said he could see a shadow above the baby's tummy. I had two more scans that afternoon and then they confirmed the diagnosis that Tommy had Gastroschisis. They explained what the condition was and that I would have to deliver my baby in King's College Hospital and that Tommy would need an operation to move his intestines inside his abdomen.
"I'd never heard of Gastroschisis and the hospital suggested that I speak to other mums whose children had been born with the condition. I was reluctant to do this; every person's story is different and there was nothing to say that my baby would share the same experience. I started with Gastroschisis Babies UK and found one Mum who also had her baby in King's College Hospital and stayed at Ronald McDonald House Camberwell. Her little boy had a worse case than Tommy, and without speaking to her I don't think I would have got through this as well as I have.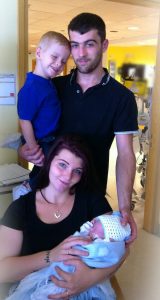 "I had to go for regular ultrasound scans to monitor Tommy's condition and make sure he was growing as expected. At 20-weeks, they said his intestines looked well but his growth was restricted and they began to be concerned about my placenta, which had started to fail. Usually, at 32 weeks the specialists begin to discuss delivery in King's College Hospital and they show you around the intensive care unit, but for us, they brought this forward and I was shown around at 26 weeks. The specialists advised that they wanted me to get to at least 34 weeks to make sure I could deliver Tommy safely. I reached 33 weeks and 4 days and had to be rushed to King's College Hospital.
"My blood pressure was very high, I was feeling faint and had difficulty walking. Tommy's stomach area was swollen and we were told that if they didn't act now, Tommy would die. We had to drop everything; find childcare for Coby, collect the hospital bags and get to the hospital.
"Later that day, I had a C-Section and Tommy was born. He was tiny and amazingly he was breathing on his own. Immediately they wrapped his intestines to protect them from further damage. Tommy was stable enough for surgery that day; they made the hole bigger so that his intestines could be eased into his abdomen gradually over a period of a few days. Then he had a second operation to close the hole.
"Because of the C-Section, I was away from Tommy. It was hard being on the maternity ward, seeing other mums with their babies while mine was in intensive care hooked up to machines. As soon as I could stand I dragged myself into a wheelchair and asked to be take
n to him. My partner was the first to hold Tommy and that didn't happen until after the second surgery, and he was still on a ventilator.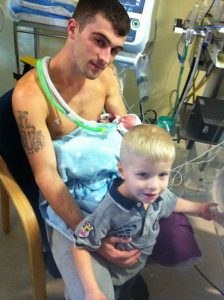 "Overall Tommy was doing well and we thought the worst was over. Then when he was four weeks old, he had a high temperature and started to get very sick. It was scary; we didn't know why he was getting so ill. He continued to be unwell and one night when we were sleeping in the House, we got a call at 3am to say that Tommy had stopped breathing and had received treatment. We rushed to the intensive care unit to be with him. He was in my arms and he stopped breathing again! I panicked and started screaming for help, but the nurses and doctors were already on their way. They reacted really quickly and got him back. I thought things couldn't get any worse. Then after a series of tests, they confirmed Tommy had acute bacterial meningitis, most likely caused by an infection in his gut.
"It felt like a nightmare but Tommy recovered. It took a few weeks but he was soon on the mend and he was moved to the high dependency unit. Again, we thought the worst was over but then he started to get sick and the doctors initially diagnosed Biliary Atresia, a rare disease of the liver and bile ducts; when bile should flow from the liver to the gall bladder, but it gets trapped. The doctors were concerned that Tommy didn't have a gall bladder but after a diagnostic scan, they found he did and later said the infection was caused by a reaction to the TPN (Total Parenteral Nutrition); a method that was being used to feed Tommy.
"Gradually Tommy began tolerating full feeds. After two and a half months of treatment at King's College Hospital, Tommy was transferred to our local hospital where he stayed for nearly two weeks. We went through so much and we can't fault the treatment he received; our baby Tommy is alive and home with us now.
"I don't know what we would have done without Ronald McDonald House Camberwell. We don't have a car; for us, it's a 45-minute walk to the train station, about 90 minutes on the train and then a five-minute walk to King's College Hospital. The train fare costs £30 each way and at the time, my partner wasn't working. Without the House, we wouldn't have been able to stay close to Tommy and live together as a family, and we wouldn't have been able to get to him that night when he stopped breathing. It was a huge relief to not have to worry about money or travelling and we knew that if there was an emergency, we would be there beside him within minutes.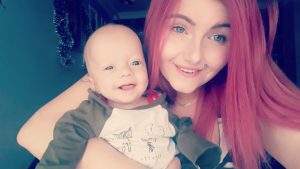 "Tommy's condition is rare but when you're in a place with sick children, you realise just how many babies also have gastroschisis and so many other illnesses. In the House, we met two other families with gastroschisis; they were born after Tommy but left before us. We made friends in the House, we're all going through a similar experience, and the staff are really supportive. It's like having one big family. My eldest son loved staying there. Coby lost out on a lot while Tommy was in hospital and he missed the start of school, but it was important to stay together and be strong for Tommy. In the House we were able to be a family, living together and doing things that families do, like how we cooked and ate dinner together every evening.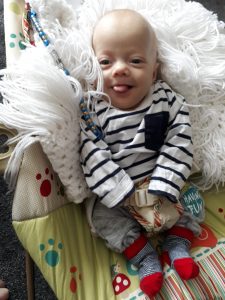 "Before Tommy's diagnosis I'd never heard of Ronald McDonald House Charities. I'd seen the collection boxes in McDonald's but didn't know what they were for. I now tell as many people as possible and I raised £225 by sharing Tommy's story on Facebook. I never thought something like this would happen to me and we wouldn't have been able to be there for Tommy without the support of Ronald McDonald House.
"We still get scared. Tommy has reflux and holds his breath, sometimes choking on his own sick. He's gaining weight okay and the health visitor is happy with his progress. Next week is full of hospital appointments, lots of follow-ups to make sure he's progressing in the right direction. Gastroschisis is an ongoing condition for Tommy; he's likely to have problems with eating, digesting food and absorbing nutrients. He could be fine for some time but then have a blockage in his bowel. They say everything happens for a reason. I don't know what that reason is, but Tommy is home and that's what counts."
Help us provide free home away from home accommodation to support families with children in hospital with a donation.