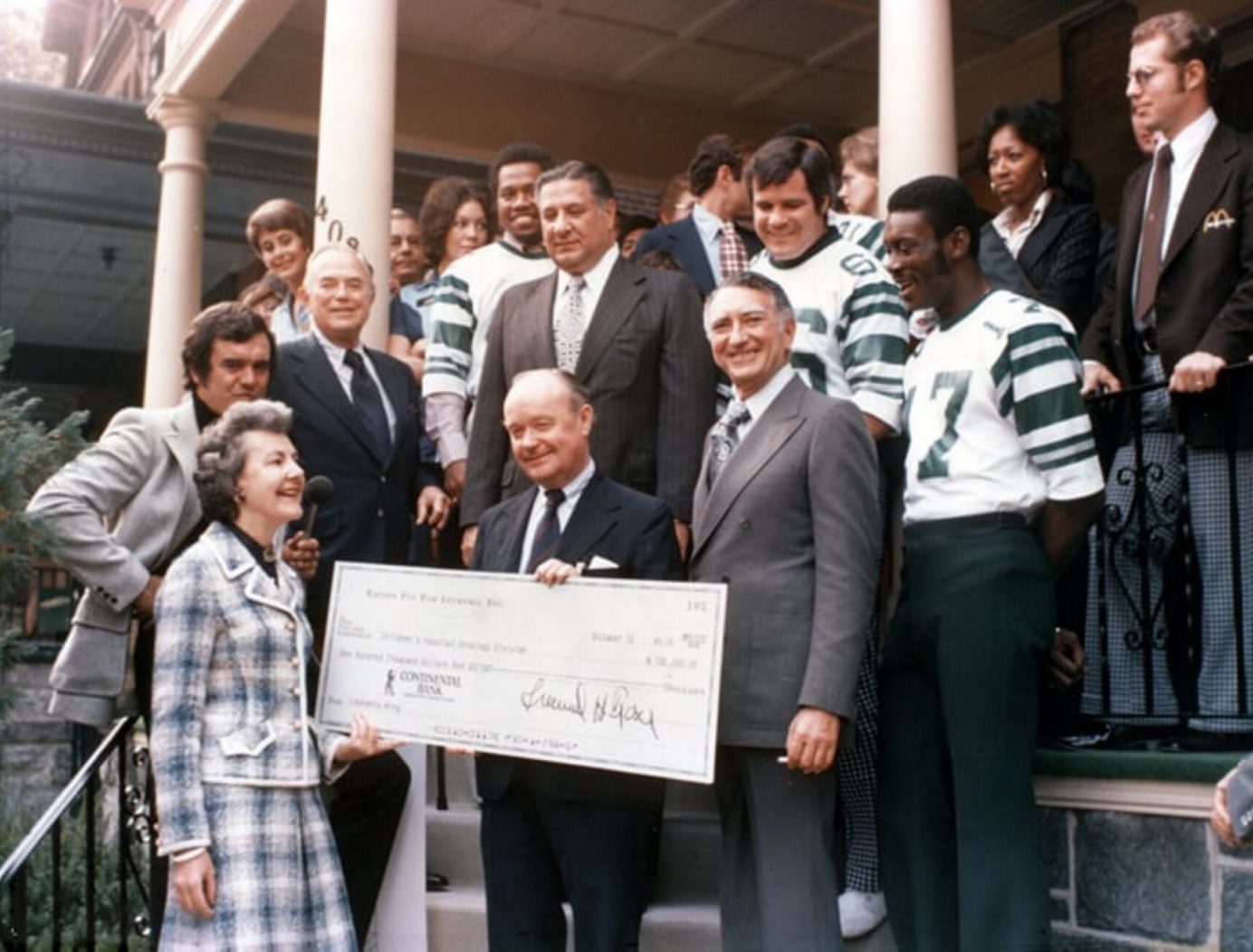 Renowned Paediatric Oncologist: RMHC Co-Founder Dr Audrey Evans
As one of the few women studying medicine in the 1940s, Dr Audrey Evans is recognised as a world-renowned paediatric oncologist and researcher of neuroblastoma, a cancer affecting babies and children.
The pioneering children's doctor is known for developing the Evans Staging System for neuroblastoma, determining how each child's cancer will progress. This helps doctors to give appropriate treatment to their young patients, in many cases avoiding chemotherapy altogether.
Dr Evans' work with neuroblastoma is credited with reducing fatality rates by over 50 percent.
"Back then, I didn't dream of all of this. I was just thinking about how to survive in the world of men."
Dr Audrey Evans,  RMHC Party in Edinburgh, March 2018
Born in York in 1925, Dr Evans started her medical training at the Royal College of Surgeons in Edinburgh and went on to work at the Royal Infirmary. After the war, when the men returned from overseas, Dr Evans was the only female resident to remain working at the hospital. There were very few facilities made available for female staff and she had to stay across campus and eat her meals alone. When asked if this bothered her the 93-year-old responded: "I wasn't thinking about how it was hard, I was just trying to be a doctor and take care of people."
"I guess I thought perhaps I would've got on better if I'd been a man but it didn't worry me… I managed to do what I wanted to do. I just sort of laughed at it. I guess I wouldn't call it hard. More amusing. I loved what I did and I was having fun. I just knew where I was going and I was on a plan. I was lucky to be there; I was well aware of that." Dr Evans talking to Modern Hero in 2017.
Dr Evans found herself at the Children's Hospital of Philadelphia in the 1960s, an event that would spark her vision of providing a place for families to live whilst their children are undergoing treatment. It was because of this remarkable lady, that Ronald McDonald House Charities exists today.
"I was recruited by Dr C Everett Koop to open an oncology service at the Children's Hospital of Philadelphia. As we opened a cancer service, we began to see patients from a greater distance, not just from Philadelphia."
Dr Evans was treating the four-year-old daughter of Fred Hill (pictured right), a player for the Philadelphia Eagles Football Team. Kim had leukaemia, and so the team decided they would do a fundraiser for children with cancer. They raised a significant amount of money, but Dr Evans had a further ambition to provide a house for families at the hospital, and she asked Jimmy Murray, the Eagles' General Manager, for more money.
At the same time, the Eagles were fronting an advertising campaign for McDonald's, selling Shamrock Shakes. McDonald's regional manager, Ed Rensi, agreed to donate the proceeds from the sale of Shamrock Shakes, to make Dr Evans' house a reality, and in exchange, it was called the Ronald McDonald House.
"The programme started small, with just the basic needs of a place to stay and where to have breakfast. And as they grew, they became more interested in family centred care. And everybody agrees, that if you have a sick child it affects the whole family. You try and provide for all aspects of a family with a sick child, so it relieves the anxiety of the parents. The birth of the Ronald McDonald Houses has added an extraordinary dimension to the overall care of children with any serious disease."
(Pictured left, Dr Evans with the Philadelphia Eagles)
"It makes me feel wonderful. What a wonderful thing to be able to look back on."
Recently, we were delighted to welcome Dr Evans back to Edinburgh, to celebrate her 93rd birthday and to see our plans for a new Ronald McDonald House currently in construction in the City.
Located on the top floor of the new Royal Hospital for Children and Young People, Ronald McDonald House Edinburgh will have 26 en-suite bedrooms and communal facilities where families can stay as long as they need.
This will be the 15th Ronald McDonald House to be built in the UK, providing free 'home away from home' accommodation for the families of seriously ill children being treated in specialist hospitals.
Dr Evans also returned to the City to receive an honour from the Royal College of Physicians for her outstanding work. She was invested as a Fellow of the College on Friday 2 March.
Things you might not know about Dr Audrey Evans:
She likes horseriding, scuba diving and has even tried sheep farming!
She got married when she was 80
She is known as the Mother of Neuroblastoma, credited with reducing mortality rates by 50% in children and babies
She was the only female resident working at the Royal Infirmary in Edinburgh after the war
She was the first Chief of Paediatric Oncology at the Children's Hospital of Philadelphia
Help us provide free home away from home accommodation to support families with children in hospital with a donation.