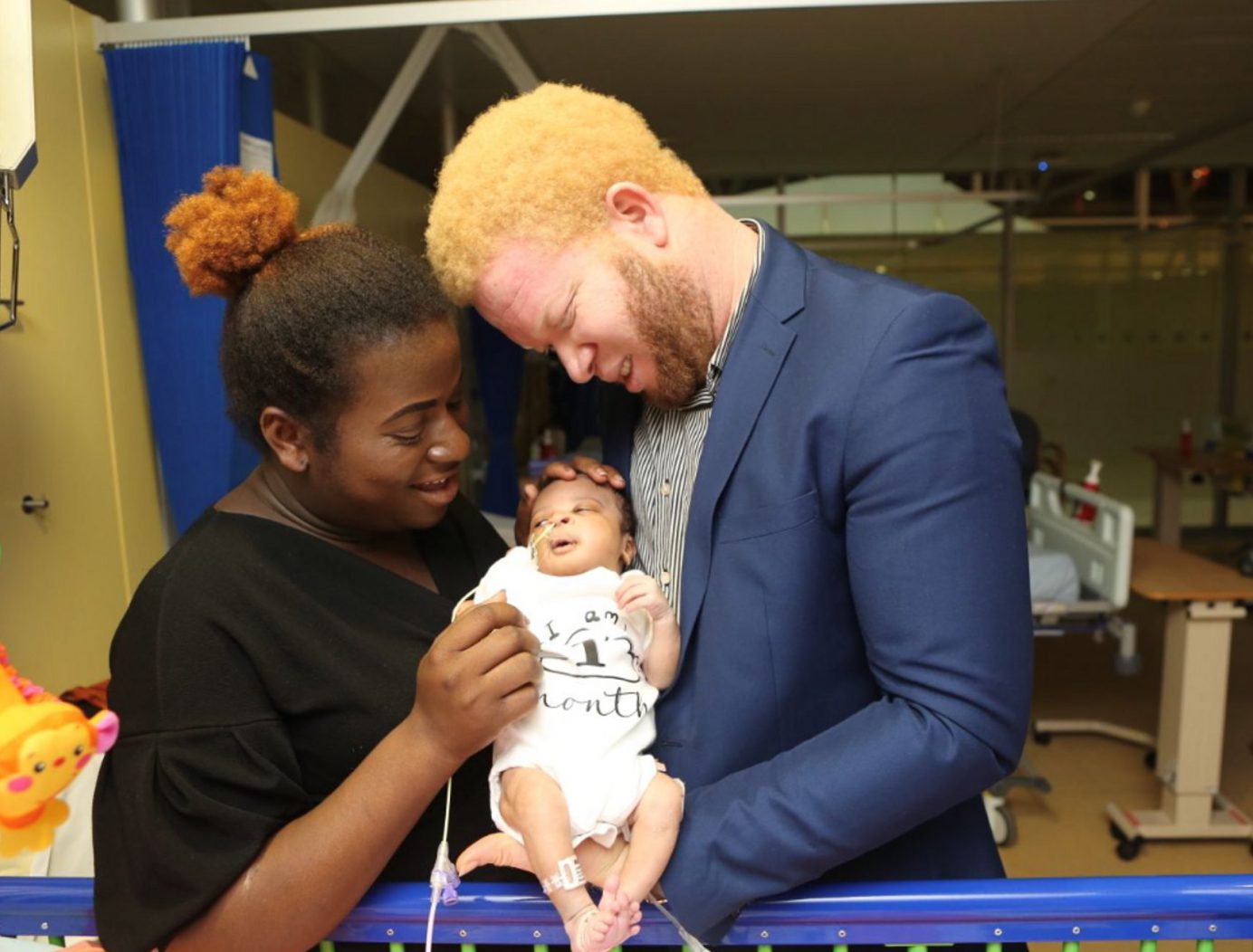 New Parents: Sammy's Story
"There was a real sense of support and community"
New parents Tina and Solomon were devastated that their son Sammy had to spend the first few months of his life in hospital. Ronald McDonald House Evelina London became their 'home away from home', offering the comfort and support they needed.
"Sammy is our first child and for him to be so ill and in hospital for so long was really hard. I was stressed and depressed. Fortunately, I had support from my family and the Ronald McDonald House to go back to. I can't tell you how amazing it was to know there's a charity that's looking out for parents like us.
We'd found out something was wrong after the second scan of my pregnancy. My husband Solomon was working away at the time, so I was at home alone when the consultant phoned with the news. He said there was a problem with our baby's kidneys. I called Solomon and was crying down the phone. I didn't know what was going on, I couldn't make sense of it.
Our local hospital in Kent told us there was a specialist at St Thomas' Hospital in London who could help. They wanted us to meet the team there and get used to the environment. We'd arranged to go the following week. But when I got home from my last appointment in Kent, 34 weeks pregnant, I went into labour.
That was 11 January and I didn't get home again until March.
I was in labour for three days. When Sammy was finally born, they took him straight to London by ambulance. They had to take me in a separate ambulance later as I'd lost a lot of blood.
When we arrived at Guy's and St Thomas' Hospital we were so frightened to go in and see Sammy, we just didn't want to accept what was going on. His kidneys were the main issue, one was damaged and one was blocked. But before they could get to that, they had to sort out his breathing – his lungs collapsed twice.
My family had been checking hotels to stay in near the hospital. Obviously, they were very expensive in central London. Of course, we would have stayed in a hotel if we'd had to and got into a lot of debt – we would have done it for our son. But thankfully we were given an option.
When we were told we'd be staying in a house run by a charity, I had no idea what it would be like. My husband went there first and said to me: 'It's not what you expect, it's far, far more than you can imagine. It's amazing'.
As soon as I got inside I thought 'Wow'. The room was really big and everything felt so new and well looked after. There was a coffee machine and my husband would bring me coffee each morning. There was a fridge, cooker and microwave, so when my mum brought us food we had somewhere to keep it and heat it up. It saved us so much money on meals and it felt so homely.
Staying at the House was so much better than being in a hotel. It felt too good to be true. The staff were lovely, they would always talk to us and encourage us when we came in. We had the opportunity to meet other families. We'd share our stories and there was a real sense of support and community in the House. Everyone was compassionate and we were all treated with so much respect.
We christened Sammy when he was in hospital and all our family came to Ronald McDonald House. They brought food and we ate in the dining room. I was sad, as we were celebrating Sammy while he wasn't even there with us. But I took solace in the fact we had this House where my family could come and be near me.
Sammy is home now and doing well. We had a big party for his first birthday, with all his family and friends. He still has a long way to go as he's only got one kidney working and it's not 100 per cent. He's very cheeky and smart, but calm and gentle – he's an amazing boy."
Help us provide free home away from home accommodation to support families with children in hospital with a donation.