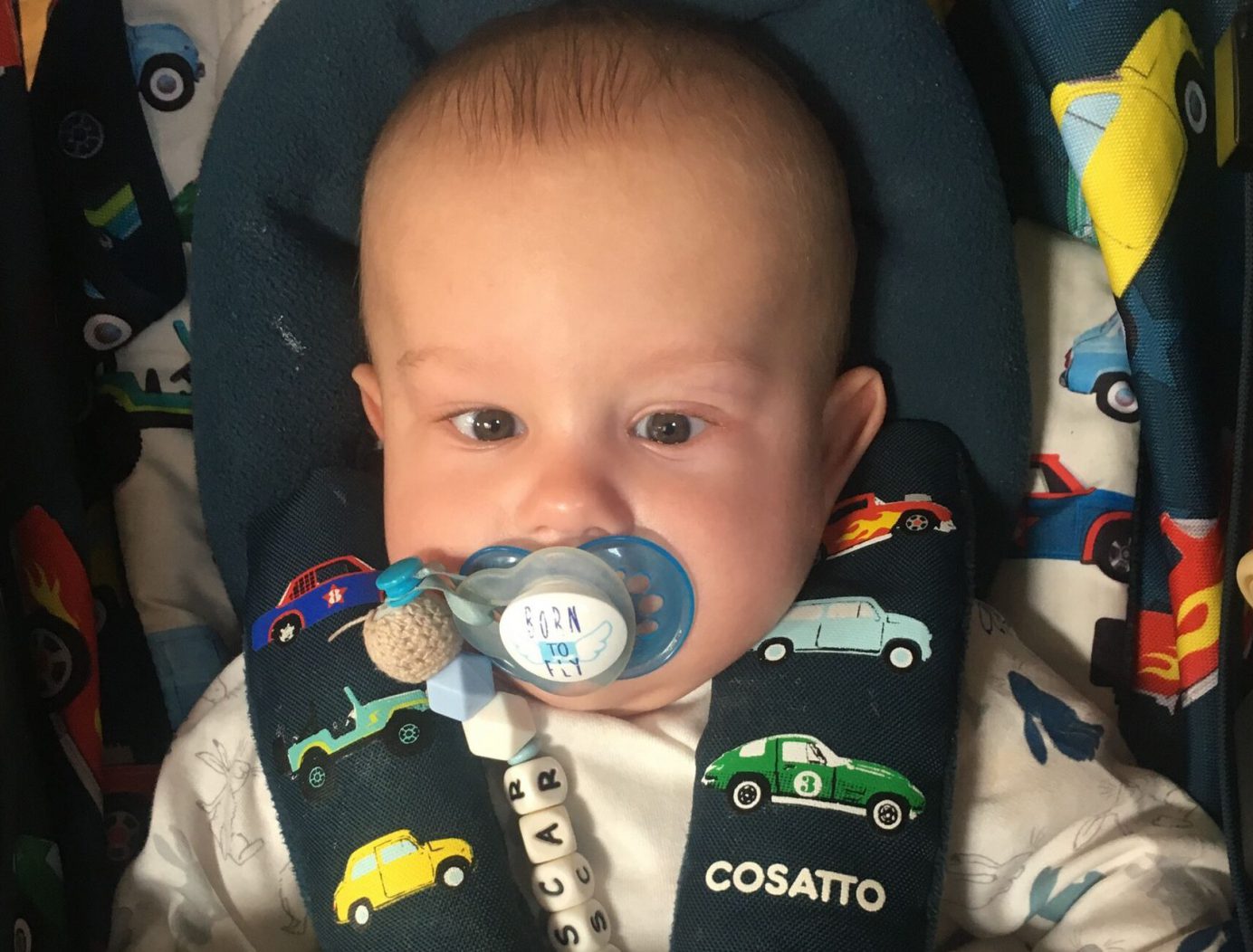 Mix of Emotions: Oscar's Story
Our baby Oscar was born at 29 weeks in St Mary's Hospital, weighing a tiny two pounds. When he was four weeks old, he became extremely poorly with an infection called NEC (necrotizing enterocolitis) where tissues in the baby's gut become inflamed and start to die off. Oscar was ventilated but soon ended up on an oscillator, a type of ventilator permanently keeping the lungs open. We were given the devastating news that he wasn't likely to survive – but he fought and thankfully overcame it. However, three weeks later he contracted NEC again, this time sending him into bowel failure.
To date, Oscar has had three bowel operations, a stoma and a broviac line so he can have TPN (total parenteral nutrition – a method of feeding that bypasses the gastrointestinal tract and delivers nutrients directly through a vein). He has been on an incredibly tough journey, but he has fought hard to overcome cardiac arrest, other heart conditions, sepsis a number of times, cerebral palsy, ROP (retinopathy of prematurity), eczema, hernia repair, seizures and Sandifer syndrome… Despite this long list, he's always smiling! His character and strength is what has gotten us through all of this – he's nothing short of amazing.
I remember waiting to hear if we were going to be offered a room at the House. Oscar's dad Reece and I were praying with whatever strength we had left that they would be able to accommodate us so we didn't have to leave Oscar alone. The thought of leaving him terrified both of us. Not being there for him if we did possibly lose him would have been horrendous.
When we found out there was a room for us, we were so relieved. As we stepped into the House, we noticed the welcoming atmosphere and approachableness of the staff. We had no idea that this House would become our 'home away from home' for the next 12 weeks.
I remember a moment in the House, when I had gotten poorly myself. I couldn't go and visit Oscar, in case I made him sicker. I was upset and frustrated. One of the staff noticed, took me to one side and asked how I was doing – showing real concern for Oscar. It was heart-warming.
There are lots of happy moments from the House. There were lots of fantastic events held in the House, from activities on Valentine's, Mother's or Easter Day to Teddy Bear Picnics! The House staff always think about the families and put in so much effort to make sure everyone can enjoy themselves, from siblings to grandparents! Even Reece put on a fancy dress costume and joined in with the recent Pirate's Party.
The most impactful part of the House was simply keeping us together as a family. Two years ago, we lost our little boy Caleb, who had anencephaly and spina bifida. When Oscar was born prematurely, like Caleb, we were petrified. The anxiety we felt about leaving Oscar was through the roof, but thankfully Ronald McDonald House Manchester and their amazing staff supported us and kept us close. We never had to leave him and we are beyond grateful for that.
Being just minutes away from Oscar helped in his recovery as well. He loves us being around him, and we have a very strong family bond. If he starts to get poorly, we can be there in minutes and that reassures him that mummy and daddy are here for him. Without the House, it would have been an unimaginable situation. The neonatal intensive care unit can't provide any beds for families, which meant we would have needed to sleep on sofas downstairs. I'm also a diabetic, so having somewhere I could prepare proper meals helped me to keep up my strength for Oscar.
When we left the House, Reece and I both felt happy and sad. We were happy to be moving one step closer to having our family home together, but also sad that we were saying goodbye to all our new friends at the House.
Since leaving the House the first time, we've returned again for an eight-week stay and currently, we're staying a third time. Every time we leave it's always a mix of emotions.
If someone was thinking about fundraising or donating, I would say to absolutely do it! The Charity deserves every penny they can get. We honestly wouldn't have gotten through the last nine months without the fantastic support of Ronald McDonald House Charities UK. They are all amazing!
Help us provide free home away from home accommodation to support families with children in hospital with a donation.