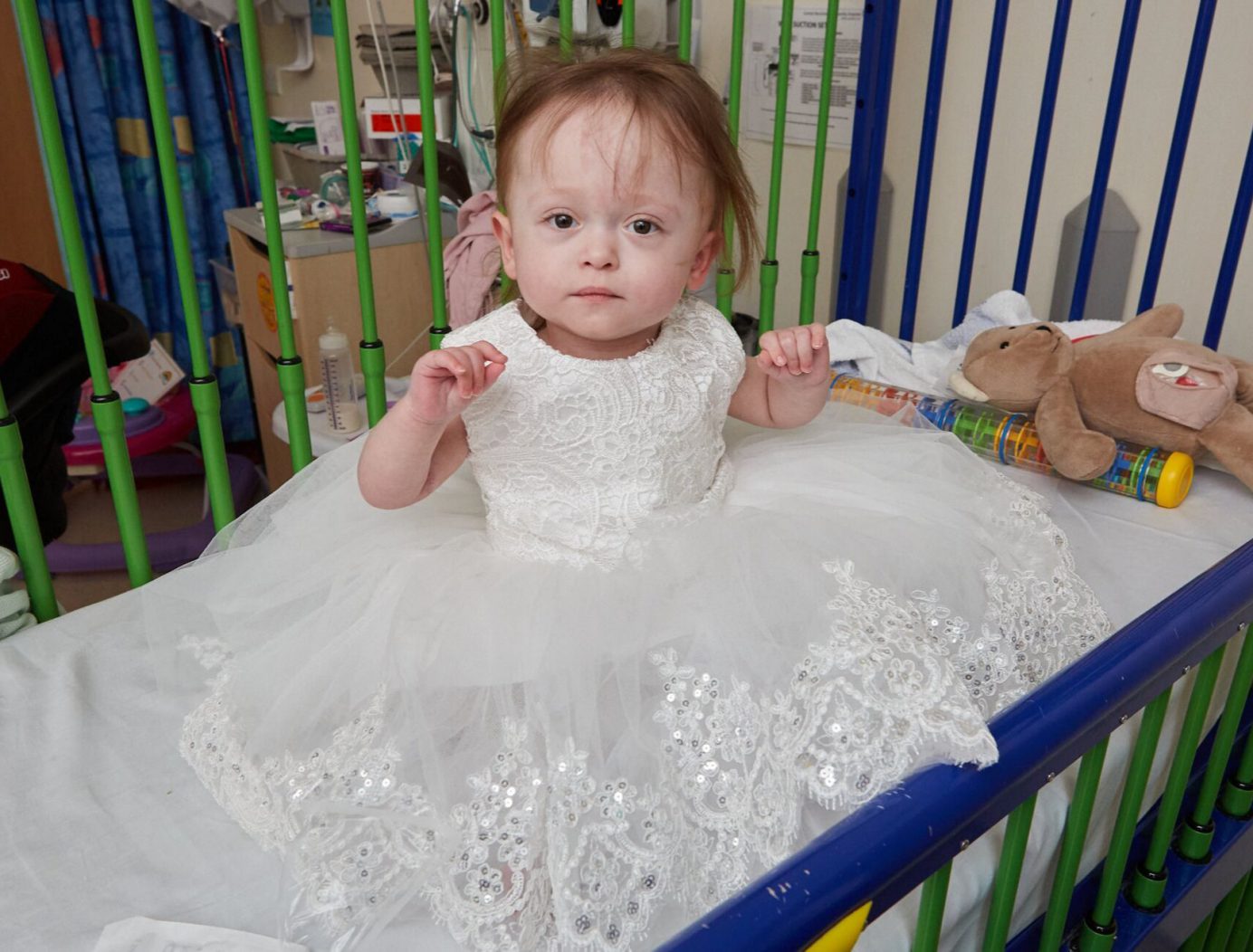 Married at Last: Evie's Story
Vicky and Martin had been trying for a baby for a few years but were unsuccessful. They both decided to try IVF. Amazingly, they were successful on their very first attempt and were both over the moon that they would finally be having a baby! Sadly, Vicky's pregnancy was a very difficult one and they were told that their baby would be born with various medical conditions which would have to be treated as soon as she was born.
During a shopping trip for a new Christmas tree in November 2017, Vicky began to get pains and assumed that she was having Braxton Hicks (practise contractions). She soon figured out that this wasn't any false alarm and she was in labour! She was 29 weeks pregnant and completely unprepared.
On Sunday 26 November 2017, after an eventful labour, Vicky gave birth to Evie Mae Joanna Carter at Saint Mary's Hospital in Manchester. Evie weighed just 2lb 7oz, not much more than a bag of sugar! She was immediately whisked away to the Neonatal Intensive Care Unit due to her premature arrival and required immediate medical assistance. At just 16 hours old, Evie had already had a lifesaving operation to give her bowel and bladder stomas.
Vicky remained on the postnatal ward of Saint Mary's Hospital for a further four days. She was then discharged and able to stay on the Neonatal Intensive Care Unit in one of their rooms reserved for parents. As the ward only had a limited amount of bedrooms and such a high demand, Vicky and Martin were only able to stay there for a total of two nights. Having no other options and nowhere to stay at that point, they had no choice but to leave their poorly newborn child and travel home so they could sleep.
Mum Vicky said: "The two nights we had to spend at home were awful. I felt too far away from my poorly baby, it was torture! I needed to be close to her."
A nurse on the Neonatal Intensive Care Unit informed them of Ronald McDonald House Manchester, referred them for accommodation and luckily the family were accommodated after their two days of travelling back and forth. With the Manchester House being in such close proximity to the hospital, they could now feel more at ease knowing they could go just across the road at any time – day or night – to be with Evie.
A few days before Christmas 2017, Evie fell extremely ill which resulted in emergency surgery just after New Year's Day. Having a room at the House was ideal for Vicky and Martin, as they would only be moments away whilst Evie was in theatre. A phone call came through, directly to their bedroom at the House. The surgeons needed to speak to them urgently. They were able to get to the hospital in minutes, where Vicky and Martin were given the devastating news that Evie would pass away. No one expected her to survive through that night.
But Evie proved everybody wrong and continued to fight.
"SHE'S OUR LITTLE MIRACLE, BUT STILL WITH A LONG ROAD AHEAD OF HER."
Evie remained on the Neonatal Intensive Care Unit for a total of 163 days before being transferred to a ward in the Royal Manchester Children's Hospital. Vicky and Martin stayed at Ronald McDonald House during this time and continued to be grateful for being only minutes away from Evie as she continued to receive treatment and care.
Staying at the House was invaluable for keeping the family together during all of the difficult times. Vicky and Martin began to have a greater sense of normality and have their own little daily routines. They were able to wake up early, get showered and dressed, have breakfast in the communal kitchen area and easily head over to the hospital before 9am. The burden and expense of constant travelling back and forth was removed and they were able to spend the whole day with Evie, being constantly present for their sick child and having the option of simply popping back to the House for meals and to rest. Having the ability to store food and cook proper meals was a massive relief for them too, saving financially and allowing them to eat healthier.
Mum Vicky said: "It's hard having a child in hospital, but staying at the Ronald McDonald House Manchester took one worry away – we could be near our daughter day and night. We often got telephone calls at night asking for consent on medical procedures, and luckily we were just across the road to sign them."
When asked about her time at the House, Vicky went on to say: "I have many lovely memories from our time at the Ronald McDonald House. I was expressing milk for Evie and in the early hours of Christmas morning at about 4am, I was heading to the kitchen to put the milk in the fridge. I opened the door of our room and there were Christmas presents outside everyone's door. It made me smile. I wish I had taken a picture as it was a lovely sight. The staff and supporters of the Ronald McDonald House try to make events like Christmas special. There was a gift bag amongst the Christmas presents which had been given by a family who had stayed at the House before. It was a survival package and included items such as toilet roll, toothpaste and Christmas crackers to help feel festive. The little things like this do make a difference. No one wants to be in hospital, especially over times like Christmas, but the little things really do help to make the situation more bearable.
"We also bought a raffle ticket for the Ronald McDonald House Charities Christmas raffle and were gobsmacked to win second prize! A huge handmade doll's house! We were very lucky to meet the chap who made it too.
"The team at Ronald McDonald House Manchester do a lot for the families. You're not just a name on a board, the staff take time to talk to you and ask how your baby is doing. They are on hand when you need them and they also do a lot of fun events at the House for families!
"The Ronald McDonald House is our 'home away from home'. Upon our first stay, we had nearly six months' worth of stuff to take with us as we had literally just moved into the House. I had only been home for a couple of nights in the whole of our stay. Without the Ronald McDonald House, our hospital journey would have been a lot harder. We owe them a lot."
Vicky, Martin and Evie all finally left the hospital and the House together in May 2018. Since then, they were able to enjoy much-needed time together in their own home. Evie's journey would still continue, however, with Vicky and Martin knowing that she would still require at least another five operations in the future.
Evie was re-admitted to hospital in January 2019. Fortunately, even with the high demand for accommodation, they were able to get a room at Ronald McDonald House Manchester again. This stay was a shorter one in comparison and they all returned home by the end of the month.
Whilst being away from the hospital, Vicky and Martin decided they would like to focus on completing various fundraising activities in order to give back to Ronald McDonald House Charities UK. The House can help a total of 65 families every day of the year and costs £25 per night to accommodate each one, with no cost whatsoever to the families in need.
Vicky explained: "We started trying to raise £5000 to sponsor the room that we stayed in. We wanted to give something back so that they can continue to help other families like ours. So far, we have done football cards, a curry night and all the children at our church, including Evie, have done a sponsored walk. Ronald McDonald House Charities UK is amazing and this is our way of saying a huge thank you for everything they have done, and continue to do."
Four months passed by and, unfortunately, Evie returned to Royal Manchester Children's Hospital in April 2019. Luckily, Vicky and Martin were again able to stay at the House, but during this current stay, they would be planning and attending their own wedding on Saturday 17 August 2019.
"It was very hard to plan a wedding whilst Evie was back in hospital", Vicky commented.
"We had postponed once before and we were worried we would have to postpone the wedding once again. Not knowing what would happen with Evie day to day and whether she would be well enough to be there on the day was heart-breaking."
Having the Ronald McDonald House as a base to organise was invaluable to Vicky and Martin. Knowing that their big day was fast approaching, the staff at the Manchester House wanted to help them feel as relaxed as possible during the planning process. The team made it possible for Vicky to have appointments, such as hair trials, in a quiet and separate area of the House. This meant Vicky and Martin could still stay close to Evie at the hospital.
Dad Martin said: "The House gave us time and space to plan and it was amazing that we were still so close to Evie and we could spend as much time as we could with her."
On the day of the wedding, rather than being confined to just their bedroom, the House gave the wedding party their own private space so Vicky could get ready with her friends and family. Vicky's chief bridesmaid came down to the House beforehand to specially decorate the space with balloons, confetti and bunting – just as they would have done if she was getting ready at home.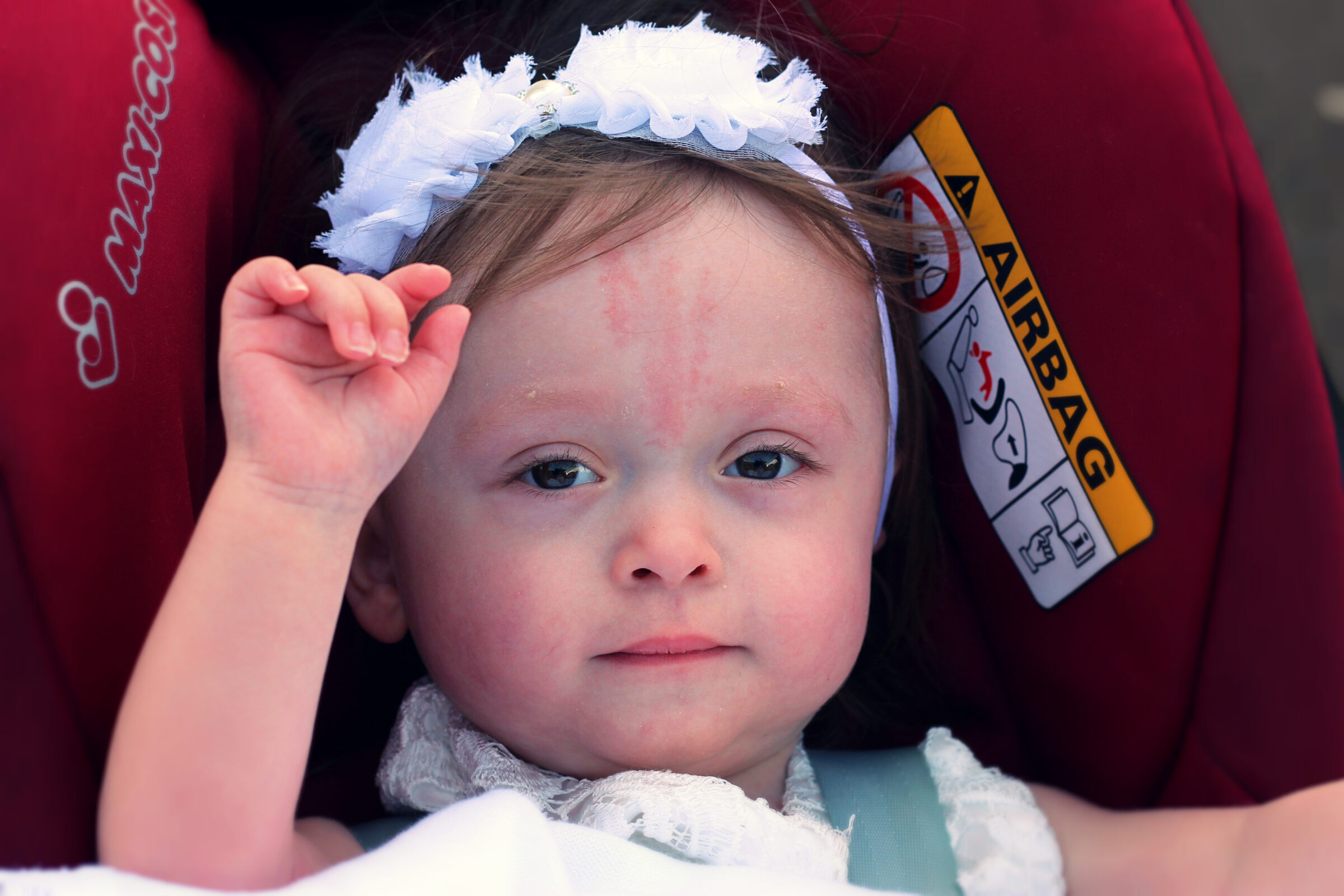 The soon-to-be-married couple were also able to maintain tradition, having the groom not see the bride until being stood at the altar – Martin stayed overnight at the hospital with Evie and Vicky was able to stay at the House.
Throughout the morning of the wedding, preparations were well underway and many families staying in the House came down to see Vicky leave the House in her dress. The two white cars were waiting outside and whilst the finishing touches happened, Evie had been brought over from the ward, dressed in her own beautiful white gown. Vicky left the House just after 12.30pm to a line of cheering families and well-wishers. After a few final photographs, as well as hugs and kisses with Evie, she was ready to head off to get married.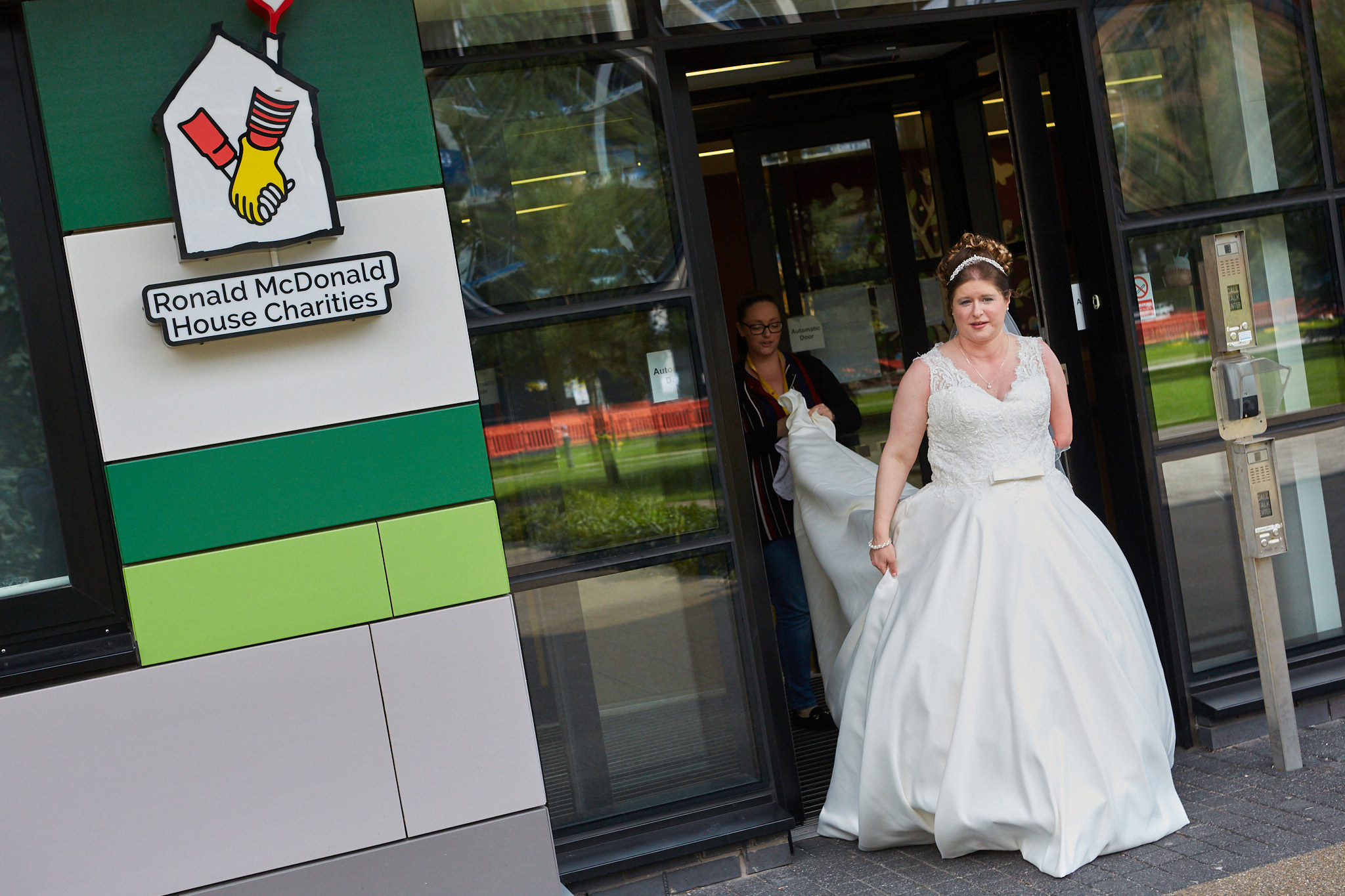 "I felt like a mini-celebrity! It was overwhelming to see all the people who were cheering for us. It felt good knowing that we had put a smile on other families' faces, despite them having a child in hospital."
As the clock struck one, Vicky finally became Mrs Carter. The happy couple celebrated all night with loved ones. We caught up with them after the big day and were humbled at their lovely words.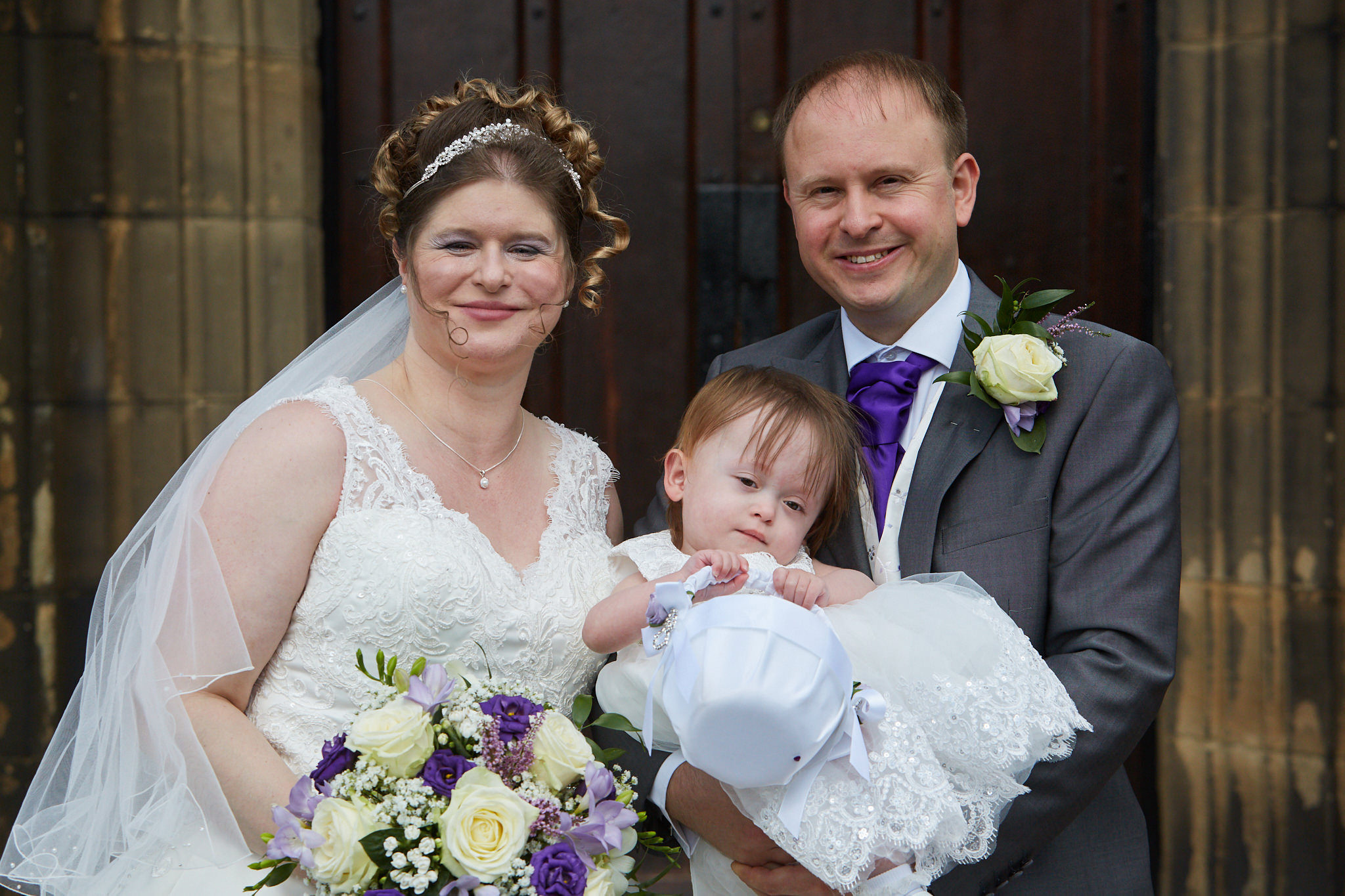 "If it wasn't for Ronald McDonald House Manchester, we may have postponed our wedding again. That would have been devastating.
"Our wedding day was magical, thanks to the support of the Manchester House and all of the wonderful staff there. We even sent a special invitation for staff to join in the evening celebrations to show our great appreciation. Thank you to everyone at Ronald McDonald House Charities UK for everything you've done and continue to do!"
The newly married couple are now hoping to continue their fundraising for Ronald McDonald House Charities UK.
"We know that we will be back and forth from the hospital, as Evie will need more operations in the future. It's heart-warming to know that the Manchester House will always be there to support us."
Help us provide free home away from home accommodation to support families with children in hospital with a donation.