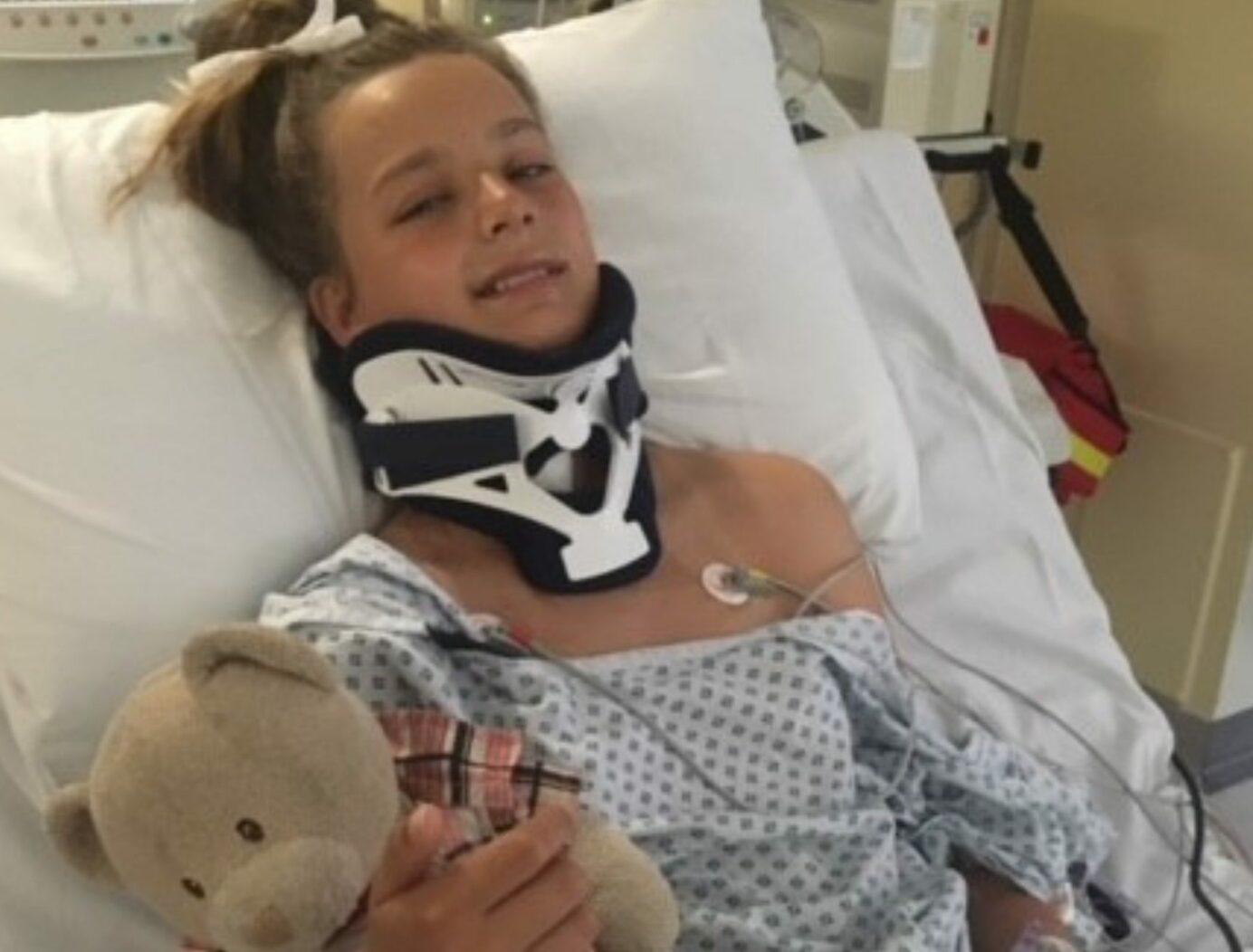 Learning to walk again: Isabel's Story
In July last year, our daughter Isabel injured herself in a swimming pool at our home in Dorset. We were taken to our local hospital, where a CT scan showed she had broken her neck and was paralysed from the chest down.
We were immediately transferred to Southampton General Hospital for specialist spinal surgery.
At this point, she had no feeling from her chest down. It was decided emergency spinal surgery was the only option. After five hours in the operating theatre, all the broken pieces of bone were removed and her neck was stabilised with a plate at the front and rods and screws at the back.
It was so much to come to terms with. We didn't even think about what was going to happen, and we had nothing with us. I was still wearing my swimming costume underneath the clothes I'd thrown on in a hurry to get to the hospital.
We had no idea how our lives would change.
The nurse who was looking after Isabel (and us!) on the morning of her surgery asked us where we planned on sleeping that night. We had no idea and we hadn't even begun to think about it. She told us she could make a referral for the Ronald McDonald House Southampton located on the hospital grounds. We agreed to go ahead, not knowing what the House or Charity offered.
When we first entered the House, we were in a zombie-like state. We had no idea what to expect having just been through the scariest few hours of our lives. But a friendly House Assistant gave us a tour, showing us all the facilities we were able to make use of. The sense of relief we felt was overwhelming, and we were so thankful.
Being able to stay close to Isabel during her recovery process definitely had a positive impact on her wellbeing. She progressed so well over the weeks and months. Knowing we were just over the road kept her going.
It was brilliant to be together as a family again.
After Isabel's accident, our younger daughter Anabel initially stayed with family members. It was hard not being together as a family, but she could stay with us on weekends. When it was the summer holidays, she came to stay for the whole six weeks! She made friends with the other children in the House and it was brilliant to all be together as a family again.
As Isabel was recovering from being paralysed, she was able to come over to the House during the day to spend time with us away from the hospital ward. We were finally together again, all four of us. It was an amazing feeling to be able to just have dinner together, watch a movie or relax on the sofa. We were just like a normal family again. We were able to celebrate Isabel's 12th birthday all together in the House and I will always cherish that memory.
Little by little, day by day, she has gained feeling and movement in all of her affected areas. You'd never know she was paralysed if you met her today.
Being close to her for support and encouragement has had a massive impact on her miracle recovery. We have Ronald McDonald House Charities UK and all the wonderful staff to thanks for that!
Help us provide free home away from home accommodation to support families with children in hospital with a donation.