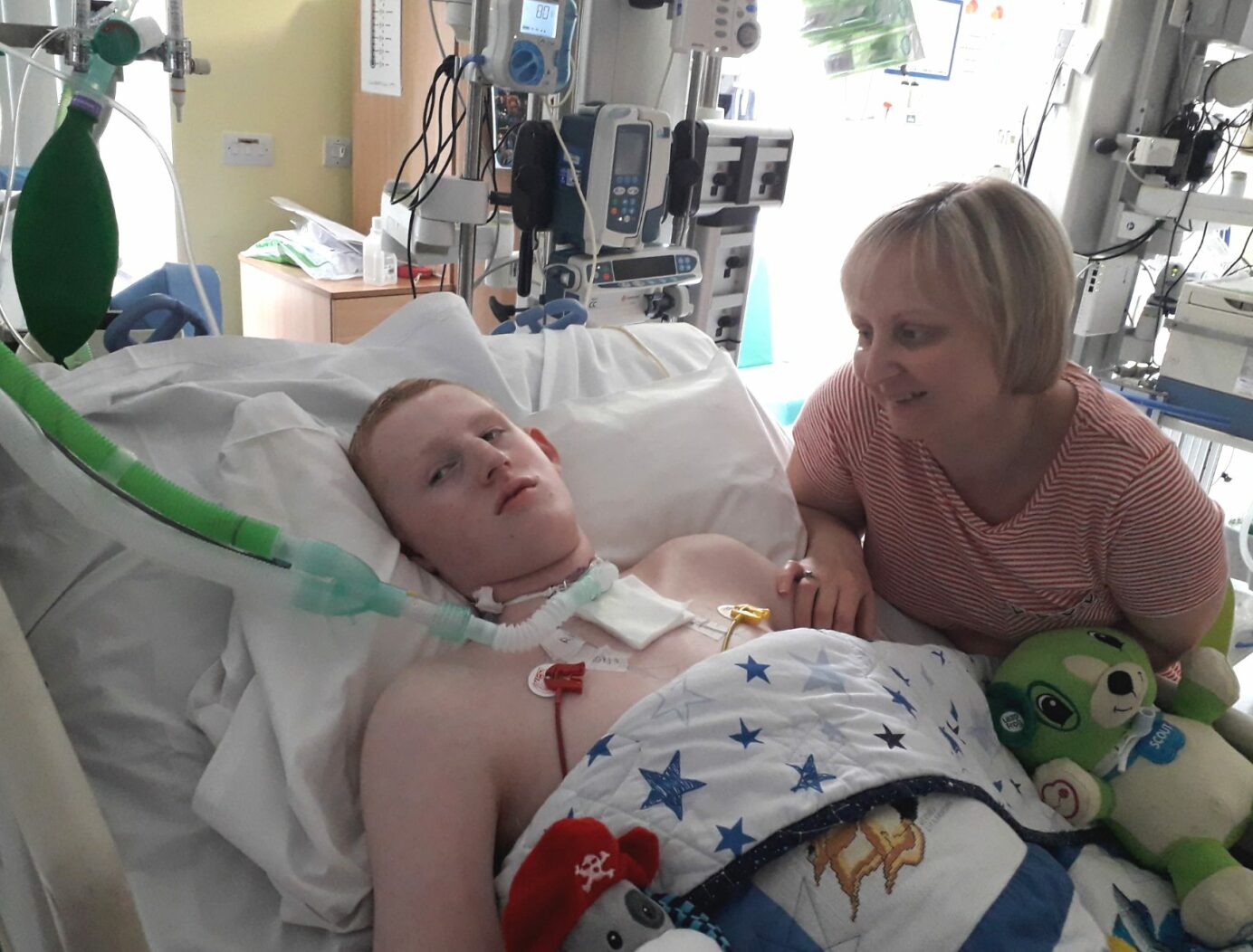 Unexpected complications: Joseph's Story
14-year-old Joseph found himself in the intensive care unit at Royal Manchester Children's Hospital. Mum Rebecca needed free family accommodation so she could stay by his side. Luckily, our Manchester House could help.
Our 14-year-old son Joseph has a rare genetic condition called MECP2 Duplication Syndrome. He also lives with epilepsy, feeding problems and has always struggled with reoccurring chest infections and chronic acid reflux. So, when we went to the hospital for a gastrostomy, everything seemed to go well and we went home satisfied.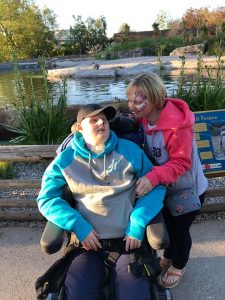 But after putting Joseph to bed, we later began to hear noisy, laboured breathing and instantly knew something was wrong. We went straight to Manchester Children's Hospital A+E where he received good care, but as the night went on he began to deteriorate fast and ended up being transferred to ICU and intubated where we were told he had sepsis and pneumonia.
We had stayed at the Ronald McDonald House in Manchester five and a half years ago when Joseph had been admitted to the High Dependency Unit. I remember when I first entered the Ronald McDonald House and cried. I was overcome by all the wonderful facilities we could use and how much it felt like a home, so when we were offered a room this time around I felt a huge relief.
Not only could we stay together as a family and be moments away from our son, but Joseph's brother Patrick is autistic and doesn't like change. Patrick feels really at home and comfortable staying at the Ronald McDonald House, and having familiar and friendly staff to chat with has really helped him feel safe. With Patrick's autism, a routine is very important and he likes to know what is happening each day; being able to have a room at the Ronald McDonald House allows him to have a secure place away from the hospital when it can become a bit too much for him. The Ronald McDonald House allowed us to carry on with family life as normally as possible.
It's also been really important for my partner and me to be together as we both have to be present to make important decisions on Joseph's behalf, as he cannot talk and relies on sign language. Without the Ronald McDonald House, we couldn't have someone with him all the time to help him communicate with the hospital staff.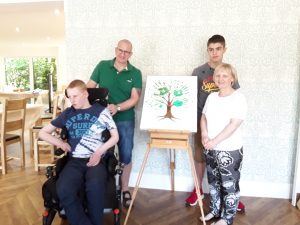 Luckily, after about a week, Joseph recovered from the sepsis – but when doctors tried to take him off the ventilator he just couldn't manage. We sat down with the hospital staff and decided the best option would be a tracheostomy – a procedure that would create an opening in the front of his neck so a tube can be inserted into the windpipe to help Joseph breathe.
Since having that operation, he's been doing really well. My partner Neal and I have been on training courses to help us understand and care for Joseph's condition and now we're just awaiting a care package to give us support at home.
We never thought we would be staying in hospital over Christmas when we were first admitted in July. Of course, it was sad not being at home, but we're also incredibly grateful to have met lovely families at the Ronald McDonald House and we all got to spend the festive season together. Being at the Ronald McDonald House has given us the opportunity to plan our Christmas and order parcels without having the stress of making it home in time for the delivery driver.
We really enjoyed the Christmas Party as a family and were able to have Joseph's grandparents join us for the festivities! It was a great chance for us all to gather together, enjoy something positive and spend a few hours as a family. Joseph really enjoyed seeing Father Christmas and the Ronald McDonald House has helped make us some wonderful memories that we will cherish forever.
During our stay, both Joseph and Patrick have had birthdays. The staff allowed us to use a private room to celebrate and invite our closest friends and family. Patrick celebrated his 18th milestone birthday and we will be forever grateful for the Ronald McDonald House allowing us to make these important days meaningful and special, whilst making it less stressful for us and making our difficult times a great deal easier.
Having this accommodation has been completely invaluable for us as a family. It had turned a negative situation into a positive one. We always spread the word to our family and friends about Ronald McDonald House Charities UK and the vital support they provide to families going through situations like ours. Even just dropping your change into a McDonald's donation box makes all the difference.
Help us provide free home away from home accommodation to support families with children in hospital with a donation.