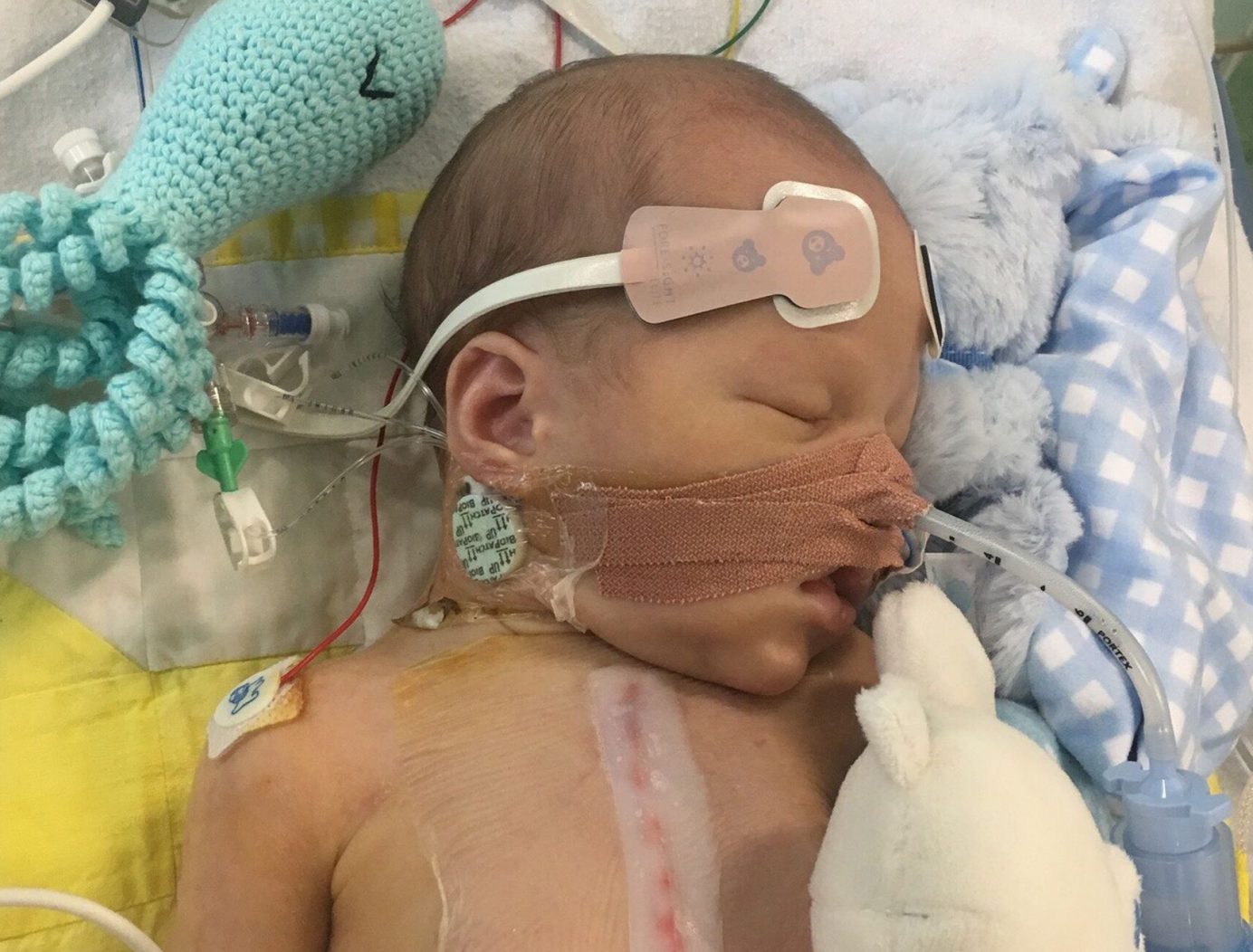 Half a Heart: Archie's Story
My wife and I were over the moon to find out we were expecting our first child – a baby boy! Everything seemed to be running smoothly, but then at our 20-week scan, we learned something was wrong with our baby's heart. We were told we would need to make our way to a specialist hospital in London for an appointment the next day, nearly two hours away from our home in Kent.
During the 45-minute scan at Evelina London Children's Hospital, we were still hopeful that they had gotten it wrong or that it was actually something that they could easily 'fix'. But we knew that wasn't the case when the cardiologist took us into a room to explain that our baby had a very complex and serious heart condition.
We found out that our baby was effectively missing the right side of his heart, the part responsible for pumping blood to the lungs. We were told that without three major open-heart surgeries, he wouldn't survive. It felt like our world had come crashing down. We tried to stay positive in the last weeks of our pregnancy, but we couldn't help worrying whether our newborn would be able to survive an open heart surgery at just a few days old and whether he would have complications while growing up.
On 28 March, my wife gave birth to our beautiful baby Archie as planned at St Thomas' Hospital. He was taken straight into intensive care and we were offered a room at Ronald McDonald House Evelina London within 24 hours of arriving. It took such a weight off our shoulders.
We had spent so much time talking and worrying about where we could stay so that we could be close to Archie, and having the room at the House meant us no longer thinking about it, we could just concentrate on being there for Archie and being by his side.
Six days later, Archie had his first surgery and though it seemed to go well, just 48 hours later we received a phone call from the hospital at 5am urging us to hurry back to the ward. Thankfully, the House is just a few minutes away and when we arrived we were asked to sign a consent form – Archie needed to go back into surgery.
We waited for what felt like forever. It was agonising.
Finally, the surgeon emerged and explained to us that Archie had a clot in his heart, which meant he wasn't able to get any blood to his lungs, dropping his oxygen levels to a dangerously low level – even on a ventilator.
If it hadn't been for the House, we would never have made it in time to sign that consent form for Archie to go back into surgery. For that, we are forever grateful.
Archie's recovery after his first surgery was a bumpy road, and he suffered from a small bleed on the brain as well as various viruses – but he fought them off!
We stayed in the House for five and a half weeks and it really did become our 'home away from home'. It's full of all the facilities you would usually have in your own home. The staff couldn't do enough to help us. There were various supporters who came in to cook dinner for the families, meaning we could all get a proper meal and still be just moments away from Archie.
It was also so nice to talk to other families going through something similar – everyone was there for each other when they needed it. All these things just made a difficult time that little bit easier.
We've been back to the House for another five weeks since our initial stay, where Archie had his second stage operation that, thankfully, went a lot smoother than the first. Again, we were welcomed back to our 'home away from home' during this difficult time.
Archie is now 15 months old and he is doing incredibly well. He's due for a third operation, but luckily that won't be for a few more years, but we know that when the time comes, we'll be looked after properly.
Right now he's just started walking and he's the happiest baby we know! He's always smiling and making everyone laugh.
He is our whole world and we are so thankful to Ronald McDonald House Charities UK for everything it has done for us.
One thing I would say to a parent going through something similar to us, would be to focus on your family. The Ronald McDonald House will support you for no matter how long you may need it, so you can concentrate on being there when it matters.
Help us provide free home away from home accommodation to support families with children in hospital with a donation.