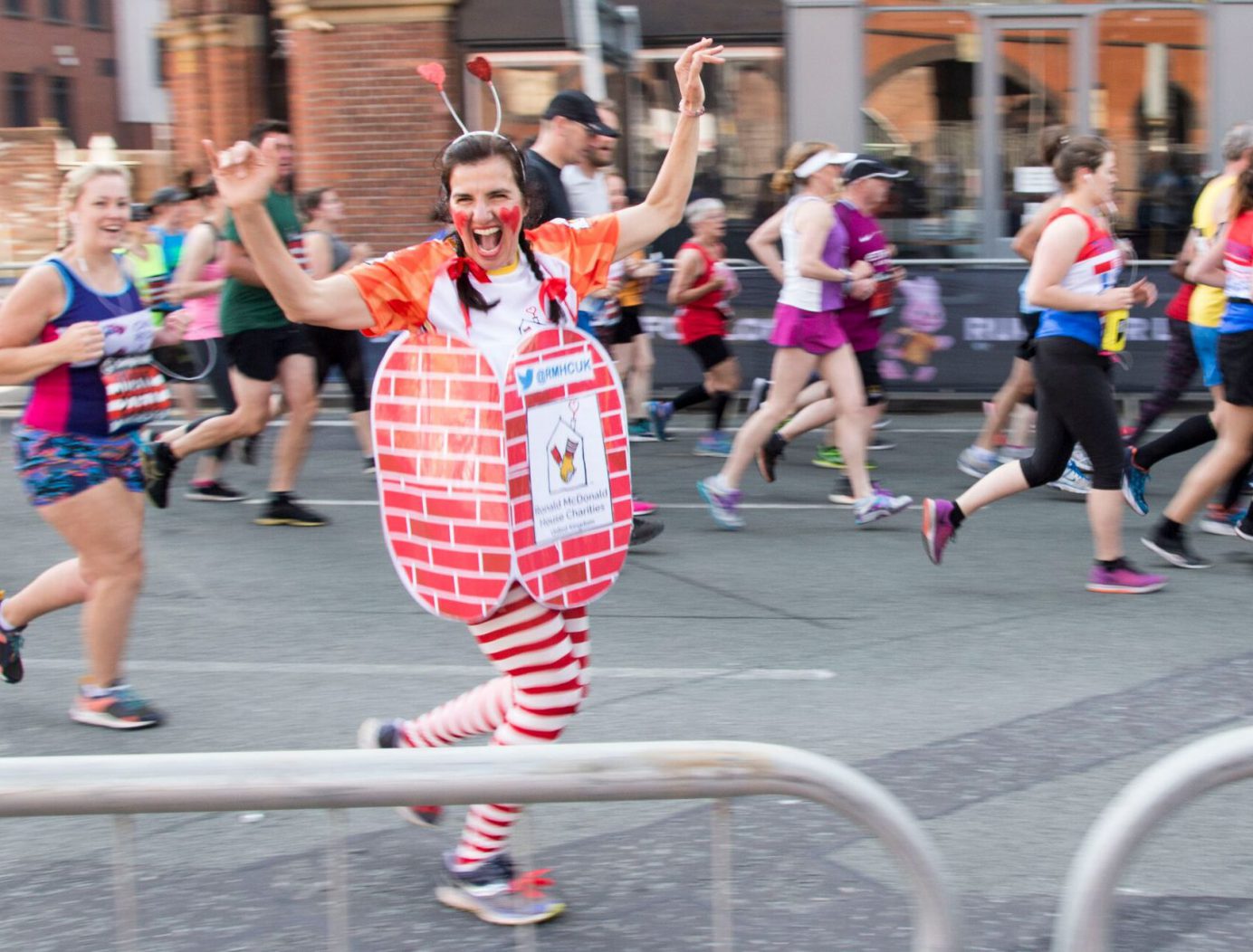 Great Manchester Run: Mum Naomi's Story
Naomi Garrick is a 49-year-old mum who took part in the Great Manchester Run 2018 to raise money for Ronald McDonald House Charities. She became aware of the Charity when her daughter, Molly, was admitted for specialist treatment to Royal Manchester Children's Hospital – more than 250 miles away from where they live in Devon. Naomi and her family wanted to be close to Molly and needed somewhere to stay, and Ronald McDonald House Manchester provided the ideal 'home away from home' solution.
HAVE YOU DONE RUNNING BEFORE?
My running started aged 12 when I gained a scholarship to train at Millfield School, a private school that has been represented at every Olympic games since 1957. There, I was training with the dream of becoming an Olympic athlete, but things changed, and I actually thought I'd never run again. I started having chronic back pain and was diagnosed with Scheuermann's Disease, a developmental disorder of the spine, a condition I was born with, but it got really bad at the age of 16. I had manipulations and all sorts of treatment and as a result, I didn't run for about 15 years.
My back improved after having my three children and I have taken part in six London Marathons, five in a row, and held two Guinness World Records, one in 2012 for being dressed as a bride and one as a doctor two years later. I broke the record for doing the 2016 marathon in a fruit costume, but then someone crossed the line with a faster time – though I can probably say I am the quickest strawberry on record.
Running means everything to me now, it's a release of all my built-up emotions. Running is my friend and my therapy. It empowers me to help me cope with Molly's condition in a positive way and it gives me the energy I need to face life's challenges.
WHAT WAS IT LIKE TO TAKE PART IN THE GREAT MANCHESTER RUN?
Taking part in the race gave me something to focus on and achieve a worthwhile goal.
On the day of the marathon, it was lovely, I engaged with staff from the House in a different way and met other parents and we supported each other. Everyone has different big life-changing reasons for staying at the House and we felt united. It was as if we were members of a courageous team and it really helped me emotionally. The whole day was fun, there was a real buzz, and we were able to share with each other some genuine happiness, despite everything that was happening in our lives.
I ran the race dressed as a House and it was a really hot day, I was wearing stripy tights underneath. I found some brick wallpaper and the team at Ronald McDonald House Manchester made the costume for me. Within the first mile, the straps came off and my House costume fell down and there were three or four really kind people who stopped to help me. The straps came off again and at one point I thought, I'm going to have to ditch this costume, but I decided no, stick with it! At one point, I was squeezing it under my armpits to keep it up and I even carried it for a while.
WHY DID YOU WANT TO RAISE MONEY FOR THE CHARITY?
I'm so grateful to Ronald McDonald House Manchester. I wanted to repay and say thank you. I saw a poster displayed inside the House saying they were looking for volunteers to run the half marathon and I thought "I'll do it"!
Molly was very ill, and we waited nine days for a bed in a treatment facility and Manchester was the first to become available. It was great news, but it really threw us; it was so far away from our home. We were concerned about the distance and where we would stay, and it was such a relief to hear about Ronald McDonald House Manchester.
On arrival, the House team were so lovely, and they gave us this really nice room, and they were so kind and caring, which was just what we needed at the time. When we stay there, we are so close to Molly, it's just a two-minute walk away from the unit where she's being treated, so we can be with her at different times throughout the day.
Having to look for accommodation all the time would have been so stressful and expensive when you also consider the money we need to pay for travelling to Manchester from Devon. Nearly every time the House has been able to accommodate us, so we can be close to Molly; it has made such a huge difference to our lives.
The House team are always there for you and they're so supportive. I've also found strength from spending time with other families staying at the House. Everyone has their own story, but we are going through the same kind of challenges. The House offers a positive and welcoming environment for families. They also allow the children to come and visit, to leave the hospital and have a change of scene.
WHAT WOULD YOU SAY TO ENCOURAGE OTHERS TO RUN AND RAISE FUNDS FOR THE CHARITY?
Don't be put off by the idea of running. You don't have to train for ages before you race, and you can take it at your own pace. You don't have to be an experienced runner to compete.
People who have stayed at a Ronald McDonald House should consider volunteering; it's worth it and you get to know the staff more and the other families. It's an opportunity to put back something you have received.
Before all of this, I'd never heard of Ronald McDonald House Charities. I'm sure there are other people too, who are unaware of what it does for so many families. Find out more about it and get involved!
To me, it's an amazing charity that bends over backwards to support families who are going through the change to difficult times in their lives – being able to keep close to Molly and come and go from the hospital with ease has made such a huge difference.
Naomi ran the Great Manchester Run Half Marathon in 02:09:54 and raised £600!
Since writing this blog, Naomi has also taken part in a huge Charity skydive! She also celebrated her 50th birthday in style by throwing a fancy dress party with proceeds going to Ronald McDonald House Charities. She has raised another £900, making her grand total £1,500!
Check out the amazing video of her skydive below:
Help us provide free home away from home accommodation to support families with children in hospital with a donation.