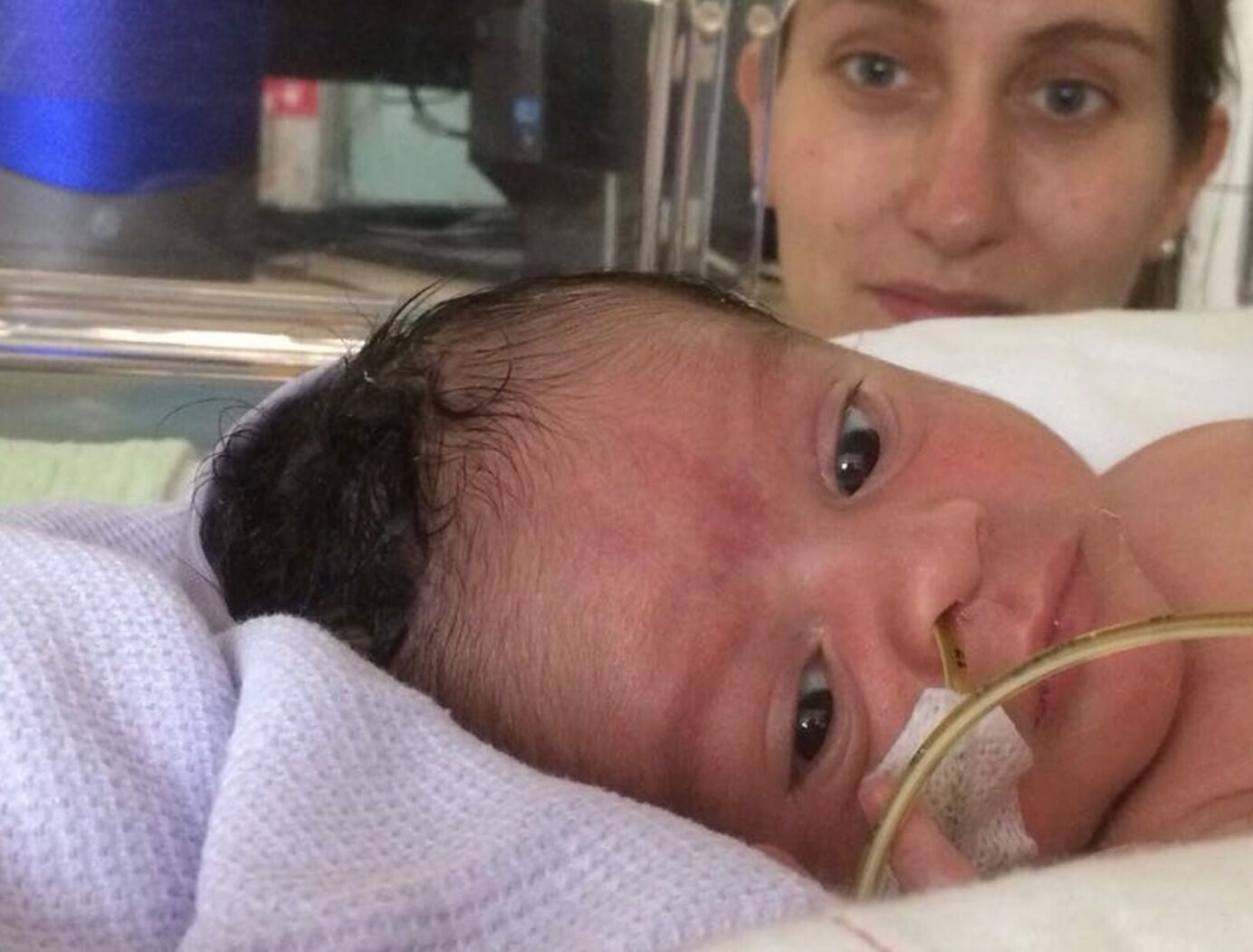 Getting into a Routine: Isaac's Story
Sarah's life was turned upside-down when a routine scan revealed that her unborn baby was suffering from Gastroschisis, a rare condition where a baby's intestines are found outside their body. "When we first heard, we felt shocked… we looked at each other and thought, this is a real alien condition," recalls Sarah. "We didn't even know that that was possible. We started to feel scared, worried… and the fear of the unknown, that was the biggest thing."
They knew immediately that Isaac would need to stay in hospital when he was born – he had his first operation at just one week old. "He didn't leave hospital from the day he arrived," says Sarah. "I didn't want to come home without him, I just thought it felt wrong…we were staying at a wardroom where parents can stay. Whoever has the worst situation has the room for a maximum of five nights, so after I got discharged myself I was looking at the nurses thinking, I can't leave yet without my baby, he's still here! I didn't really think about where I'd sleep."
Sarah put their names down on the waiting list for a room at Ronald McDonald House Tooting immediately, but while they were waiting for a room to become available, they had no choice but to travel to St George's Hospital in London from home, a two-hour drive away. "If we came home for a night, we'd always be back by 11am, and we wanted to say goodnight to Isaac, so we'd be leaving at say 9 o clock at night. Your home doesn't feel like your home any more, it's just somewhere to rest your head… and you just feel guilty every moment you're away from your baby."
Sarah got to know the Ronald McDonald House Charities UK staff well before their stay. "Every day we'd go there to get a cup of coffee and [Rachel, the House Manager] said any time you want to come and have a cup of tea or a sit-down, feel free to help yourself to food or use the facilities." Then three weeks after Isaac's birth, the couple moved in. "We were ecstatic," says Sarah. "It's so welcoming…it really felt like a home, not a house. There was a playroom, kitchen, dining room, all the facilities you'd have at home, so you can cook your own meals. They also have a lot of support from local businesses like Greg, Pret, Tesco's, so you could just grab food and go straight to the hospital…you didn't need to worry about lunch," Sarah says.
"You do get into a routine, so he gets used to knowing when you're going to be around too,' says Sarah. "I was told by the nurses that he'd normally be awake by about 8 o'clock, by the time I'd got up and eaten I usually got there around 10. I'd stay with him from 10am to 2 or 4pm. I'd go have a nap and chill out, then come back to say goodnight to Isaac. We'd try to leave by 9 o'clock every night, but usually, it'd be 10 because we really didn't want to leave him."
Today Isaac is a happy, music-loving baby who loves to dance, climbs on everything he can see and babbles away to himself. Sarah's advice to other families in the same situation? "Remain positive, as positive as you can be…and try and speak to parents on the ward with you. If you're lucky enough to have a Ronald McDonald House, you will make friends there but if you don't… just talking to other parents is therapeutic. Being able to share stories is priceless… and the parents we met at Ronald McDonald House have become friends for life."
Ronald McDonald House Charities UK helped to keep Sarah and Isaac together when they needed each other the most. You can pledge your support to help families like Sarah's or read more stories like theirs on our blog.
Help us provide free home away from home accommodation to support families with children in hospital with a donation.