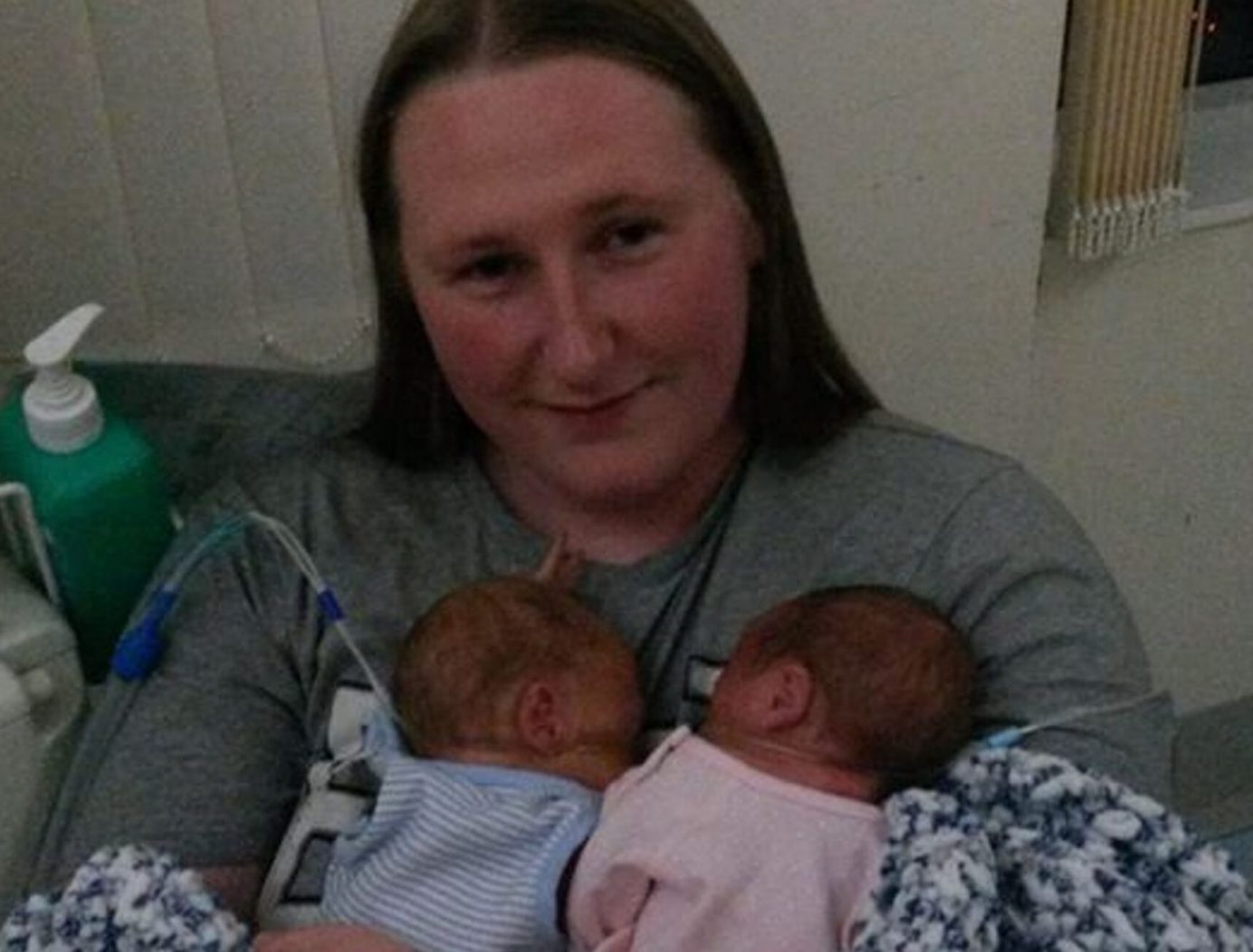 Emotional Rollercoaster: Mum Sam's Story
Nothing can really prepare you for parenthood; but when your baby is born prematurely, the excitement, time to plan and the anticipation of a new arrival is dramatically interrupted. From there, parents find themselves shocked and numb in the neonatal intensive care unit (NICU) before being flung onto an emotional rollercoaster. The lows can be very difficult to come to terms with, and as a result, parents who experience premature birth are at greater risk of postnatal depression, anxiety and PTSD (Post-Traumatic Stress Disorder).
This is the story of brave mum Sam, who courageously told us about her struggles with mental health after the birth of her beloved twins who were born 14 weeks premature.
"I got pregnant after the second round of IVF, which was our last attempt. The fertility drugs made me feel unwell and then I had pressure and discomfort during pregnancy. The GP said the pain was caused by the extra weight from carrying two babies.
"At 26 weeks, I had a routine appointment in hospital and to my horror discovered I was 2cm dilated. I was rushed to Arrowe Park Hospital and ended up giving birth to Darnel and Porsha with NICU on standby.
"The delivery room was quite daunting. Even though it was a large room it was full of people, machines and computers. Nobody had space to move and there was a sense of panic. That was the first time I felt scared. I struggled to get the babies out. I was doing my best to deliver them safely, but there was nothing I could do; my body wasn't allowing it. In the end, Porsha needed forceps and Darnel was breech and was initially stuck.
"The twins were born in the morning, and I didn't get to see my babies until later that evening. Throughout that time, I didn't know if they were okay or whether there were any complications. That not knowing was horrible.
"I'll never forget seeing my babies for the first time, covered in wires from head to toe and connected to a machine that was keeping them breathing. As a mother you're meant to protect your child through everything, but in NICU there's nothing you can do.
"It's really hard to explain the journey you go through with premature babies. Nothing can physically, mentally or emotionally prepare you for it. Even if someone was to sit you down and tell you all about it – you still wouldn't be prepared.
"While the babies were in hospital, we stayed in Ronald McDonald House Arrowe Park which is located directly above the NICU, and it was our home for nearly three months.
"Every hospital should have a Ronald McDonald House. I wouldn't have coped if I had to go home. We only live 30 minutes away from the hospital but that's too long when your child is unwell, and you need to be there. In our room there was a direct telephone to the NICU right next to the bed. If anything went wrong, they would call, and we would be downstairs within a few minutes.
"I was emotional. If you told me good news – I'd cry; if you told me bad news – I'd cry, and if you told me no news at all – I'd still cry. I can remember going upstairs to the House and just breaking down. The staff know how to help you and talk to you. They asked questions about the twins that other people daren't ask and they listened when I needed to get things off my chest. I don't know how they did it, but they understood what I was going through and spoke to me like they'd gone through it themselves.
"It's really hard to watch your babies cling to life. The NICU push them hard – they have to, but it creates a real mix of emotions as you want it to stop, but you know it has to happen. The doctors need to see if the babies can cope and breathe independently and if they can't they go back on and then the doctors build them up again and then take them off. It's painful to watch.
"Porsha went from strength-to-strength and was soon discharged from hospital, but Darnel really suffered. He was on life support for a long time with a heart condition that required surgery, and he had problems with his lungs, kidneys and at one point had a haemorrhage at the back of his left eye that could have caused blindness.
"I had a lot of fear. I didn't want to hold him or even touch him in case I hurt him or passed him an infection. I know now that was normal and often the case with parents in NICU and suffering from postnatal depression. My partner, Maz, made up for it and gave him lots of kisses and cuddles and did all the things to care for him that I couldn't do. I didn't resent her for it, but I did feel guilty because I couldn't bring myself to do it. There was no pushing; Maz understood what was happening and gave me the space I needed. I also felt guilty about giving his sister lots more attention. The nurses helped me through all of that and I was soon able to hold Darnel and support him fully.
"Staying in the House was a huge comfort for me. We were able to live there and have Porsha with us and be just upstairs from her brother. After spending the day in NICU, it's normality that you need, and that's what the House and the staff give you. It made the whole experience bearable for me.
"We missed our first Christmas at home with the twins; we didn't have those magical moments together as a family. But on Christmas morning we found a bag of baby gifts outside our bedroom door and the staff made everyone breakfast and cooked Christmas dinner. They took time out from their family, and their own children, on Christmas Day to support us going through the hardest time of our lives. You can't put a price on that.
"Thanks to Ronald McDonald House, we did get to spend some precious moments together on Christmas Day as a family. We were allowed to take Darnel upstairs to the House. It was so amazing and wouldn't have been possible without the House.
"We're so grateful for the support that Ronald McDonald House gave us. To be able to have a room so close to the twins and receive so much care and help; I don't think anything can cover the gratitude that we have, and I can't wait to start raising awareness of the Charity and fundraising to help more families like ours.
"I became aware of my postnatal depression when Darnel started to get better. I thought it was all in my head and I was just overwhelmed by it all, but it's more than that. Even to this day 16 months on, I can still hear the noises the machines made in NICU. I can still see like it was yesterday, the nurses rushing to Darnel's side because he had stopped breathing. When he was being resuscitated, Maz said I didn't need to watch but I couldn't leave him, and I'd already let him down by not being able to hold him.
"Things are definitely getting better and the help I have received is working. I need to not feel sorry for myself and stop feeling guilty about what the twins went through. It's over now and I need to stop re-living it. It's important that Porsha and Darnel have a happy, jolly, and 'anything goes' kind of mum and not one that's down, feeling anxious about everything and crying all the time.
"The twins are two years old now and Darnel is getting much stronger and he's a happy-go-lucky little boy. I have lots of family support around me and other than check-ups we're a long way from hospitals now."
It is estimated that about 40% of NICU mums suffer from postnatal depression compared with 5-10% of mothers who give birth to full-term healthy babies. Of that number, more than half report symptoms of anxiety and PTSD. These are stark statistics and like many aspects of mental health, it is not really talked about. It's the openness and honesty of mums like Sam that helps raise awareness of postnatal depression and PTSD to bring forward more support for parents.
If you've been affected by this article and need to talk to someone about mental health issues, please find below some organisations which can support you.
PANDAS is a UK-wide perinatal mental health charity which offers peer-to-peer support and signposting for parents struggling. Visit their website for information about their telephone support line.
The Mind Infoline provides information on a range of topics including types of mental health problems and where to get help. They will look for details of help and support in your own area. Tel: 0300 123 3393 – Email: info@mind.org.uk – Text: 86463.
Alternatively, you can contact your GP for support. Visit the NHS website for advice about post-natal depression, information about the symptoms of post-natal depression, and how your local GP can help.
Help us provide free home away from home accommodation to support families with children in hospital with a donation.