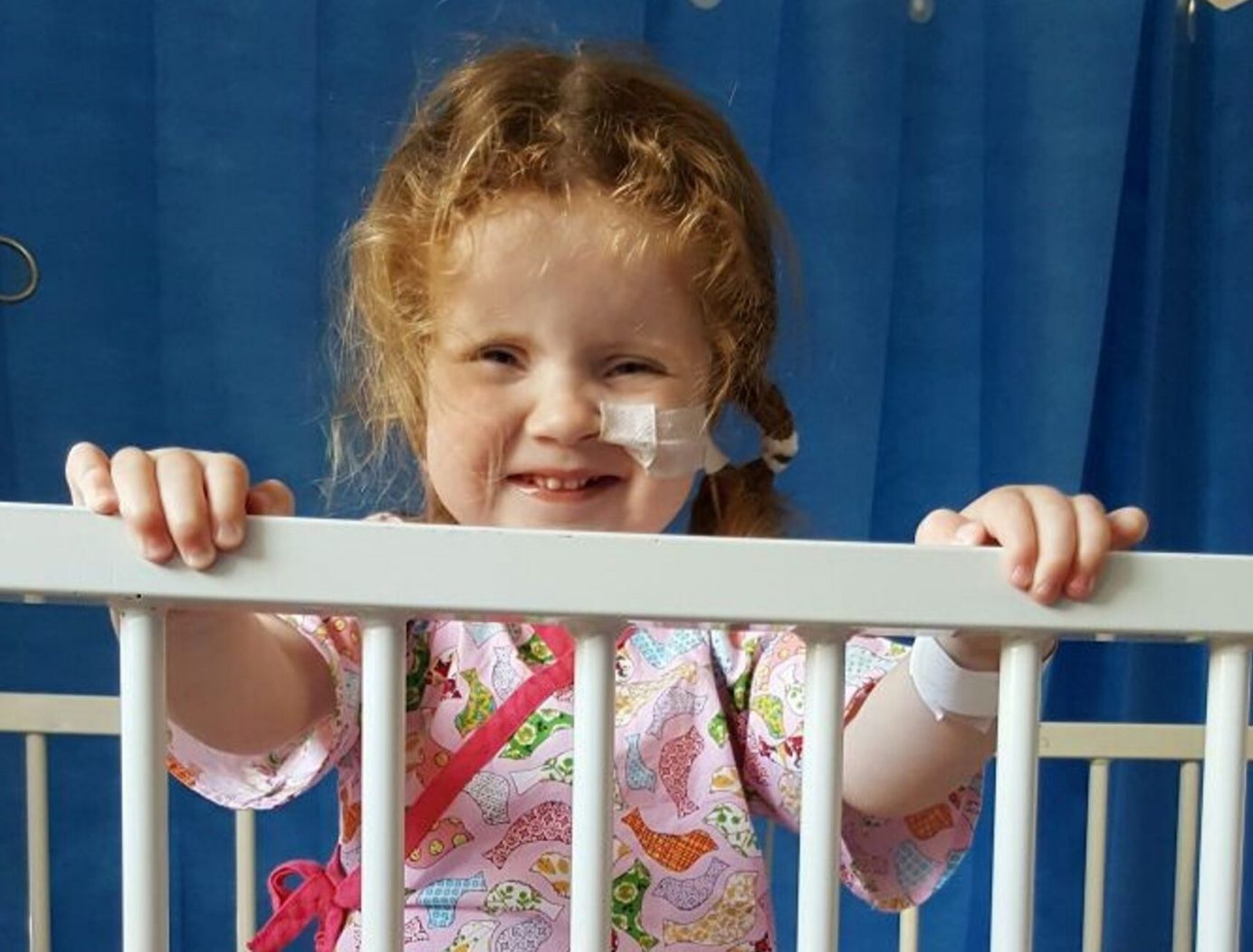 Defying All Odds: Megan's Story
Megan is now four years old and it is a miracle that she is alive. The doctors diagnosed her with Trisomy 9 Mosaicism and said she would never be able to sit up, walk or talk. But Megan has defied all the odds and is an active, happy little girl, who continues to surprise the experts with her progress.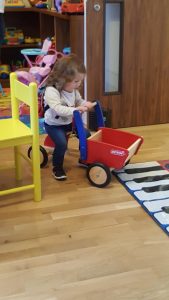 She was born in her local hospital close to home in Sheerness on the Isle of Sheppey. "I had a normal pregnancy and didn't think there was anything wrong," recalls her mum, Kylie. "Megan was born breech and initially wasn't breathing, but she did start shortly after. The doctors noticed that her ears looked a bit folded and she held her thumbs in her hands, but to us that didn't seem that unusual. Megan had some genetic tests done, but we weren't very concerned. To start with, Megan didn't take much milk and the doctors weren't keen to let us home until she was feeding better. When we were allowed home, we had to come back in for weekly blood tests to monitor her platelets because they kept dropping."
Platelets are the cells that circulate within blood and bind together when they recognise damaged blood vessels. They're there to stop us from bleeding, binding to the site of the damaged vessel and causing a blood clot.
"After eight weeks, I was sick of hospitals and I just wanted to be rid of the appointments. Then during a consultation with a paediatrician, she asked us lots of questions about Megan and then said: 'I didn't tell you this at the start because I needed you to answer my questions with a clear mind' and then she told us the diagnosis of Trisomy 9 Mosaicism (T9M). It was a complete shock made harder because up until that point we didn't think there was anything wrong. I broke down in tears and remember thinking, "We're never going to be rid of hospitals."
Trisomy 9 Mosaicism Syndrome is a rare chromosomal disorder in which the entire 9th chromosome appears three times (trisomy) rather than twice in some cells of the body. The severity of mosaic trisomy is determined by how many cells are affected. Full trisomy is nearly always fatal, with the vast majority dying in the first trimester of pregnancy or in infancy due to health problems. The disorder affects many parts of the body and displays itself in a variety of ways; it commonly causes an unusual facial appearance (for example a small head, cleft lip/palate and low set ears), vision problems, dislocated joints, cognitive disabilities and slow development.
The doctors said that there were only 200 children in the world with Megan's condition and gave her parents some information that had been printed off the internet. "We researched it ourselves and found a Facebook group and talked to parents on there," said Kylie. "What we found out reinforced what the doctors said; it was a miracle that she was alive as most didn't survive in the womb or died within the first year of being born. Those that had survived were severely disabled and couldn't walk, most couldn't talk, and they were tube-fed with a lot of feeding difficulties."
Megan underwent countless tests on her brain and all the other organs of her body. At aged one she kept getting ill with chest infections and she wasn't gaining weight. Kylie knew from her research that sometimes this actually indicated a feeding problem. The doctors agreed that further tests were needed, and Megan was sent to Evelina London Children's Hospital.
"The doctors performed a videofluoroscopy, which is basically a moving x-ray of Megan's body to show her swallowing, and that showed that every time she swallowed – some of it went straight into her lungs and it was amazing that she was still alive," exclaimed Kylie. "From that moment, Megan wasn't allowed to feed orally and had to be tube-fed. She was fitted with an NG tube, which was inserted through her nose and down the back of her throat to get nutrients directly into her stomach.
"Megan had severe sickness from day one with the NG tube, and after about 10 months they did some testing and found out it was because the nasal tube made her reflux worse. That time, Megan was transferred to King's College Hospital in London and she had an operation to insert a gastrostomy tube into her abdomen, which delivers nutrients directly into her stomach."
While Megan was being treated in King's College Hospital, her family stayed in Ronald McDonald House Camberwell for nearly three weeks in total.
Megan also received treatment at Great Ormond Street Hospital in London. Kylie remained by Megan's bedside on the ward while Kylie's husband, Megan's father, stayed in hotels. "Finding a hotel close to Great Ormond Street was tricky and the cost could be as much as £140 per night. Add to that the price of train tickets, because we don't drive, taxis and food – it was quite costly and exhausting.
"Being able to stay as a family at Ronald McDonald House is such a relief. Just getting to London is tricky. It's only 54 miles away from our home, but we have to catch three trains with Megan in a wheelchair. To arrive at King's College Hospital and not have to worry about where we're going to stay and how we're going to afford it is fantastic.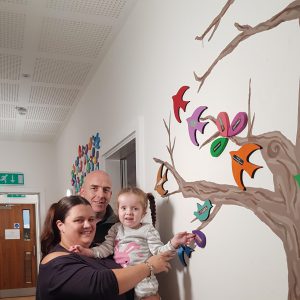 "The House is lovely and was so close to Megan's ward. It's a great facility and you can buy food from the local supermarket and cook it in the kitchen, so we didn't have to buy over-priced food in the hospital or cheap take-out in London. I still slept with Megan but staying close-by meant that if anything happened during the night, Megan's father would be able to get us quickly and be there for Megan too. I was also able to take a break from constantly being on the ward and go back to the House for meals and to shower.
"It was also nice to see other families away from the hospital in the kitchen or lounge area and have chance to talk. The House feels like a real community.
"Everyone has a sick child in hospital, so no-one is happy to be there, but you get on and support each other. We each understand what it's like and it helps to talk about normal things and have a breather away from the hospital. Being in the House brings a short period of normality to your life."
Having the gastrostomy tube fitted marked a turning point for Megan. After recovering from the operation, she began to thrive. Megan took her first steps at just over two-years-old and is walking despite having to wear a spinal brace 19 hours a day to manage a curved spine.
Megan is now showing an interest in food and wants to eat using her mouth. Further tests on her swallowing at Great Ormond Street found that she is now able to have soft food. "Megan is now eating purees, yogurts and some other foods that melt in her mouth," said Kylie. "She's starting to chew certain food but unfortunately we've now passed the time at which she will instinctively swallow and so it's a learning process.
"Not only is Megan walking, she's also talking too! She can say mummy and daddy and quite a few other words, and she tries to say lots of things. We also communicate with each other using Makaton sign language. We give Megan the same opportunities as a healthy child as much as possible. She rises to those challenges and it's great to see her so determined. However, it's upsetting when she wants to do things that she can't yet do, and she struggles sometimes to accept help.
"Megan is doing amazingly well in comparison to what the doctors said she would be able to do. We have to take each day as it comes and see where we end up. There's no timeline for her development, every day is unknown territory. Because Trisomy 9 is so rare, none of our doctors have treated it or even seen it before, and there's not much information out there about it.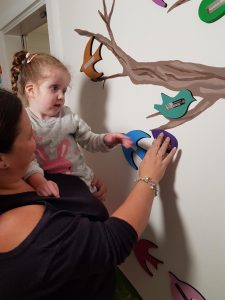 "Megan needs a lot of ongoing treatment and she'll need spinal surgery at some point in her life. The doctors hope that the brace will delay the surgery for as long as possible to give her spine time to develop. And we know that we can call on Ronald McDonald House Charities for help."
When the family were staying in Ronald McDonald House Camberwell, James said to himself how lovely it would be to have a plaque up on their Giving Tree with Megan's name on it. So, when partner Kylie bought him a bungee jump as a present, he thought it would be a good way to raise money for the Charity.
"It's amazing that you can stay at the House for the cost of a £25 deposit and when we left, we donated that money to the Charity. We wanted to raise money for the Charity to show our appreciation for the support that we received. My husband raised £515 by doing the bungee jump at the O2 in London."
Now James is planning a charity skydive after completing one about ten years ago, which was said to be the highest skydive in the UK at three miles up.
"If you're going to do something – go ahead and do it. There's not point thinking about it, thinking about it is what stops you from doing it. When the bungee jump came up, I just thought that it was the perfect opportunity to do that and raise money for the Charity to help other families like ours" said James.
Help us provide free home away from home accommodation to support families with children in hospital with a donation.