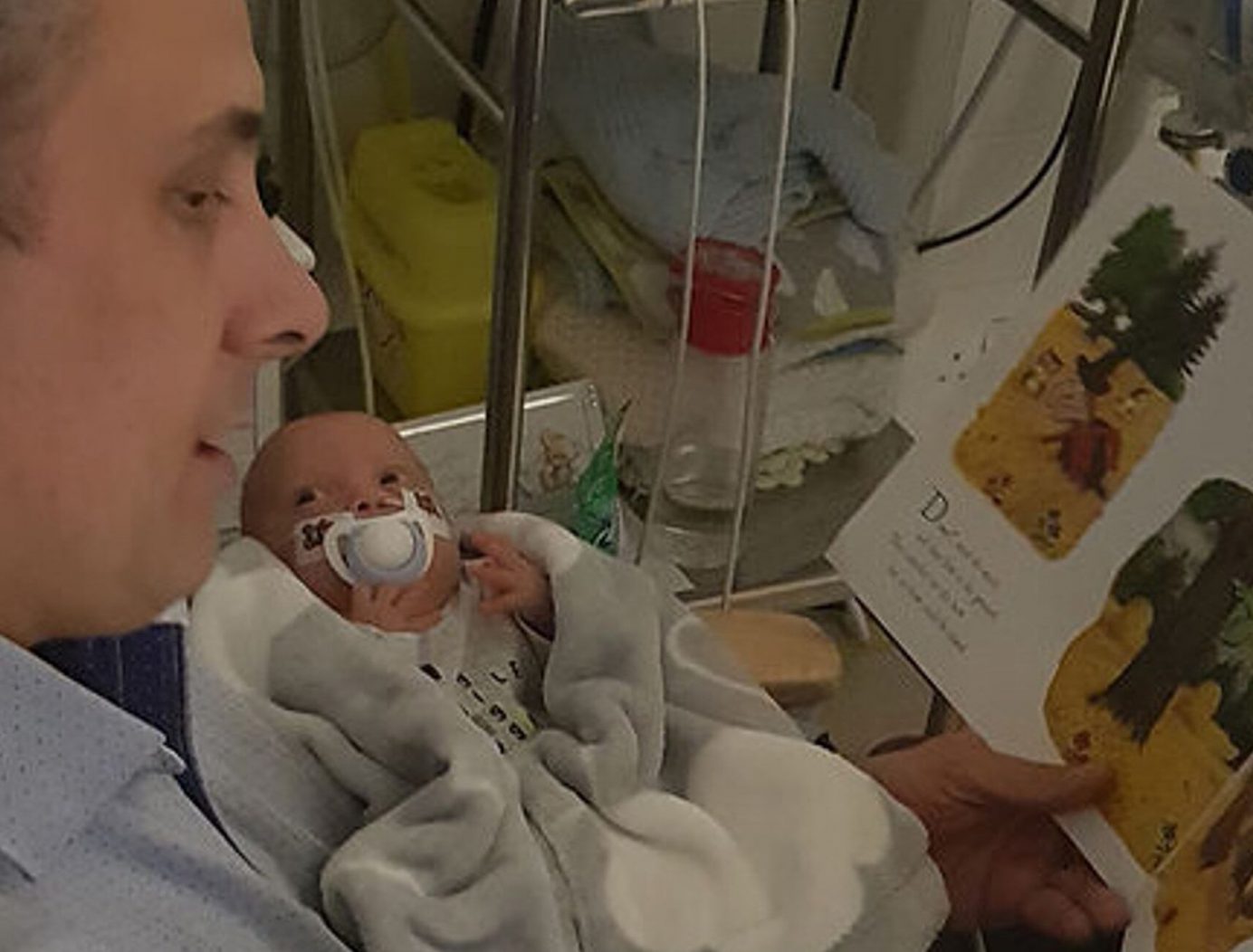 Dad's Perspective: Phil's Story
When Theo was born premature, 25 weeks into Lisa's pregnancy, parents Lisa and Phil and Theo's big brother Jack, had their lives turned upside down.
Each day of the family's journey on the NICU ward, Phil wrote a diary to help parents that may be going through similar experiences and praises the incredible work of the NHS. Here he documents the family's day to day life, juggling work, family commitments, and being there for baby Theo while staying at Ronald McDonald House Manchester.
We were all enjoying Lisa being pregnant… even though we still couldn't quite believe it….when completely out of nowhere, Lisa went into labour on 16 June….. at 25 weeks!
After three days of being on the antenatal ward at St Mary's Hospital, our Baby Boy, Theo Phillip Juniper was born.
After what seemed like a lifetime, the consultant told us we had a beautiful baby boy and that he was doing ok; they then got him wrapped up, put him in to a transporter and took him straight off to intensive care…. he was so, so tiny (850 grams) but he looked perfect!
We stayed with him as long as we could and then Jack and I had to go home which was really difficult for us both….we just wanted to stay with Lisa and Theo but we weren't allowed to stay on the antenatal ward.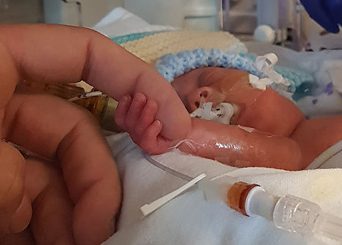 I felt completely useless today and couldn't do anything but watch as the doctors and nurses just got on with it like it was nothing…. 'Just another day in the office for these experts!'
It was our first night together as a family since Thursday last week, so we all managed to get a relatively good night's sleep….. we all got up, got ready, and went over to spend the morning with Theo as a family.
The nurse asked me to hold him in my hands while she changed his bedding…. I told Lisa to swap with me so that she could be the first to hold him, but she said I could do it. I was trying my hardest to contain my tears as I held him for the first time….. but I couldn't…. it was really emotional…
I gave him back to the nurse when she'd finished and she put him back down…. phew…. very precious moment that I will never forget!
We went over to Ronald McDonald House at 7pm and it is amazing…. a simple room with 3 single beds and a small bathroom in the corner….. It has 5 shared kitchens on the floor, a games room for Jack to play in and an outside play area too…. our new home for the next few months!
Today has been a bit of a blank…I think I'm running on adrenalin and I'm starting to feel pretty tired now, but I've got to keep going for Lisa, Jack and Theo…. they are relying on me to stay strong and get us all through this.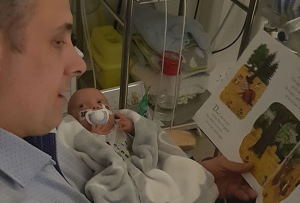 I read him a book about teddy bears; and while I was reading, I noticed he was trying really hard to open his eyes… I can't wait to look into his eyes. He was also holding really tight on to my thumb at one point with both hands which was really emotional… He's so strong!
I overcame a massive milestone with Lisa tonight…. I managed to get her to leave the hospital grounds at around 6pm and come for a Chinese with me around the corner….
She hadn't been outside of the hospital grounds since we arrived 13 days ago….. We had the same really good nurse looking after Theo again, and as he was fast asleep, she felt safe to leave him, if only for a short while….
Theo started to open his eye a tiny little bit today, so I told the nurse to call me if it opened any more, no matter what the time was, as I wanted to be there when he opened them
MONDAY 3 JULY 2017 (TWO WEEKS OLD TODAY)
We have open eyes…… yippee!!! And on his two week birthday!!
We finally got to hold our little baby Theo for the first time today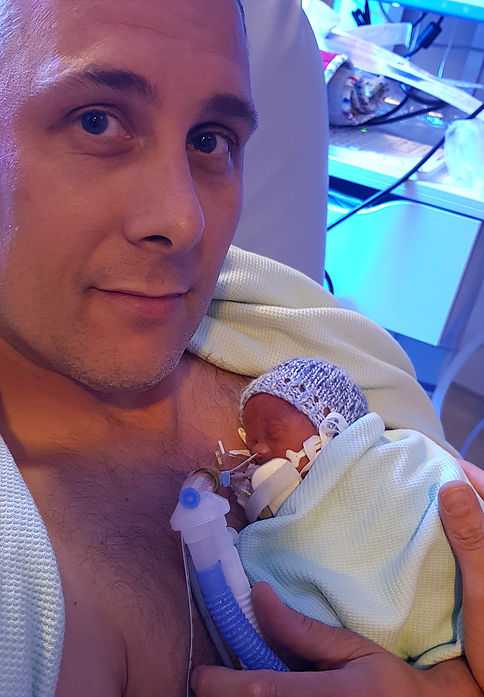 Theo had a bad blood gas through the night last night and his ventilator rate has been put back up from 25bpm to 45bpm. That's a massive step backwards but probably what he needs to rest his lungs for the day. It's looking like he's probably got an infection but we are still waiting for the results…
Lisa called me shortly after I arrived at my office to tell me what the doctors had said on the ward round…. basically he was showing an infection score of 15, and it should be less than 1….. She then told me that they were treating him for Sepsis!… What!! That's a life-threatening infection!!! I'm sure they are just treating him for the worst-case scenario while they wait for the cultured blood results to come back in the next 48 hours, but I'm scared to death for him now!
It's fair to say that Theo is really unwell at the minute with 2 infections and suspected NEC!! The doctors looked really concerned on the evening ward round and left us all thinking the worst! I took Jack back to RMH to get him away from it all. While he was playing on his PS4, I was reading up on the infections online, and the next thing he asked me if Theo is going to die!!….. I said "no mate, he's going to be fine" and then went to the toilet…. where I burst into tears.
Our usual really nice day nurse had been looking after Theo today so when we got back Jack was allowed to take me and Lisa out for a 'very quick' curry around the corner for our 15th wedding anniversary…… Lisa was a bit anxious but I managed to shove most of a really hot curry down….. and box up the rest!!
Not the most romantic anniversary in our 15 years of being married, but definitely one to look back on!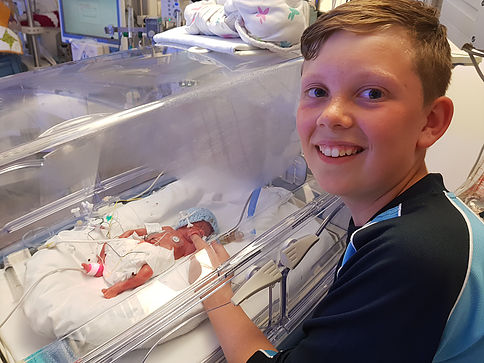 Theo was doing great and the doctor on the ward round said that him coming off his ventilator was imminent!! I almost broke down completely….. felt my heart go with pure emotion and had tears rolling down my cheeks….. I went back over to the room after the ward round and told Lisa who was still in bed…
I got back to the hospital at about 5:30pm. As soon as I got there Lisa told me that he was being moved to room six…. High Dependency, whoop, whoop!! Massive step forward…. no more need to be in intensive care.
Jack called me in the early afternoon to tell me they were going to get Theo out of his incubator and he might get to hold him. Awwww he'd not held him yet so he was really excited!
SATURDAY 19 AUGUST 2017 (TWO MONTHS OLD TODAY)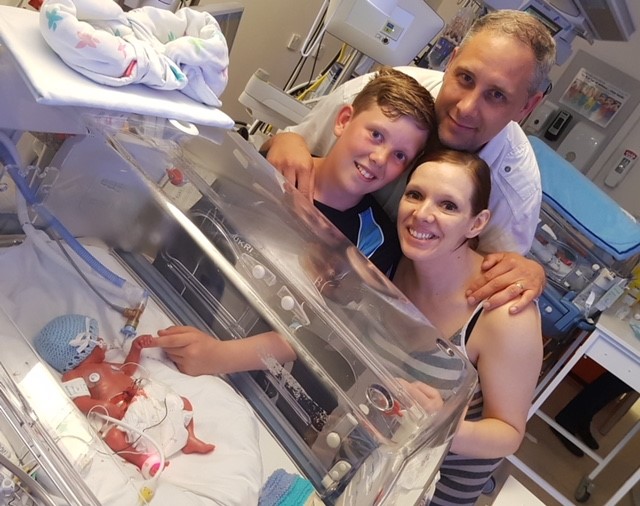 Our old life seems like a distant past now…. being at the hospital and living in Ronald McDonald House is the new norm… I'm really proud of Lisa and Jack for the way they have adapted…. we are two months in and probably have another two months to go…. I really believe that Theo is doing so well because we (mainly Lisa) are with him all day, every day.
I had a really nice day with my boys today… won't be long and we will be able to have really nice days together as a family.
After 111 days, we got to take our new baby boy home! Theo's still got a long journey ahead of him, he's got chronic lung disease, is severely deaf in both ears and had a couple of severe bleeds on his brain, which we will hope and pray don't have any lasting damage…but with a strong family behind him, the world will be his oyster.
Help us provide free home away from home accommodation to support families with children in hospital with a donation.