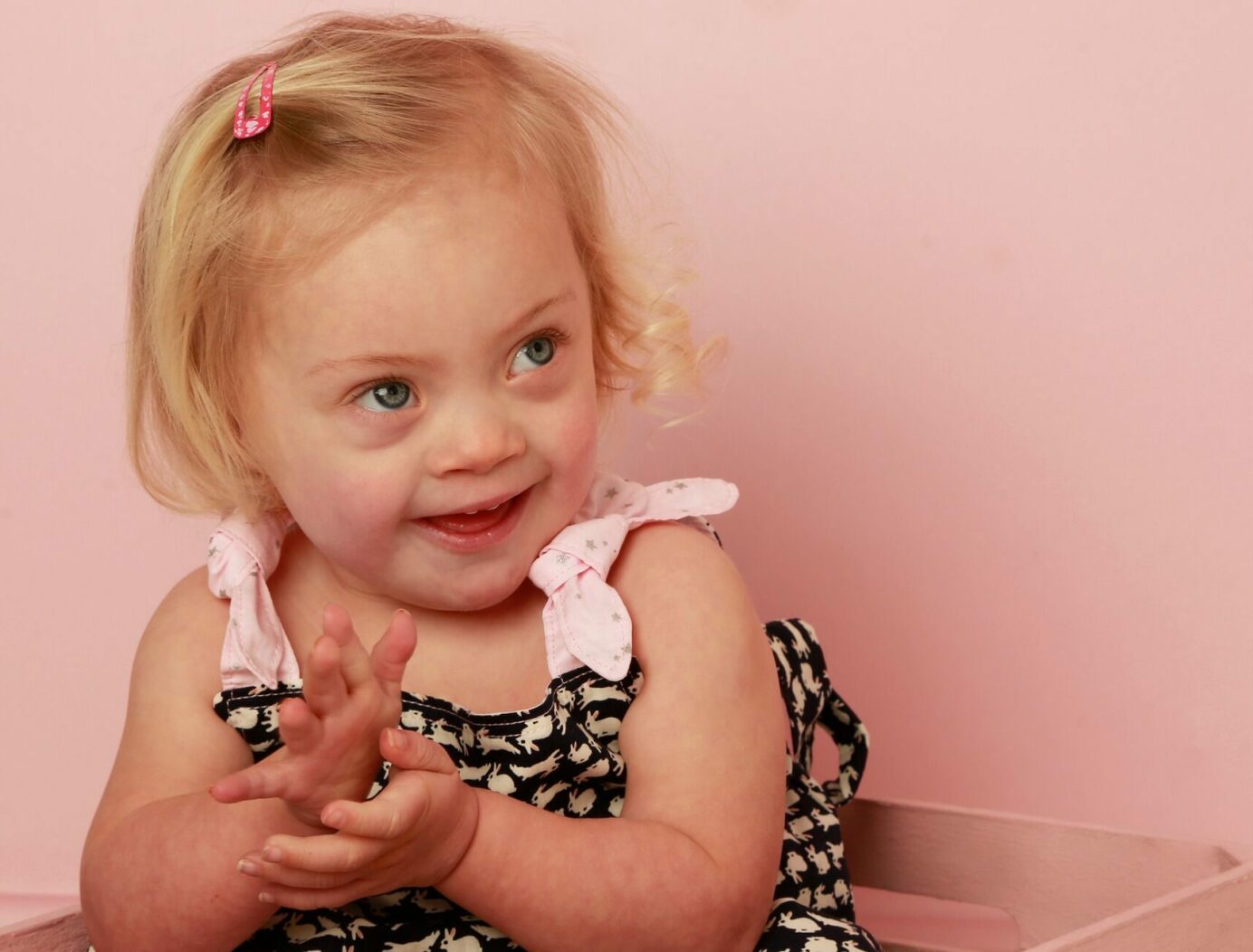 Bonus Chromosome: Rosie's Story
As we celebrate all those who have Down syndrome, we look back at one family who stayed at our Evelina London and Brighton House after their baby Rosie was born with Down syndrome and a congenital heart condition.
Helen and Pete tried for a long time to have their second child and sadly experienced several miscarriages before finally getting the news they craved. They discovered during pregnancy that their baby would be born with Down syndrome and at first, they were terrified about what the future would hold. Now, they cannot see what they were so worried about. Rosie is a two-year-old superstar who brings so much joy to their lives and everyone around her, and they feel blessed to have a child with Down syndrome.
This is Helen's honest and uplifting story about what it feels like to discover you are having a baby with Down syndrome. But first, what is Down syndrome?
Down syndrome or Trisomy 21 is a genetic condition that typically causes some level of learning disability and certain physical characteristics. It is caused by the presence of an extra chromosome in the baby's cells after a one-off genetic change in the sperm or egg. For every 1,000 babies born, one will have Down syndrome. Nothing can be done before or during pregnancy to prevent Down syndrome and it can happen to anyone.
"After so much disappointment, reaching our 12-week scan was a huge milestone for us," explains Helen. "So, we weren't that bothered when we were told that our screening result for Down syndrome was a 1 in 120 chance. It was a much higher risk than when we had our first daughter, Sophie, but we decided not to have further invasive diagnostic tests. Knowing wouldn't change our decision to continue with the pregnancy. For us, Down syndrome was not a reason to terminate.
"Because of the higher risk result, we were offered a consultant-led scan at 20-weeks. It was then that we discovered our baby had a hole in her heart diagnosed as complete AVSD (Atrioventricular Septal Defect) – a congenital heart condition strongly correlated with Down syndrome. About half of all babies born with Down syndrome have a heart defect, and a significant proportion of those have complete AVSD.
"We decided to confirm the diagnosis, so we had the NIPT (Non-invasive Prenatal Test) for Down syndrome. We wanted to be more prepared and ensure the doctors knew what to expect. The radiographer found our baby did not have a nasal bone, and a few other soft markers for Down syndrome. I still held out hope that she wouldn't have it, but I knew deep down she would.
"The test results came back as high risk of having a baby with Down syndrome. At first, we were quite blasé about the possibility of Down syndrome but when we got the test results I was devastated.
The news was quite hard to process, and it was very scary. I struggled with the diagnosis during pregnancy and had antenatal depression. I fell apart. Whilst I still loved my baby, depression and anxiety suddenly got the better of me.
"When you're having a baby, you assume it's all going to be perfect. It was a real blow to realise that it wasn't going to be that way. Our second child would be born needing heart surgery and have Down syndrome. This sounds awful but I felt I needed to grieve for the baby that I had expected to have and the baby that I was going to have; and for all those hopes and dreams I had imagined experiencing as a family.
"We were worried and upset about Down syndrome, but we didn't want to convey that to our family and friends. So, we put the diagnosis in a very positive light and announced it on Facebook saying our baby had a bonus chromosome. Ultimately, we felt blessed to be finally having our second child and we didn't want people feeling sorry for us. I think our approach did change their reaction as nearly everyone responded positively, exchanged stories and gave us the support we needed.
"About a week before Rosie was due, we visited our local Down syndrome group. For the first time we met children with Down syndrome and spoke to their parents. It made a huge difference and I wish we'd visited the group much sooner. We realised that we weren't alone and saw the potential that our daughter could have. I became excited to meet her, to be her mother and for her to be Sophie's sister.
"As soon as Rosie was born, I fell in love with her. All my fears and concerns vanished. It was immediate. I assumed she would come out and be really quiet and we'd be anxious about her taking her first breath; instead she came out screaming and throwing a punch! It was brilliant to see, and it was actually a far less traumatic birth than my eldest daughter's."
"Our first cuddle was brief because Rosie needed oxygen and was whisked away to special care. The next time I saw her; she was covered in wires, was on oxygen and had a feeding tube. Rosie spent two weeks in special care mainly to establish feeding, and we later discovered she had an unsafe swallow. So, we took her home for the first time with a feeding tube.
"She had her heart surgery at 12 weeks old at Evelina London Children's Hospital and we stayed at Ronald McDonald House there and in Brighton whilst Rosie received treatment.
"Ronald McDonald House has been amazing. It was so wonderful to stay close to Rosie, have a space to escape to, cook a proper meal, wash your clothes and spend quality time with Sophie away from the hospital. It's a 'home away from home' designed for families in their time of need.
"The staff are brilliant. They're always there for you and the language they use is thoughtful. They know how to deal with families going through complex medical trauma and upheaval to their everyday lives.
"I cried tears of relief and joy when I first saw the House. I had been so anxious about what was going to happen and how we were going to cope. We live 45 minutes away from the hospital and the thought of being far from Rosie or needing to be in two places at the same time was upsetting. Being able to stay at the House was a huge relief and it was breath-taking to realise the level of generosity given to help families like ours.
"Rosie having Down syndrome and a heart condition was really quite minor compared to what some other families in the House were coping with. It made us realise how lucky we were and that things could be a lot worse.
"While at the House, we celebrated Sophie's third birthday and the staff decorated the House with balloons and gave her presents. She was completely spoilt and didn't miss home. It was so lovely. Ronald McDonald House Charities will always have a special place in our hearts. It definitely helped us cope with those difficult weeks in hospital and most importantly, it allowed us to stay together as a family.
"My advice to any parent who is having a child with Down syndrome is to take each day as it comes. I learned quite quickly that a baby is a baby.
"Rosie is still predominately the same as any other toddler. She has the same fundamental needs and in those early days she was no different, so enjoy having your baby.
"And allow yourself some time to grieve. I did it and it helped me accept Rosie and acknowledge that Down syndrome is part of who she is.
"I think if you've never encountered a child with Down syndrome, it feels like an unknown quantity. Whereas now, having met lots of children with Down syndrome and raising one ourselves; it's not scary at all.
"I think the way the diagnosis is given sets you off on a negative track. When you're taken into that other room, you know you're going to be told bad news. For us, they said: 'we're terribly sorry' and 'you should think about your options' (meaning termination) and they talked about high 'risk' – but a risk is also a chance. Risk implies danger, but the reality is a child with Down syndrome is fundamentally healthy, unique and a wonderful contribution to society – they just have an extra chromosome.
"When I was pregnant, I could not begin to understand why parents of children with Down syndrome would say they wouldn't change them for the world. Now I agree entirely. I would take away her heart condition and mend her unsafe swallow but not the Down syndrome. I don't know what Rosie would be like without it.
"From the moment she was born, she was her own character. Rosie lights up the room with her smile and wonderful personality. You can't help but love her and she always wins people over. Sophie and her friends love spending time with Rosie, and she gets lots of cuddles.
"I wouldn't want Rosie to be any different. I can't wait to see how she grows and develops. Rosie is a joy and a blessing and is perfect just as she is."
Help us provide free home away from home accommodation to support families with children in hospital with a donation.