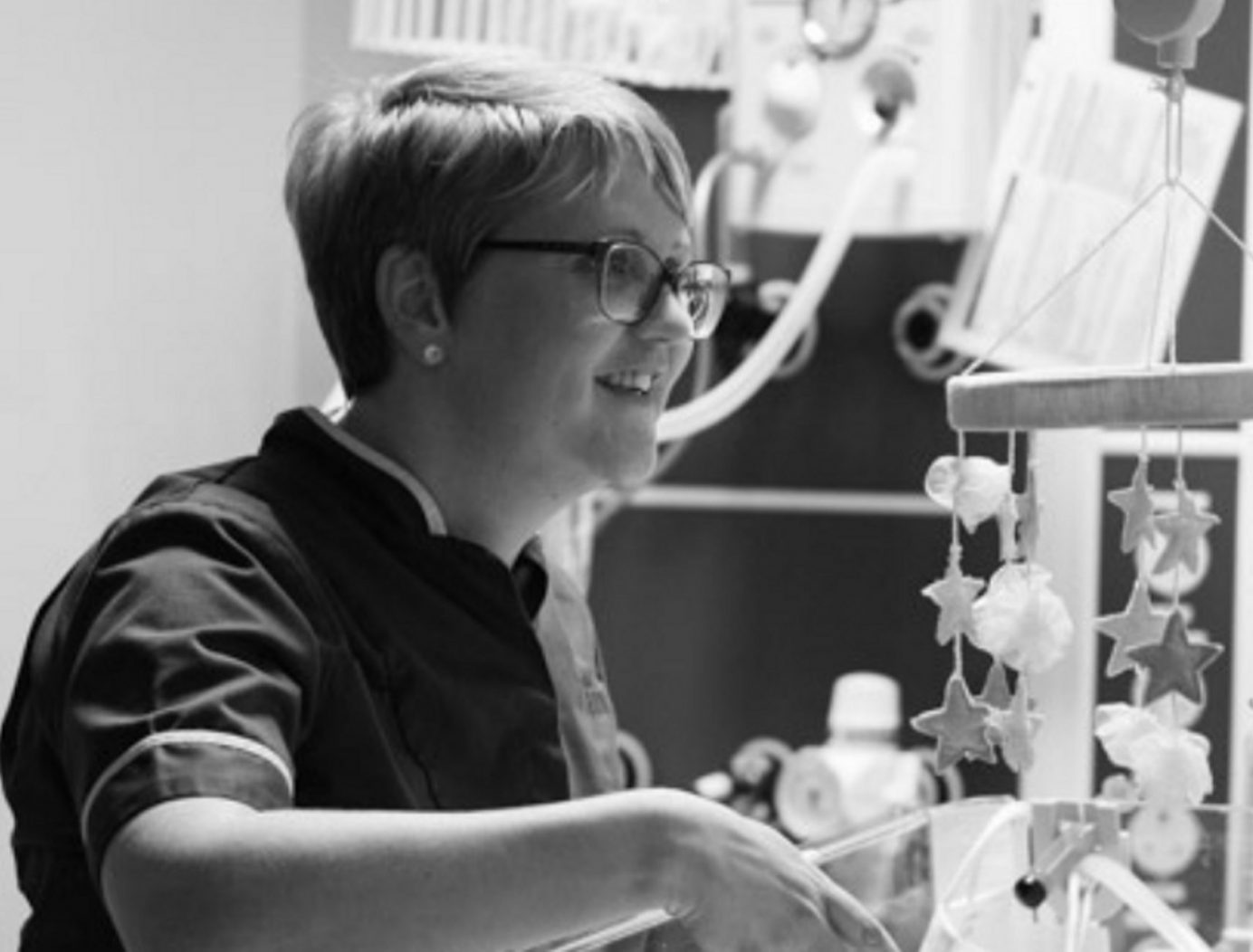 Babies Need to be Held: Fiona Lawson
Many of the families we support have a newborn baby needing specialist intensive care. To find out what it is like to work at the coalface of caring for very sick babies and how Ronald McDonald House Charities makes such a difference to the lives of the parents affected, we spoke to Fiona Lawson, an experienced Neonatal Services Matron based at Southampton Children's Hospital.
Southampton Neonatal Intensive Care Unit (NICU) is one of the UK's largest neonatal units, treating around 900 babies a year from across the south of England and the Channel Islands. It is the only neonatal unit in the Thames Valley and Wessex Neonatal Operational Delivery Network that can provide the full package of intensive care and specialist neonatal cardiology and surgery for very sick term and extreme pre-term (premature) babies, born from 23 weeks onwards. Every year, hundreds of families living anywhere between Dorchester, Portsmouth and Oxford find themselves having to travel to Southampton to receive specialist neonatal care.
Ronald McDonald House Southampton, which was built on the hospital grounds in 2014, has 53 bedrooms to support families receiving specialist neonatal and paediatric treatment at Southampton Children's Hospital. Before the House's existence, parents would have to be separated from their extremely sick baby – at a time when they were needed most.
Fiona recalls what it was like before Ronald McDonald House and how its availability has enhanced the way they work and care for the babies and support their families:
DISPLACED FAMILIES WITH NOWHERE TO STAY
"Before Ronald McDonald House, we often had no accommodation to offer families. We have a small number of residential rooms on the NICU but these are reserved for families whose babies are brought here in the middle of night; babies that are getting ready to go home, so we can support the families as they begin caring for their baby without us; and also end-of-life care, so we can offer families a private room where they can share their baby's final moments together.
"The outcome for pre-term babies is much better if they're born where they can receive immediate specialist care. So we would accept the pregnant mum onto the maternity ward and once she had her baby and was well-enough – due to the availability of beds, we would have to ask her to leave. But this meant displacing the mum whilst her baby was still in the hospital receiving intensive care, and often she had nowhere else to go.
"Families whose babies were born elsewhere and need specialist neonatal care are often transported here to Southampton at a moment's notice; they are left far away from home with nowhere to stay. For extreme premature babies, it can be six to eight weeks before they're ready to return to the hospital where they live. The priority everyone sees is the baby. We would accept the babies but have the embarrassing conversation of saying – "but we've nothing here for the families" – which left the family in complete limbo. And the hospital referring the family would have to say, "we've sorted your baby out but there's nothing for you." And that's terrible – really terrible – and we hated doing it.
"Before Ronald McDonald House families would stay in budget hotels or B&Bs and run up huge bills or go backwards and forwards to where they live. We've also had families begging to stay in the hospital, sleeping on floors and in their cars in an attempt to stay close to their baby. Now, we can, yes – we can have the baby and we can also accommodate the family in Ronald McDonald House. It's lovely – really lovely to be able to say that."
FAMILIES NEED LOTS OF SUPPORT
"It's important to acknowledge how having a premature baby or a very sick baby at birth isn't what anyone hopes for. When you first get pregnant you automatically imagine your future with a healthy child and what's happened has actually ruined all those plans. There's a cycle of grief for the parents of a premature baby. Some families sail through it and for others it's awful and it's not unusual for neonatal families to have post-traumatic stress disorder, it can be very significant. And for mums who have a completely normal pregnancy and reach 42 weeks with no hint of a problem – they're on a promise of having a healthy baby and they have zero-preparation for what happens when something is discovered or goes wrong during childbirth at the last second. There's no warning or counselling of what to expect, like most families of premature babies."
THE GRUELING ROAD TO RECOVERY
"Some babies are with us so long that they get transferred out of neonatal into paediatric services – and some don't go home for the first year of their lives and so sometimes we're the first block in a very long road in healthcare.
"The impact on each family is very different and each family is very different to start with, and each family has their own unique set of support that they can draw on. We work with the entire family, finding out what support strategies they've got, how the presence of this baby in hospital is impacting their everyday lives; have they got other young children who they need to provide some kind of normality for, who may need to go to school or nursery.
"Neonatal care used to be described as a rollercoaster, lots of ups and downs, and now the analogy that's coming through is that it's like snakes and ladders. Some families just get ladders, they have an extremely sick baby that doesn't have any complications and they're off and out. Other families just get the snakes, you'll think you're getting somewhere but something will happen and you'll go right down, needing weeks and weeks of treatment to get you back to where you were."
PARENTS NEED TO BE THERE FOR THEIR BABY
"The physical presence of the parents is vital and we work in partnership with them to deliver our specialist care. It's not our baby, it's their baby. And to help them with the psychological impact of having a very sick baby, the longer they spend with their baby and be involved with its care, the better the outcome is for the whole family.
"Having Ronald McDonald House means that families can stay at the hospital, spend more time in the unit and be close to their baby. The NICU is a fast-paced and hectic environment and sometimes babies just need to be touched and held, and that's extremely difficult for us to fulfil and it's also not our job, that's the role of the parent. We work hard with the family to facilitate what we call 'kangaroo care' or 'skin-to-skin' contact between baby and parent, and it's known to have an amazing psychological effect on the parents and a positive physiological impact on the baby.
"We also encourage the parents to have hands-on physical care with their baby as much as they feel comfortable with. Some people are not afraid to touch their neonatal baby and will get hands-on very quickly while others need more support and coaxing, even therapy, because some parents feel too overwhelmed by their baby looking so fragile. There's still lots that parents can do even when their baby is on life support, such as nappy changes, choosing clothes for them, changing their bedding, helping with their mouth care, and feeding their baby with a tube.
"Staying at Ronald McDonald House and being so close-by enables the parents to be here when their baby reaches a milestone in their recovery, for example when their baby first comes off the ventilation machine; and seeing your baby's face for the first time without it being obstructed by tubes is really powerful."
REMARKABLE STORIES OF RECOVERY
"We recently had an extremely premature baby boy that was born to a family who live in Jersey. What happened was very sudden and the family were told by the hospital that their baby would not survive but that he would be transferred to Southampton NICU for specialist care. The team that transported the family by helicopter warned that it was likely that he wouldn't survive the journey and when they arrived here, the family were told that he probably wouldn't survive the next 24-48 hours. Eight weeks later, they returned to Jersey and throughout that time the family stayed at Ronald McDonald House and remained close to their baby, playing a key role in his rehabilitation."
RONALD MCDONALD HOUSE IS INVALUABLE
"Before Ronald McDonald House, families were having to pay to put themselves up in hotels and B&Bs, and we've had families rent accommodation close to the hospital for months on end in order to remain close-by. The financial impact, and on top of everything else they were going through, was huge.
"Families staying at Ronald McDonald House meet other neonatal families and also families who've come through NICU with their baby now receiving specialist paediatric care, and it helps them understand and process what they're going through. Peer-to-peer support is a real help during this difficult time and it's something we encourage, it helps parents when they see others like them touching their ventilated babies, tube feeding and changing their bed.
"Ronald McDonald House is a supportive environment that offers a 'home from home', it enables the parent to re-charge and get as much sleep as practically possible, eat properly and do normal things away from the NICU that will help them physically and mentally.
"In fact, staying at Ronald McDonald House is so invaluable to families that when their baby is well enough to leave Southampton and be transferred to the hospital where they live, often the families don't want to leave! Here they are able to live minutes away from their baby, whereas their actual home may be 45 minutes away from their hospital and that's a worrying development for them. Going home is part of the journey and it means that their baby has recovered so well that they no longer require our services and that's the best milestone that can be reached.
"Ronald McDonald House has changed the way we deliver our services, parents are here more and we don't have families displaced from where they live, temporarily homeless during probably the worst time of their lives."
Help us provide free home away from home accommodation to support families with children in hospital with a donation.