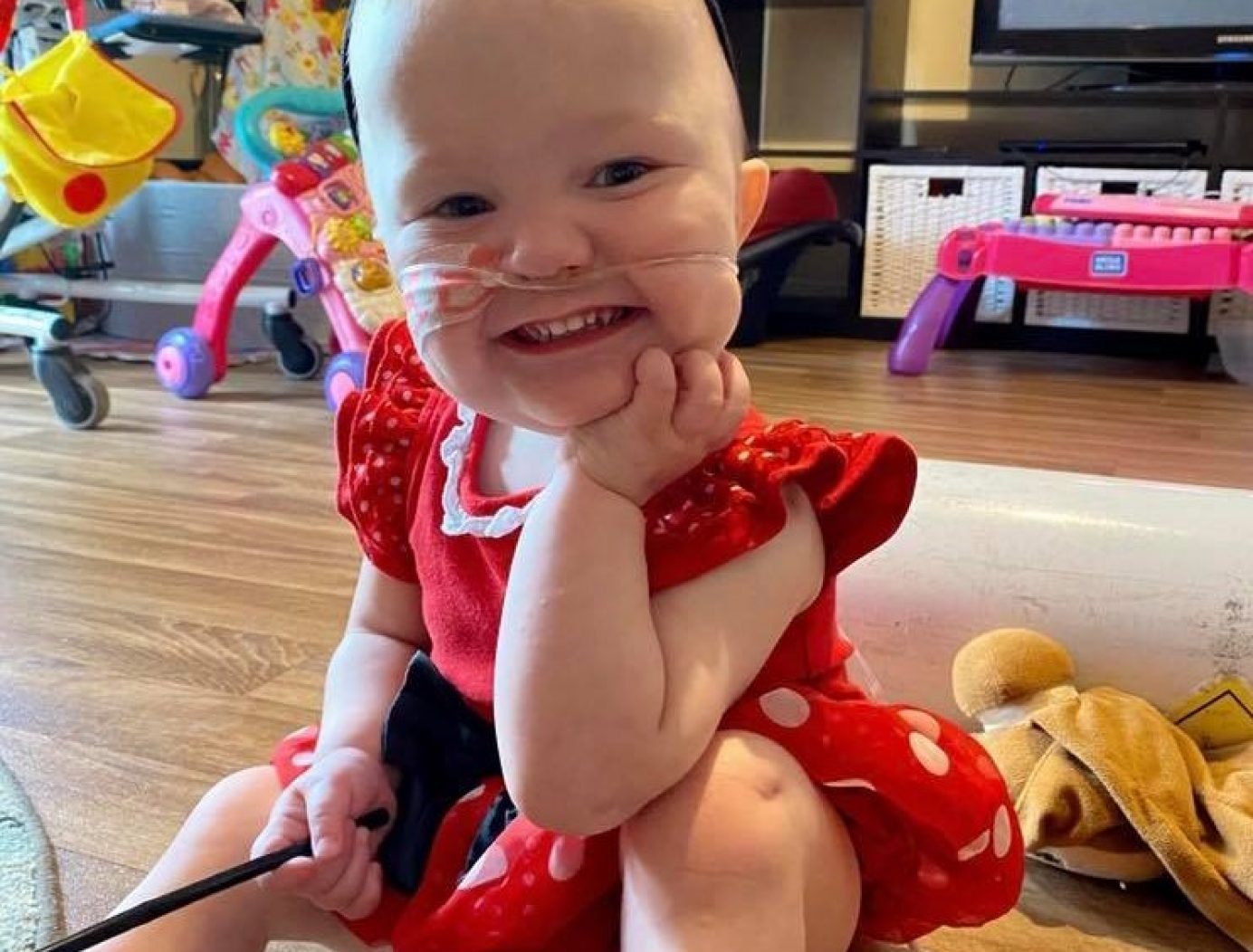 A heartfelt thanks: Loraya and Letitia's story
"Any of these conditions that children can have are serious – I know that – but when you say 'heart condition' it absolutely shatters you. Because that's the main thing that's keeping your child alive, their heart."
When Letitia Harris' fourth baby Loraya was born, she couldn't have guessed the next two years would be spent travelling between hospital wards.
Loraya's family stayed with us in both Southampton and Oxford on and off for the first 18 months of her life, even spending two Christmases in our Southampton House. She has had several surgeries and two heart bypasses, all before her second birthday next month.
When she was pregnant, Letitia was told that her baby would have a heart condition called tetralogy of Fallot; a combination of four congenital abnormalities, as well as exomphalos, a weakness of the baby's abdominal wall.
As a result, Letitia couldn't give birth in her local hospital, in Milton Keynes. Loraya was born in John Radcliffe Hospital, in Oxford, instead then whisked off to Southampton Hospital for surgery on her oesophagus shortly afterwards.
The family stayed in both Ronald McDonald House Southampton and Ronald McDonald House Oxford over this period, before Loraya was transferred back to Milton Keynes, at eight weeks.
Having the Houses to stay in as the family bounced between cities and hospital wards provided a glimpse of normality, in what was otherwise a "nightmare" of a situation, Letitia said.
"The staff are so lovely. They would always ask how Loraya was doing, we would chat to them and someone would give me a cup of tea."
For a short while Loraya's health improved and she spent nearly a month at home. But on New Year's Eve in 2018 she went back into Southampton Children's Hospital, where the family were told that Loraya's heart was unstable.
"It was just heart-breaking to be honest with you," Letitia said.
"I mean, when I was pregnant, I was told that she had this cardiac condition and she had exomphalos. We knew that she would be in hospital, but we didn't realise just how sick she was going to be, and how long of a journey it would be.
"We didn't realise how hard it would be for us and for our three other children."
In January 2019, Loraya underwent open heart surgery, to close the hole in her heart caused by a double outlet right ventricle. With the hospital a two-hour drive from home, Letitia made the tough decision to relocate the family to Southampton for this period, so that they could stay close to Loraya throughout her treatment.
Our Southampton House became their base and Loraya's three siblings transferred into local schools. While it was tough for the kids, who missed their friends, the move lifted a weight off Letitia's shoulders. It minimised logistics and eased the financial burden that having a child in hospital posed.
"Basically, we temporarily moved our life into Ronald McDonald House," she said.
Knowing her children would have a roof over their head and a bed to sleep in for as long as the family needed to be near the hospital, was a relief.
Being set up with a room in the House to base themselves also provided the family with some certainty, in an otherwise uncertain time. Letitia could do her food shopping and cook meals for the children, who enjoyed a bit of family time together in the House when Loraya was asleep in her hospital room.
"It was good for the children to have a bit of routine while we were there, too," Letitia said.
"I was able to bring them home from school and we'd go to the Ronald McDonald House and do normal children stuff, and I could still be there for Loraya at the same time."
"Even now, they sometimes say that they miss it, to them it was just a big adventure, really."
Letitia said this first surgery was an ordeal that left Loraya "very, very sick". The procedure also led to an array of other conditions being diagnosed.
The family was told they should expect to be based there for around six months, until she was big enough for her next surgery.
Life carried on for Letitia and the family over this time; they spent Halloween, Christmas and Easter in the House and Loraya's brother celebrated a birthday.
"It's the little things that they do in the House, the little moments of fun and the stress relief when you've had a bad day.
"To a lot of people, it may not seem like a lot, but to us, it made a huge difference."
Loraya had a second heart surgery in Southampton Hospital in November last year. This wasn't straight-forward either; she contracted sepsis and had to go back into theatre shortly afterwards.
In January she was transferred back to her local, Milton Keynes. She was discharged in January earlier this year and has been at home ever since.
While the little girl suffers from hypertonia in her legs and continues to rely on a ventilator, her mum says she's otherwise doing "brilliantly".
"She's hilarious, she's really fun. Such a little character," Letitia said. Letitia hoped to take Loraya back to Ronald McDonald House Southampton sometime soon, to visit the team she said had become "like family".
Help us provide free home away from home accommodation to support families with children in hospital with a donation.