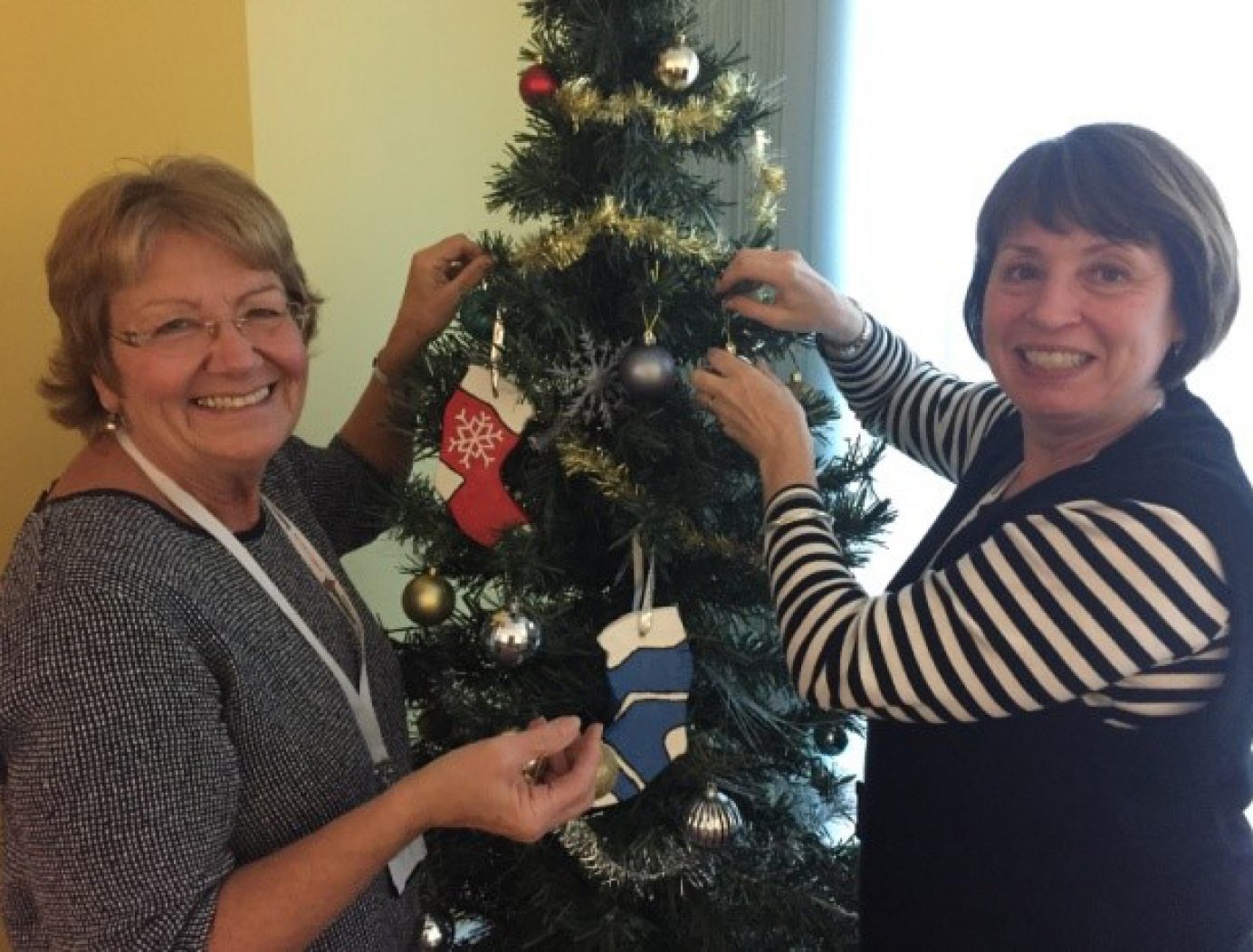 Benevolent 'best friends' - Volunteers make Christmas special at Ronald McDonald House Manchester
(From left- Bridget Reynolds and Liz Burr, volunteers at Ronald McDonald House Manchester, decorate the Christmas tree and give the House some festive cheer)
Liz Burr and Bridget Reynolds, best friends and volunteers decorate the Christmas tree at Ronald McDonald House Manchester, which provides 'free home away from home' accommodation for families with sick children.
The two volunteers want to get the House and its residents, families who have children in hospital, into the Christmas spirit. Although decorating the House ready for Christmas is a highlight for them, their duties include turning their hand to anything that's needed for the families on a daily basis.
From fundraising for the House to making someone a cup of tea and listening, Liz and Bridget want to make sure that Ronald McDonald House Manchester continues to provide not only accommodation but support and care for families with seriously unwell children in hospital. "It is so important for a sick child to have their family with them, it really aids their recovery and this is what Ronald McDonald House Manchester provides" says Bridget, a retired children's nurse. "I was looking to do something that made a difference."
Liz from her experience as a volunteer knows how important it is that Ronald McDonald House Manchester continues to receive donations. "Because it is McDonald's charity of choice, people think it is well provided for and that they don't need any help, but it is so vital people donate towards the running costs to meet the ever increasing demand."
Donations help to ensure that families with sick children can stay at the House as long as they need; there is no cut off point for them to leave.
"The stress of worrying and caring for a seriously unwell child is enough, without the added financial strain of where to stay whilst they are in hospital", says Liz.
Ronald McDonald House Manchester is starting to have an impact on the wider community. "Because the surrounding area is known to be a student area in Manchester, we do get a lot of students volunteering, so hopefully this is the start of the House gaining more volunteers" says Liz.
Ronald McDonald House Manchester, like the other Ronald McDonald Houses across the country, will be operating at full capacity this Christmas, so all the effort staff and volunteers such as Liz and Bridget give will make all the difference to ensure families feel like they are home.
For further information please contact: Annie Byrne-Noonan E: annie@thirdsectorpr.co.uk T: 0207 7922 7721 M: 07889 140 139
Ronald McDonald House Manchester is run by Ronald McDonald House Charities – an independent charity that provides free 'home away from home' accommodation at hospitals across the UK. The Charity enables seriously ill children to have their families close by when they are undergoing treatment and allows them to maintain a degree of normal family life.
There are 14 Ronald McDonald Houses in the UK and in 2015, they helped support over 7,000 families with children in hospital.
Ronald McDonald House Manchester houses 60 en-suite rooms over five floors and is equipped with everything a family needs to feel at home including communal areas, lounges, self-catering kitchens, dining areas, playrooms, laundry facilities, a teenager room and quiet areas. The House is also open to families coming to the hospital for day care, for example those whose children are receiving chemotherapy or renal dialysis.
Ronald McDonald House Charities relies on the generosity of supporters and fundraisers, including McDonald's customers, without whom it would be unable to continue its work.
The Charity was founded in 1989 and has been keeping families together for more than 25 years.
Help us provide free home away from home accommodation to support families with children in hospital with a donation.