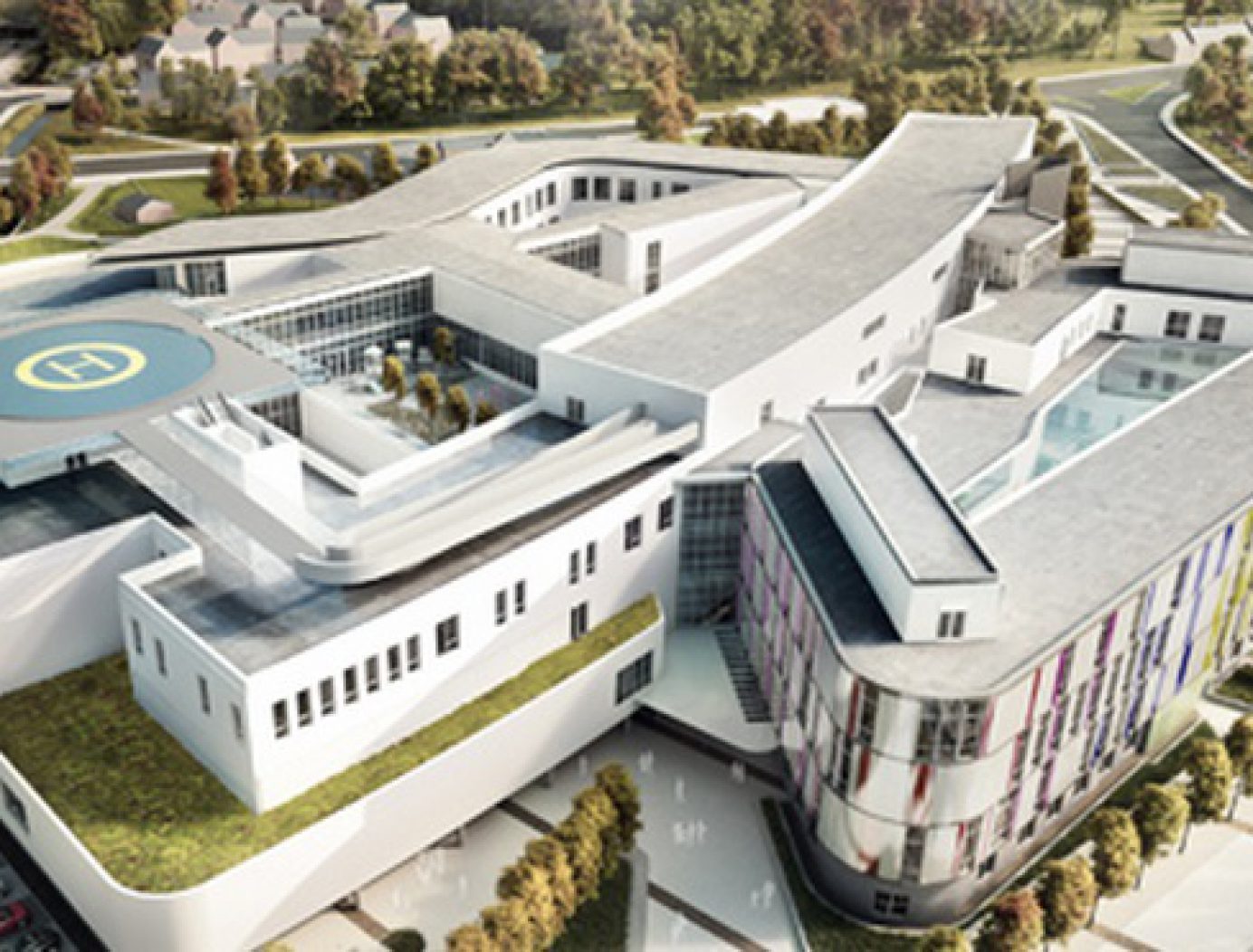 £3 Million Edinburgh 'home away from home' for hospital families on course for 2018
SEVEN-FIGURE DONATION FROM MCDONALD'S A 'SIGNIFICANT BOOST' FOR THE DEVELOPMENT AT THE NEW EDINBURGH CHILDREN'S HOSPITAL.
A new, 26-bedroom 'home away from home' facility for families of children being treated at the new Royal Hospital for Children and Young People in Edinburgh is on course to open in spring next year.
The independent charity, Ronald McDonald House Charities, is working with NHS Lothian to provide accommodation on the top floor of the new children's hospital where families can stay free of charge for as long as they need.
While NHS Lothian is meeting the expense of the hospital itself, the £3 million cost of building the extra facility, together with the annual £300,000 running costs, is being met by Ronald McDonald House Charities.
The ambitious project has received a significant boost with more than £1 million donated by McDonald's restaurants in Scotland. The money has been raised through the statutory levy on carrier bags paid by their customers in Scotland. Although there is no requirement for businesses to pass the money on to charities, restaurants in Scotland have decided to donate all monies raised via the bag levy since 2014 to help fund the construction of the new House.
The restaurant company has chosen Ronald McDonald House Charities as its 'Charity of Choice' for some 25 years and restaurants north of the border have been enthusiastically raising money for the new House.
The new Ronald McDonald House is expected to look after as many as 500 families each year. It will include communal areas such as lounges, kitchens, laundry facilities and a playroom along the same model as the other 14 Ronald McDonald Houses across the UK. Every bedroom has a telephone directly linked to the children's wards. The House will be open 365 days a year, providing a place for families to rest, relax, eat and be together, away from the stress of the hospital ward, yet close enough to be by their child's bed at a moment's notice.
Two Edinburgh residents who already know the difference a Ronald McDonald House can make are Jodi and Kenneth Adamson. Their son Kearyn was born in 2013 with Glaucoma and a genetic condition known as neurofibromatosis which causes tumours to grow on nerve endings, including behind the eye. The complex nature of Kearyn's condition, which affects his vision, for a time necessitated regular treatment at Moorfields Eye Hospital in London. There the family – Jodi, Kenneth and Kearyn's brother Khaidyn – were able to stay at the Ronald McDonald House free of charge and for as long as they needed, without having to pay a penny.
Jodi Adamson says: "The Ronald McDonald House was a true haven away from the hospital ward that allowed us to stay together as a family. Even though we were hundreds of miles from home, we didn't have to worry about where we were going to stay, or how we were going to find the money for a hotel. It was a huge help during a difficult time and I am so pleased that families with children being treated in Edinburgh will soon be able to enjoy the same comfort and support that we had."
Jon Haward, Executive Director of Ronald McDonald House Charities, says: "We are delighted to be drawing closer to providing a vital service to families in Edinburgh as part of a new, world-class children's hospital. Few things are more painful than having a sick child, but we know from experience how free accommodation near the hospital can save the families the pain of separation, ease the financial burden and strengthen the hospital's provision of family-centred care.
"We are pleased to be working with NHS Lothian on this project and are grateful for the enthusiastic support of so many, particularly the McDonald's franchisees and staff who have voluntarily made such a generous donation from the proceeds of the carrier bag levy".
Janice MacKenzie, NHS Lothian Clinical Director for Royal Hospital for Sick Children and Department of Clinical Neurosciences, said: "To have access to high quality accommodation where the whole family can stay will make a huge difference to the experience for families coping with a sick child in hospital. We are deeply grateful to Ronald McDonald House Charities for supporting our families through the provision of this facility."
This will only be the second Ronald McDonald House in Scotland. There is already a 30-bedroom House in Glasgow which has also received longstanding support from staff and customers of McDonald's.
To find out more about Ronald McDonald House Charities and how to support the charity in other ways, visit: www.rmhc.org.uk.
FOR FURTHER INFORMATION PLEASE CONTACT:
Alex Goldup, Ronald McDonald House Charities. T. 020 3892 0602 M.07791 765 915/
Patricia Orr, Third Sector PR, T. 020 7922 7722 M. 07889 140 139 E. pat@thirdsectorpr.co.uk
Spokespeople are available, including the family, via the contact details above. Imagery is also available.
ABOUT RONALD MCDONALD HOUSE CHARITIES
Ronald McDonald House Charities is an independent charity that provides free 'home away from home' accommodation at hospitals across the UK. The Charity enables seriously ill children to have their families close by when they are undergoing treatment and allows them to maintain a degree of normal family life.
There are 14 Ronald McDonald Houses in the UK and in 2016 they helped support over 7,000 families with children in hospital.
Ronald McDonald House Charities relies on the generosity of supporters and fundraisers, including McDonald's customers, without whom it would be unable to continue its work.
The Charity was founded in 1989 and has been keeping families together for more than 27 years.
ABOUT THE NEW ROYAL HOSPITAL FOR CHILDREN AND YOUNG PEOPLE, DEPARTMENT OF CLINICAL NEUROSCIENCES AND CHILD AND ADOLESCENT MENTAL HEALTH SERVICES.
While providing excellent care, the current premises for Royal Hospital for Sick Children and Department of Clinical Neurosciences are restricted by their age and design, and give limited room for improvement or expansion. The new building will include:
242 beds and ten theatres. 163 beds in the Royal Hospital for Sick Children, 67 beds in the Department of Clinical Neurosciences and 12 beds in the Child and Adolescent Mental Health Service.
11 beds will be added to the critical care department within the Royal Infirmary of Edinburgh.
Conjoined children's and adult Emergency Departments will mean that the most appropriate services are available to teenagers who currently do not always fit well into either service.
Patients in the Child and Adolescent Mental Health Service suffering from physical illness and mental health problems will benefit from the immediate availability of both specialties.
The Department of Clinical Neurosciences will make neurology and neurosurgery available to all age groups on a single site, meaning potentially quicker treatment is available. One advantage will be that patients who present to the Emergency Department at Royal Infirmary of Edinburgh and who subsequently turn out to need neurosurgery will no longer need to be transferred to the Western General Hospital.
The most modern imaging equipment within Department of Clinical Neurosciences along with its adjacency to the Anne Rowling Regenerative Neurology Clinic and the Clinical Research Imaging Centre will allow Department of Clinical Neurosciences to further enhance its position as a leading clinical and academic neurosciences centre.
Almost £5 million of charity funding has been pledged to the project from the Sick Kids Friends Foundation (£2.9m) and the Edinburgh and Lothians Health Foundation (£2m). This money will be used for arts and therapeutic design projects and will enhance the look and feel of the new building.
Help us provide free home away from home accommodation to support families with children in hospital with a donation.