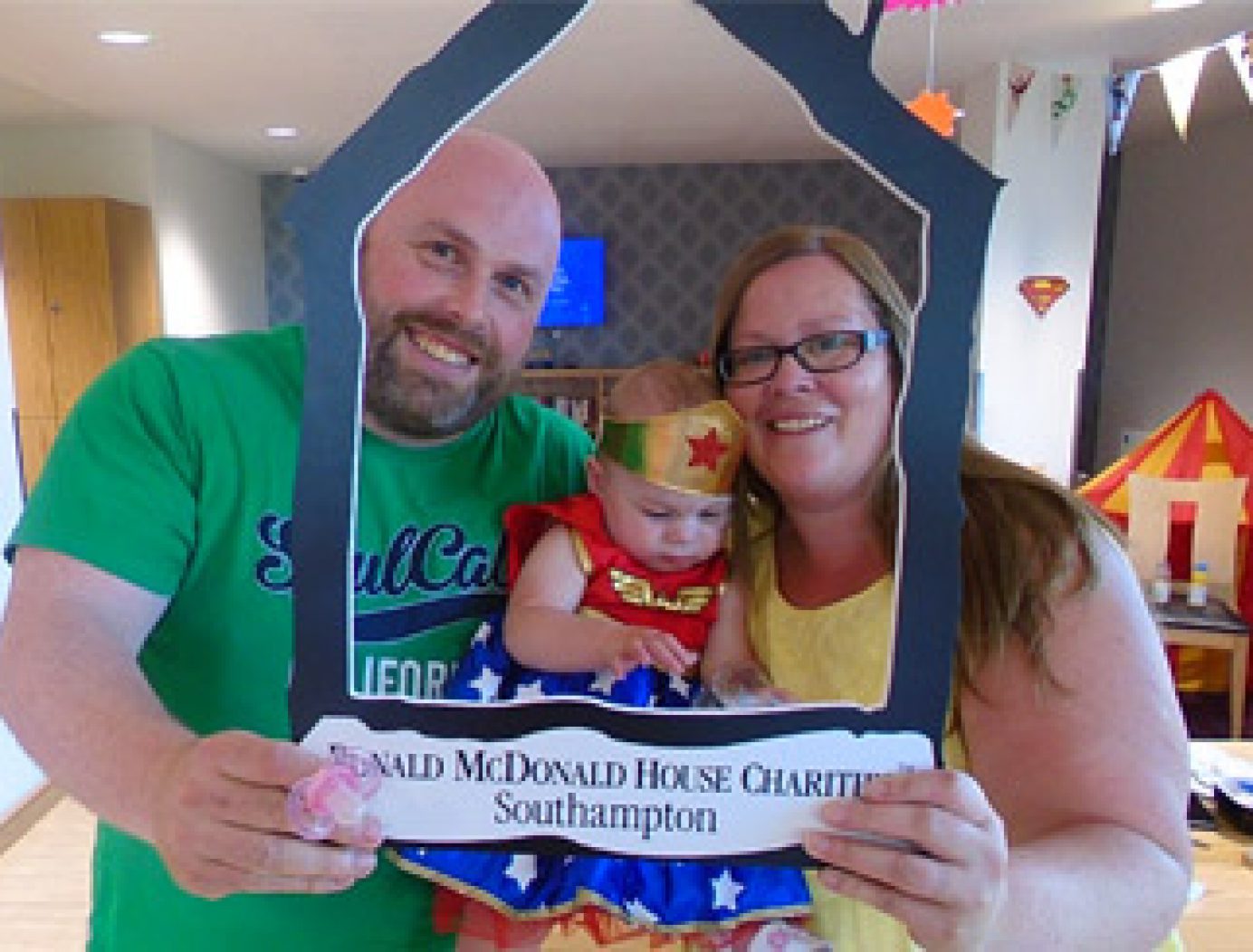 Superheroes come out in full force to party
Ronald McDonald House Southampton hosted a fun filled Superhero party to conclude a summer of community events to raise money for Ronald McDonald House Charities, which provides free 'home away from home' accommodation for families of children in hospital.
The heroic day included a themed photo booth, a summer barbeque and even a special appearance from a Power Ranger, who used his powers to bring endless joy to the children staying at the House. Families were also encouraged to make their own costumes, masks and capes to transform into their favourite Superheroes for the day.
The party attracted over 50 guests including past and present families staying at the House and staff members. The family of 18 month old 'Wonder Woman', Evie Clarke from Gosport also came along after Evie's parents Andrew and Emma stayed at the House in Southampton in May 2015 when Evie was treated at Southampton Hospital following a severe allergic reaction.
Andrew says: "Being just minutes away from Evie's bedside meant that we got a chance to get some sleep ourselves. Just being able to stay together as a family was amazing. We definitely think that Evie's recovery was aided by having us both close by and that was only possible thanks to Ronald McDonald House Southampton".
The independent Charity regularly comes to the rescue of families in their time of need, offering families communal living areas, a kitchen, laundry facilities and a lounge area whilst their child undergoes treatment.
Since leaving the House, Andrew and Emma have collected cleaning products to help keep the costs down for the Charity. Their local gym is also planning to do their own Superhero themed fundraising event in a few weeks' time to help raise some more money.
Michelle Duma, House Manager of Ronald McDonald House Southampton says: "We had a fantastic day, we think that all the families that stay with us are superheroes, as are the children in the hospital, the staff in our Houses and the people that fundraise for us. We hope to emulate the success of the party again next year".
The themed party brings to a close several events held between 22 and 29 August to raise funds for the Ronald McDonald Houses in Southampton and Brighton in aid of the Charity's new summer campaign – South Coast Superheroes – to encourage businesses and individuals along the south coast to tap into their undiscovered superpowers and help support families with seriously ill children in hospital.
To find out more about Ronald McDonald House Charities and how to support them, visit: www.rmhc.org.uk
1. To speak to someone from Ronald McDonald House Charities, please contact the number above.
2. Ronald McDonald Houses in Southampton and Brighton are run by Ronald McDonald House Charities – an independent charity that provides free 'home away from home' accommodation at hospitals across the UK. It enables seriously ill children to have their families close by when they are undergoing treatment and allows them to maintain a degree of normal family life.
3. There are 14 Ronald McDonald Houses in the UK and in 2015 they helped support over 7,000 families with children in hospital.
4. Ronald McDonald House Charities relies on the generosity of supporters and fundraisers, including McDonald's customers, without whom it would be unable to continue its work.
5. The Charity was founded in 1989 and has been keeping families together for more than 25 years.
Help us provide free home away from home accommodation to support families with children in hospital with a donation.