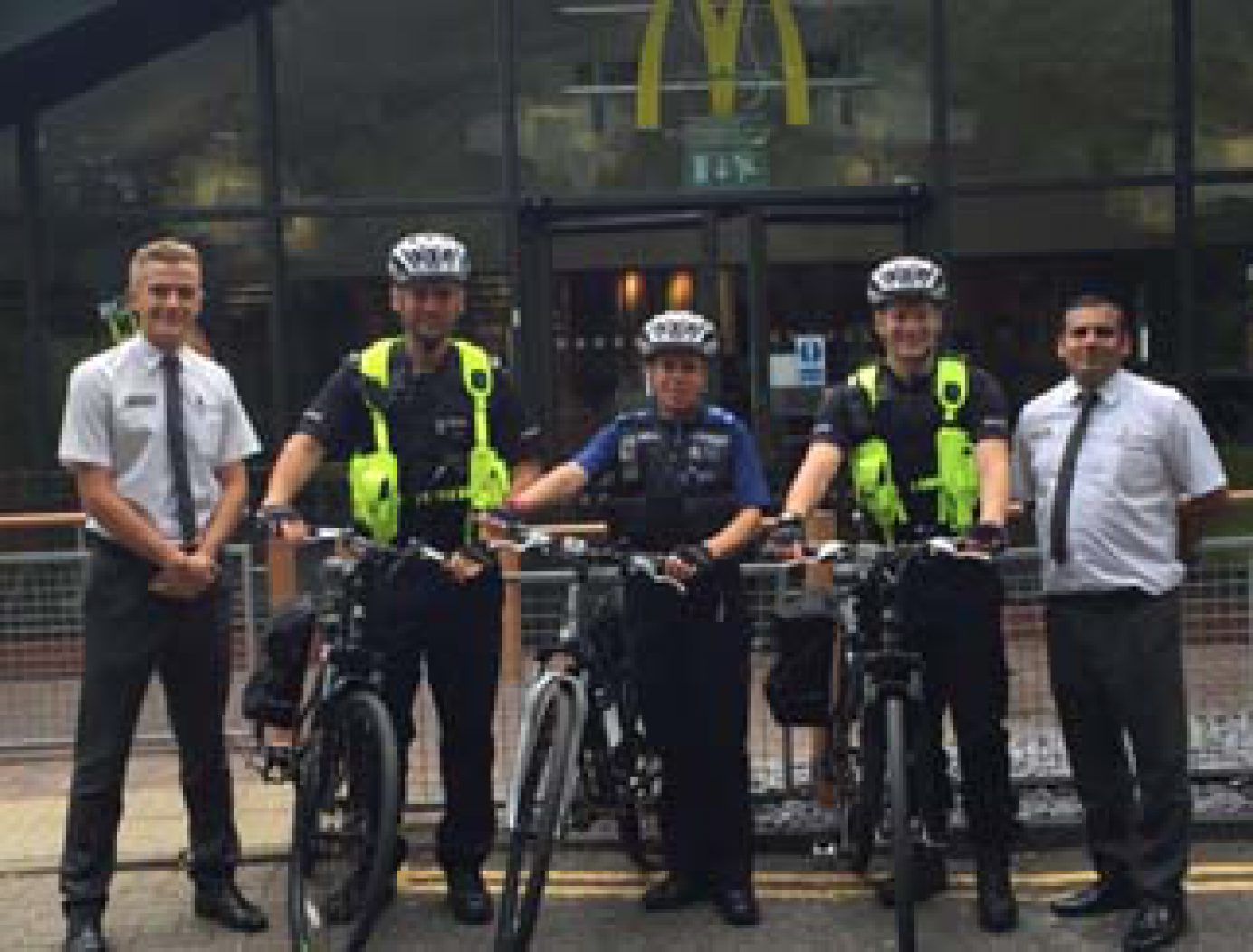 Police Officers and McDonald's employees pedal together for charity
Thames Valley Police officers have joined forces with a community team from Bracknell, including local McDonald's employees, for a charity bike ride on Sunday 11 September to raise money for Ronald McDonald House Charities, which provides free 'home away from home' accommodation for families of children being treated in hospital.
The annual BikeOxford event will see the team of police officers, PCSOs, McDonald's staff, teachers, local youth workers and young people pedal tirelessly along a 50 mile route against the scenic backdrop of Oxfordshire countryside.
Thames Valley Police offered to take part in the cycle ride after three bikes were donated by McDonald's to help with the officers local patrols as part of the restaurant's Healthy Living promotion.
The team are keen to stay on track and raise £2,500 for Ronald McDonald House Oxford – one of 14 Ronald McDonald Houses in the UK – which is a lifeline for families with seriously ill children, providing them with a place to stay and communal living areas, kitchens and laundry facilities. So far, £1,170 has been raised.
George Wakelin, Assistant Manager of McDonald's Bracknell and one of the members of the BikeOxford team says: "I am really excited to take part in the BikeOxford event and keen to raise as much as we can for Ronald McDonald House Charities who are dedicated in ensuring that families maintain a degree of normal life while their child is undergoing treatment.
"I want to thank the rest of our team and especially the Thames Valley Police officers who have kindly volunteered their time. It is great to see the whole community come together for our charity of choice."
PCSO Abi Langley adds: "McDonald's kindly donated bikes to our police team which enabled us to patrol in a new way and engage with local people far more effectively. As a result, we wanted to find a way to give something back and are delighted to be able to be part of this community effort to raise money for such a worthwhile cause.
"My colleague PC James Hillman had a close friend who benefited from the charity previously so we know how valuable its service is for children and families. None of the team has any background in cycling so it's been a real challenge getting ready for the event, but we hope we can make a difference!"
To find out more about Ronald McDonald House Charities and how to support them, visit: www.rmhc.org.uk or to donate to RMHC's BikeOxford Just Giving page, visit: www.justgiving.com/teams/RMHCBIKE
For further information please contact:
Lucy Yelland, Third Sector PR
T. 020 7922 770 M. 07515 499 662 E. lucy@thirdsectorpr.co.uk
1. Ronald McDonald House Charities is an independent charity that provides free 'home away from home' accommodation at hospitals across the UK. The Charity enables seriously ill children to have their families close by when they are undergoing treatment and allows them to maintain a degree of normal family life.
2. Ronald McDonald House Oxford is currently located on the top floor of the Oxford Children's Hospital at John Radcliffe Hospital. It has 17 bedrooms as well as a kitchen, lounge and playroom. Last year it helped over 650 families stay together, close to their seriously ill children. Planning permission to build a larger purpose-built 62 bedroom House on the hospital campus to meet rising demand was granted on Wednesday 6 July 2016.
3. There are 14 Ronald McDonald Houses in the UK and in 2015, they helped support over 7,000 families with children in hospital.
4. Ronald McDonald House Charities relies on the generosity of supporters and fundraisers, including McDonald's customers, without whom it would it would be unable to continue its work.
5. The Charity was founded in 1989 and has been keeping families together for more than 25 years.
Help us provide free home away from home accommodation to support families with children in hospital with a donation.