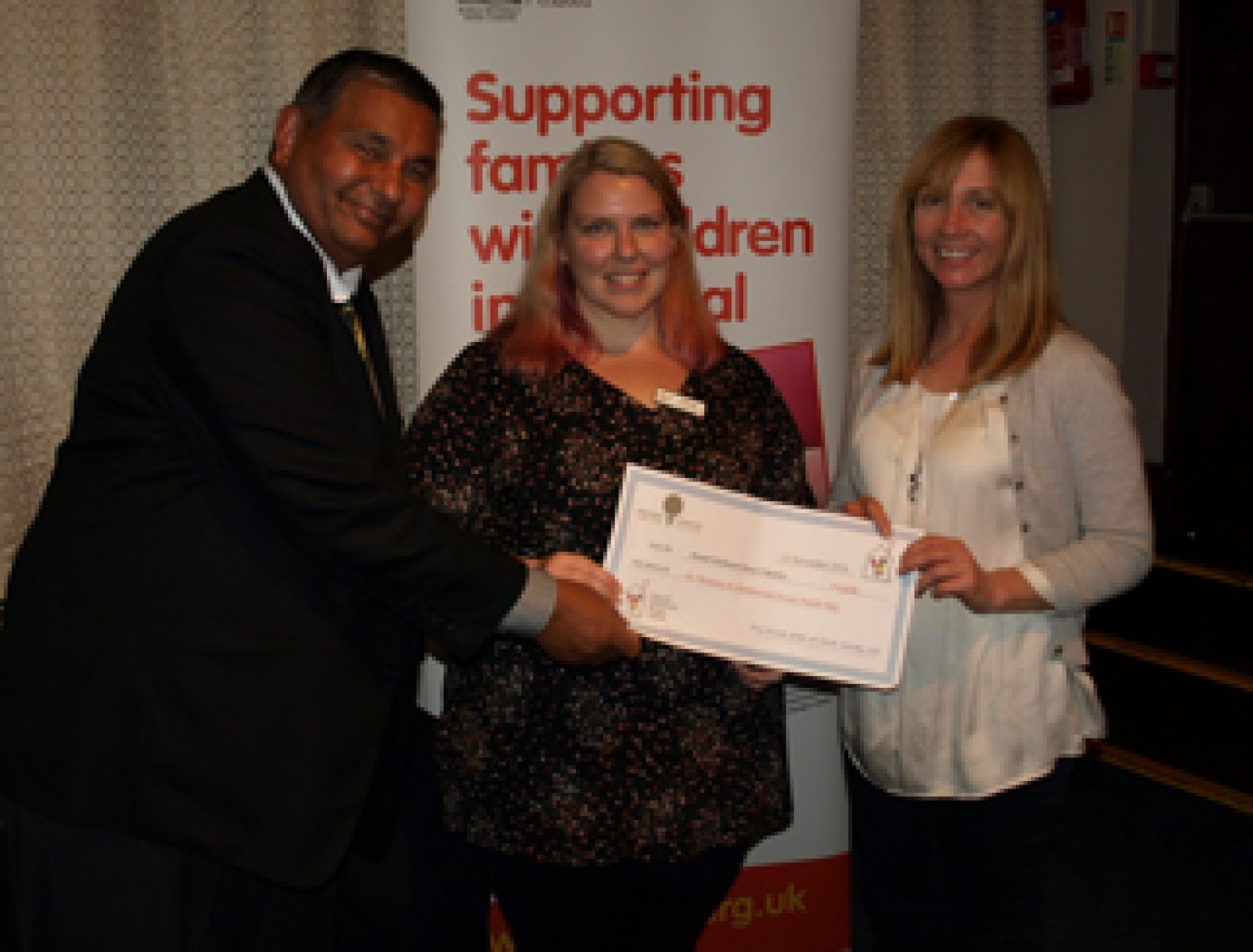 Major fundraising boost for Ronald McDonald House Oxford
The opportunity to give more families the comfort of free 'home away from home' accommodation close by the John Radcliffe Hospital became a reality when Caroline Sinclair, Fundraiser at Ronald McDonald House Oxford received a cheque from Younus Nabi, Captain of Cold Ashby Golf Club, Northants, for the magnificent sum of £6,600. Ladies Captain Pamela Kerr was also present at the handover ceremony which took place at the golf club on Saturday 12 November 2016.
Captain Younus chose the charity to receive the proceeds of their Annual Charity Golf Day which took place at the end of September. His choice was influenced by McDonald's franchisee, Perry Akhtar, who organises an annual Charity Golf Day in Northamptonshire for Ronald McDonald House Oxford.
At the Cold Ashby annual event some 25 teams battled it out for the top spot before being joined by family and friends for some lavish evening entertainment, compered by ex-snooker player, Willie Thorne. Generous guests heard at first hand what a Ronald McDonald House means to families who have a sick child in hospital. It was described by Julia Cartwright, who has stayed in the House over the past nine years while son Ollie has endured 158 operations, as 'priceless'.
"We cannot say how grateful we are to all at Cold Ashby Golf Club for their superb support", says Caroline Sinclair. "Demand always outstrips supply for our 17-bedroom house and we know that the plans to expand our facilities will enable us to give more families that comfort and support that is so essential for them at a time of great stress and anxiety."
To find out more about Ronald McDonald House Charities and how to support the charity in other ways, visit: www.rmhc.org.uk.
For further information please contact:
Annie Byrne Noonan, Third Sector PR. T. 020 7922 7721 M. 07889 140 139
1. Ronald McDonald House Oxford received planning permission to expand its existing facilities in July 2016. Permission was granted for a 62-bedroom, purpose-built House on the hospital campus to meet rising demand. The charity is working with the John Radcliffe Hospital and other partners over the funding and timing of the new development.
2. Ronald McDonald House Charities is an independent charity that provides free 'home away from home' accommodation at hospitals across the UK. The charity enables seriously ill children to have their families close by when they are undergoing treatment and allows them to maintain a degree of normal family life.
3. There are 14 Ronald McDonald Houses in the UK and in 2015 they helped support over 7,000 families with children in hospital. The charity was founded in 1989 and has been keeping families together for 27 years.
Help us provide free home away from home accommodation to support families with children in hospital with a donation.