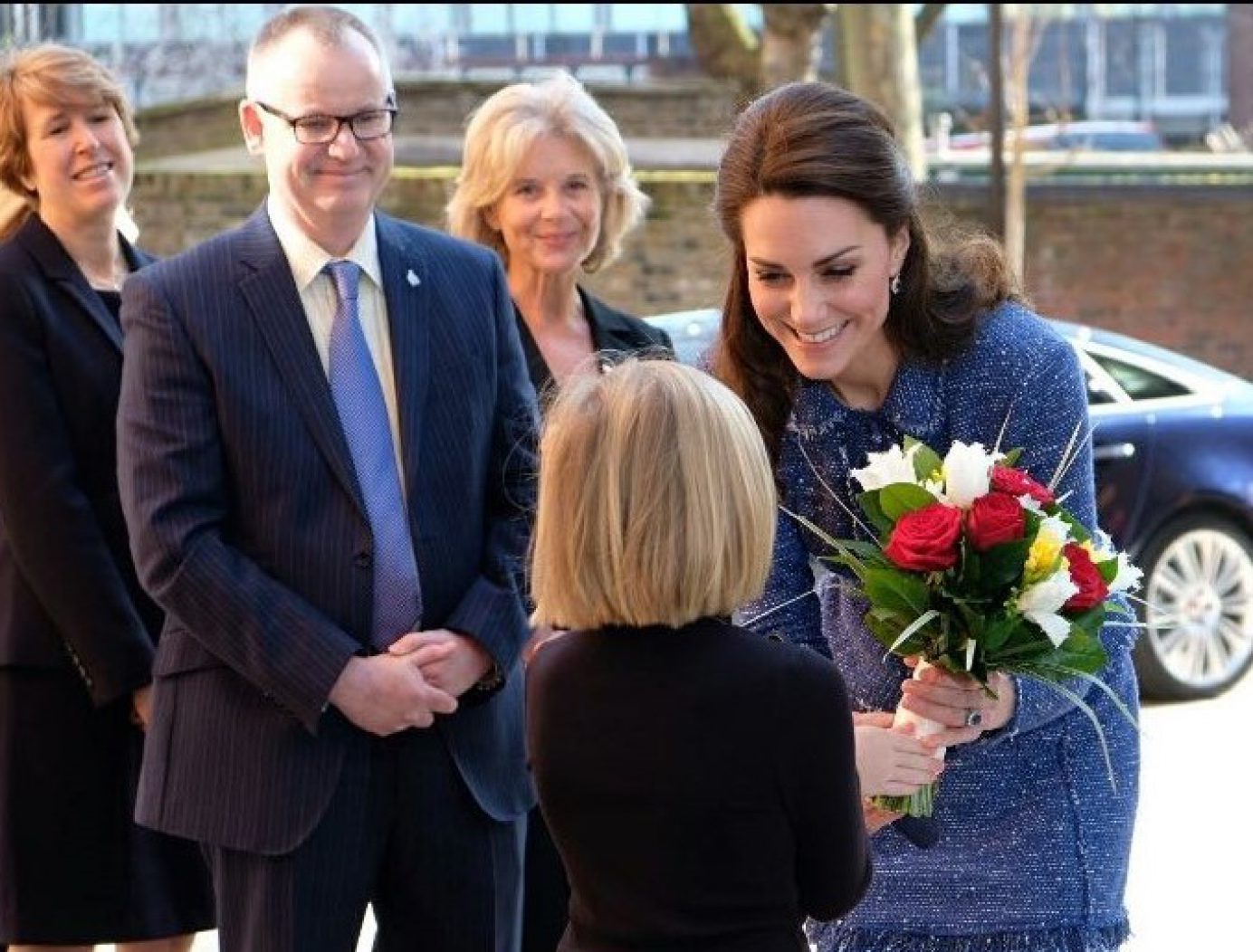 The Duchess of Cambridge opens new 'home away from home' accommodation for families of children in hospital
THE DUCHESS OF CAMBRIDGE TODAY (TUESDAY 28 FEBRUARY 2017) OFFICIALLY OPENED A 59-BEDROOM ACCOMMODATION FACILITY, BUILT AND MANAGED BY RONALD MCDONALD HOUSE CHARITIES, FOR FAMILIES WHOSE CHILDREN ARE BEING TREATED AT EVELINA LONDON CHILDREN'S HOSPITAL ON ST THOMAS' HOSPITAL SITE ON LONDON'S SOUTH BANK.
ON HER VISIT HER ROYAL HIGHNESS TOURED THE NEW RONALD MCDONALD HOUSE EVELINA LONDON AND MET STAFF AND EVELINA LONDON DOCTORS AND NURSES. SHE HEARD MANY MOVING STORIES OF FAMILIES AND SIBLINGS ALREADY STAYING AT THE NEW HOUSE WHO WERE FINDING THEIR NEW 'HOME AWAY FROM HOME' GREATLY EASED THE STRESS AND STRAIN OF HAVING A SICK CHILD, AND GAVE THEM MORE TIME TO CONCENTRATE ON THE CONDITION OF THEIR CHILD.
HER ROYAL HIGHNESS RECEIVED A POSY FROM EIGHT-YEAR-OLD ISABELLE (IZZY) RANDALL FROM WEST SUSSEX. HER BROTHER LUKE, SIX, SUFFERS FROM MULTIPLE COMPLICATIONS AND SHE IS CURRENTLY LIVING AT THE HOUSE WITH HER PARENTS.
The new £13 million House, which has been built and is run by the independent charity Ronald McDonald House Charities, opened its doors to its first families in December 2016. It is situated next to Lambeth Palace, just a short walk from the hospital. It will be able to accommodate some 975 families a year, who can stay free of charge, close to their children, for as long as they need, with some staying months and even years.
Following the unveiling of a plaque by Her Royal Highness, Jon Haward, Executive Director of the independent charity, explained, "This House means that families of a sick child who may live some distance away can now be near the ward, yet enjoy a degree of normal family life. Going into hospital can be a frightening experience for a child and is important that they have their family close by to help them in their recovery."
The new building is more than just a place to stay. It has a large day-room, kitchens and dining areas, laundry rooms, playrooms and has full disabled access. Provision has been made for siblings and larger families to be able to be together. There is a telephone in each bedroom with a direct line to the child's ward.
The facilities have been honed as a model of best practice over the charity's 28 years of existence, in the belief that every child should have the right to have their family nearly when sick in hospital. There are 14 Ronald McDonald Houses across the UK, close to children's hospitals, and ambitious expansion plans to build more. Last year the charity helped more than 7,000 families.
The new House has been built in partnership with Guy's and St Thomas' NHS Foundation Trust, which made a significant contribution to the cost of the build, and Guy's and St Thomas' Charity, which provided the land and helped to bring the parties together.
This is particularly important for families whose children are being cared for at Evelina London Children's Hospital because it has many specialist services – including a recently expanded Neonatal Unit – which treat children from London, South East England and beyond.
Jon Haward continues: "We are delighted that Her Royal Highness The Duchess of Cambridge could be with us today to see our flagship House now ready for families. It was an ambitious project and we and our partners have worked long and hard to bring it to fruition.
"Demand is acute for our services all over the country and we are pleased to be able to provide our support to one of the leading children's specialist hospitals in London.
"Having a place to unwind away from the hospital makes a big difference to families at a stressful time, as well as easing the significant financial challenge of finding somewhere to stay close to their sick child."
Dr Grenville Fox, Clinical Director, Children's Medical Specialties & Neonatology at Evelina London, says: "This new House will mean more than double the number of families can be near their children when they most need them. It provides a welcoming and nurturing environment just a short walk from our front doors, helping families to best support their children."
Kieron Boyle, Chief Executive of Guy's and St Thomas' Charity, says: "We are delighted to have supported the Ronald McDonald House Evelina London to help families continue being families during a testing time in their lives. A huge congratulations to everyone involved in this landmark project for generations of families to come."
1.A spokesperson, images and stories of families are available through contacting the numbers above.
2.Media are welcome to visit the new House and be taken on a tour. Please contact the numbers above to arrange.The Ronald McDonald House is located at 216 Lambeth Road next to Archbishop's Park, SE1 7JY
3. RONALD MCDONALD HOUSE CHARITIESis an independent charity that provides free 'home away from home' accommodation at hospitals across the UK. The Charity enables seriously ill children to have their families close by when they are undergoing treatment and allows them to maintain a degree of normal family life.
There are 14 Ronald McDonald Houses in the UK and in 2016, they helped support over 7,000 families with children in hospital.
Ronald McDonald House Charities relies on the generosity of supporters and fundraisers, including McDonald's customers, without whom it would be unable to continue its work. The Charity was founded in 1989 and has been keeping families together for more than 28 years.
Evelina London Children's Hospital is part of Guy's and St Thomas' NHS Foundation Trust.

www.evelinalondon.nhs.uk

Evelina London treats around 55,000 children a year across hospital and community services.

Facilities include 141 inpatient beds, a 20-bed paediatric intensive care unit, a 52-cot neonatal intensive care unit, six dedicated children's operating theatres, and a kidney dialysis unit.

Evelina London cares for children from across south east London, and is also a regional referral centre, admitting children from all over the south east of England for highly specialist care.

Evelina London isn't like other hospitals. It's only for children and young people – and it was designed by children, for children, to make every child who comes through our doors feel as safe, supported and special as possible.
About Guy's and St Thomas' Charity
Guy's and St Thomas' Charity is an independent charitable foundation which supports new ideas to tackle major health and care challenges in Lambeth and Southwark. The Charity partners with others who also strive to improve local health and healthcare, and has an especially close relationship with Guy's and St Thomas' NHS Foundation Trust. The Charity has provided the land for the new house and helped to bring the different parties together.
Help us provide free home away from home accommodation to support families with children in hospital with a donation.