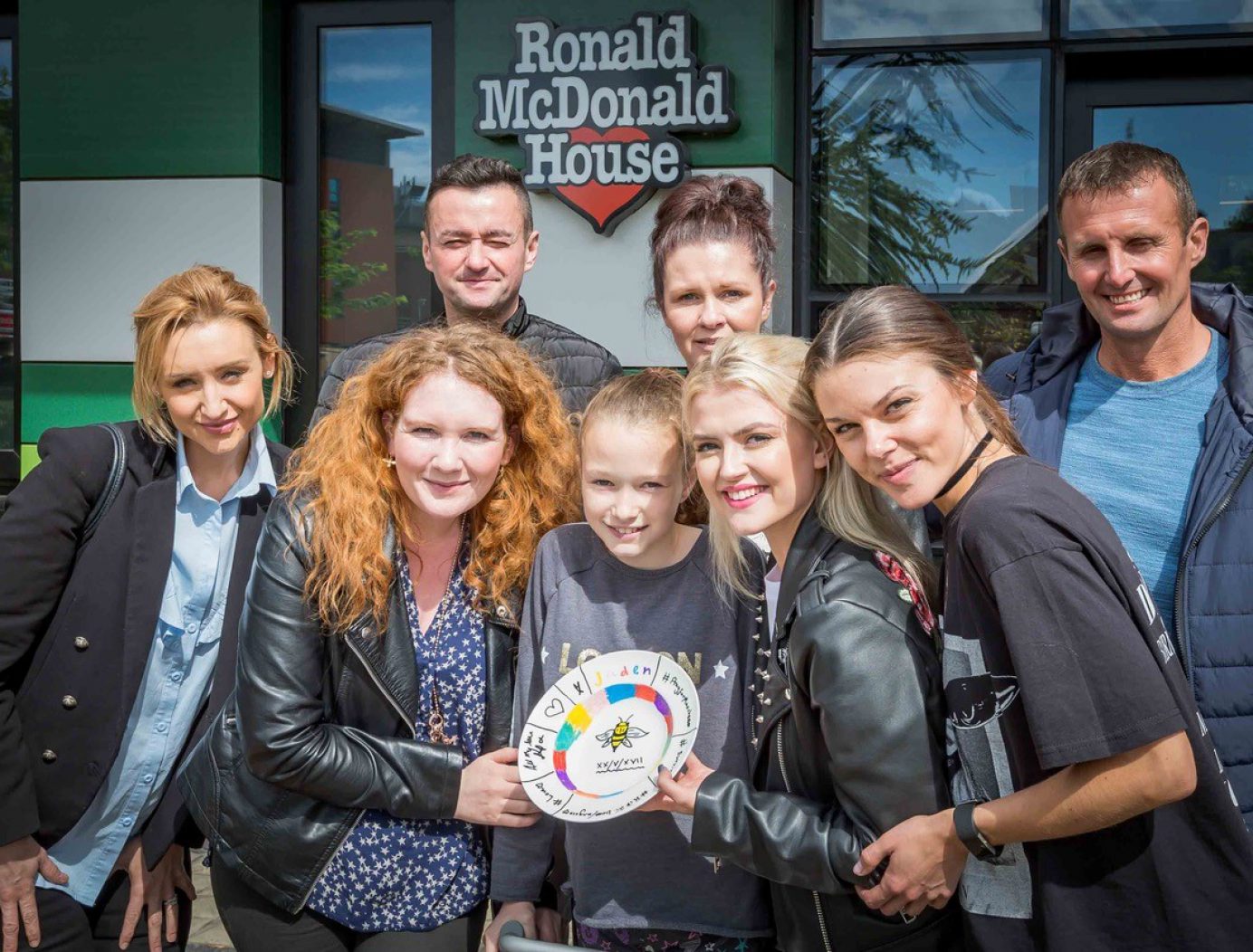 Coronation Street stars turn out in force for Ronald McDonald House Manchester
MANCHESTER BOMBING VICTIM JADEN FARRELL MANN MEETS CORRIE STARS
Caption: Young Manchester bombing victim, Jaden Farrell Mann (centre), was surrounded by Coronation Stars who turned out in force to show their solidarity with families staying at the free 'home away from home' accommodation provided by Ronald McDonald House Charities next door to Royal Manchester Children's Hospital.
Front row: Catherine Tyldesley (who plays Eva Price); Jennie McAlpine (Fiz Brown); Jaden Farrell Mann; Lucy Fallon (Bethany Platt); Faye Brookes (Kate Connor)
Back row: Peter Mann (Jaden's father); Sharon (Jaden's mother); and Mark Price who organised the visit as a gesture of goodwill.
Credit: Andrew Bovill Photography
CORONATION STREET STARS TURNED OUT IN FORCE ON SUNDAY 11 JUNE 2017 TO SHOW THEIR SUPPORT FOR FAMILIES, FRIENDS AND STAFF AT RONALD MCDONALD HOUSE MANCHESTER.
No fewer than twelve cast members interrupted their busy schedules to meet those affected by the Manchester bombing and other families whose children are being treated at Royal Manchester Children's Hospital.
The stars stayed for several hours, listening to stories, signing autographs, posing for pictures and making everyone feel special. They also donated an Xbox and controller to the House – a much appreciated gesture.
With families needing instant help in the immediate aftermath of the Manchester bombing, the House pulled out every stop to assist as many as possible, providing the amenity of somewhere comfortable and friendly to stay free of charge close to the hospital ward.
Jaden Farrell Mann, who broke both legs with shrapnel wounds, was lucky enough to meet the Corrie celebrities before being allowed to go home. Jaden also had the treat of meeting Ariana Grande on the singer's return trip to honour the victims of the terror attack.
Joining Sunday's occasion were the families of Olivia Campbell and Martyn Hett, who both sadly lost their lives at the Manchester Arena. Also adding solidarity to the event was Shaunna Burns of Parrs Wood High School Choir. Shaunna was at the concert with three friends and went on to sing with the choir at the Ariana Grande #onelove concert.
Adding to the afternoon's activities were Mike O'Neil of Trafford Park Fire Station and his team, and Andy Stotton of Heroic Alliance – a long standing supporter of the House – who made his Batman appearance and introduced Mark Price who brought the whole afternoon together.
Volunteers and staff gave up many hours well beyond the call of duty to ensure the occasion was a success and as Melissa Kirk, Deputy House Manager at Ronald McDonald House Charities, put it, "The afternoon had a lovely relaxed feel, tinged with excitement and admiration for how the Manchester community has come together in recent weeks."
Help us provide free home away from home accommodation to support families with children in hospital with a donation.