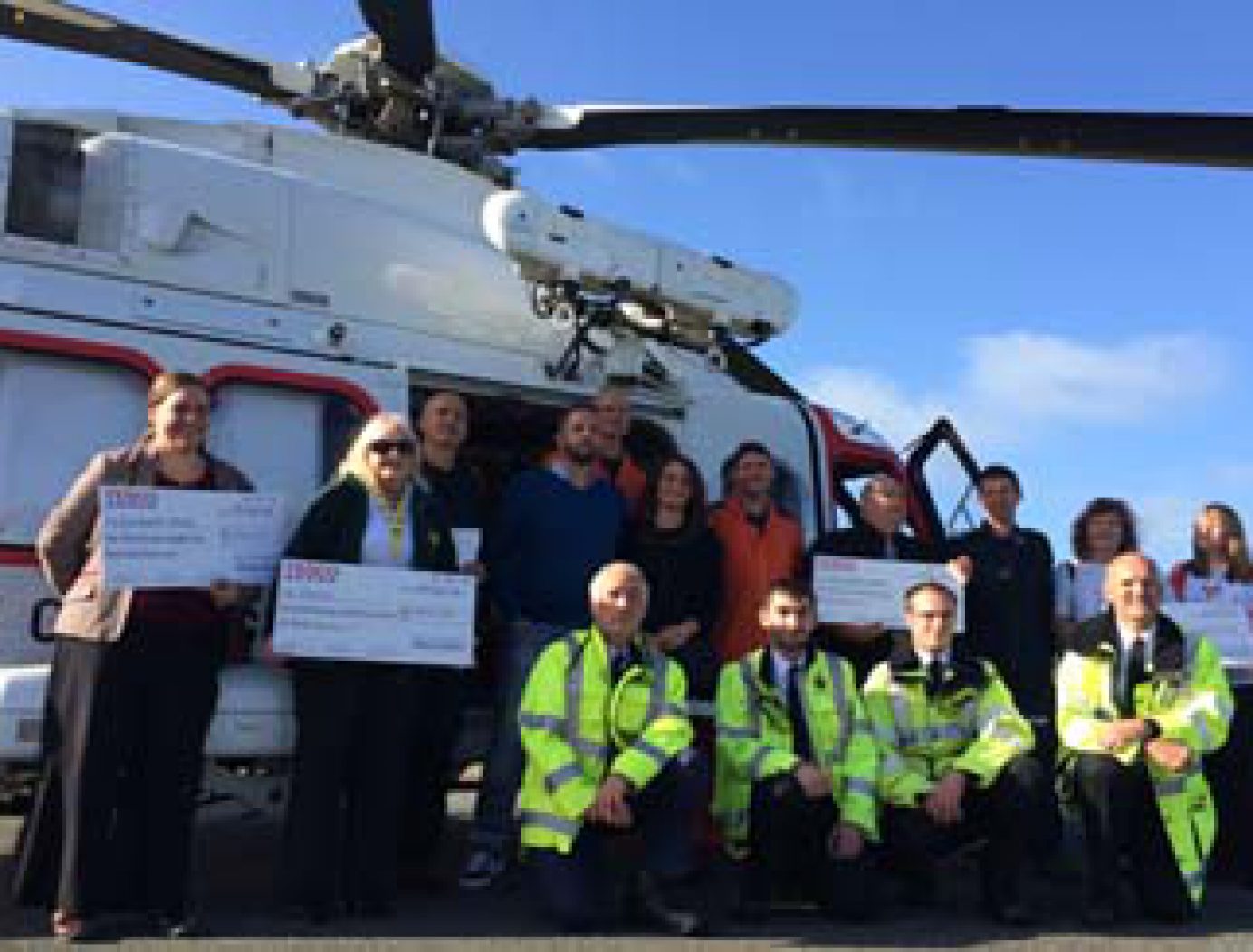 Charities benefit in memory of baby Betsy Rose
An unusual backdrop of a Coastguard Association helicopter was chosen for a major cheque presentation which took place on Wednesday 28 September 2016 at Bembridge Airport, Isle of Wight.
The magnificent sum of £36,030 was raised by Tesco and the tireless efforts of Leanda Collins and Neil Riley, the parents of Betsy Rose Riley who lost her fight for life at Southampton General Hospital in March this year. Born 15 weeks prematurely and suffering from a rare condition, Betsy Rose lived for just 52 heartbreaking days. During this time Leanda and Neil from the Isle of Wight were able to have free 'home away from home' accommodation nearby at Ronald McDonald House Southampton.
The four charities benefitting from a summer of fundraising by the family, particularly a Betsy Rose Ramble and in-store fundraising in July by Tesco staff, are Southampton Hospital Charity, The Hampshire and Isle of Wight Air Ambulance, the Coastguard Association and Ronald McDonald House Charities.
Betsy's mum, Leanda, says: "We wanted to raise as much money as possible for these charities as they are so close to our hearts after helping us care for our daughter. The time we spent with Betsy Rose will always be the most treasured time of our lives and we owe so many thanks to everyone who helped us and enabled us to have our special moments with her."
Judith Stephens, Events and Community Fundraiser at Southampton Hospital Charity, says: "We are so thankful to the Riley family and Tesco stores for raising around £9,000 for the neonatal unit in Southampton. The walk was an incredible collaboration between all four charities, and was very successful in promoting each cause."
"Our neonatal unit provides specialist care to sick term and pre-term (premature) newborn babies. It is one of the largest neonatal units in the country treating around 750 babies a year, from Southampton, Poole & Bournemouth, Chichester, Dorchester, Basingstoke, the Isle of Wight, Salisbury, Winchester and the Channel Islands. The money will allow us to buy a video laryngoscope which helps secure (open) the patients with difficult airways."
Michelle Duma, Manager of Ronald McDonald House Southampton, says: "Our catchment area is very broad and parents living off the mainland need special help to be near their sick child in hospital. We were so pleased to be able to offer Leanda and Neil a home next to the hospital so that they could concentrate their energies on little Betsy Rose and know that eating and sleeping were taken care of."
Notes to Editors:
1. To speak to someone from Ronald McDonald House Charities, please contact the numbers above.
2. Ronald McDonald House Southampton is run by Ronald McDonald House Charities – an independent charity that provides free 'home away from home' accommodation at hospitals across the UK. It enables seriously ill children to have their families close by when they are undergoing treatment and allows them to maintain a degree of normal family life.
3. There are 14 Ronald McDonald Houses in the UK and in 2015 they helped support over 7,000 families with children in hospital.
Help us provide free home away from home accommodation to support families with children in hospital with a donation.