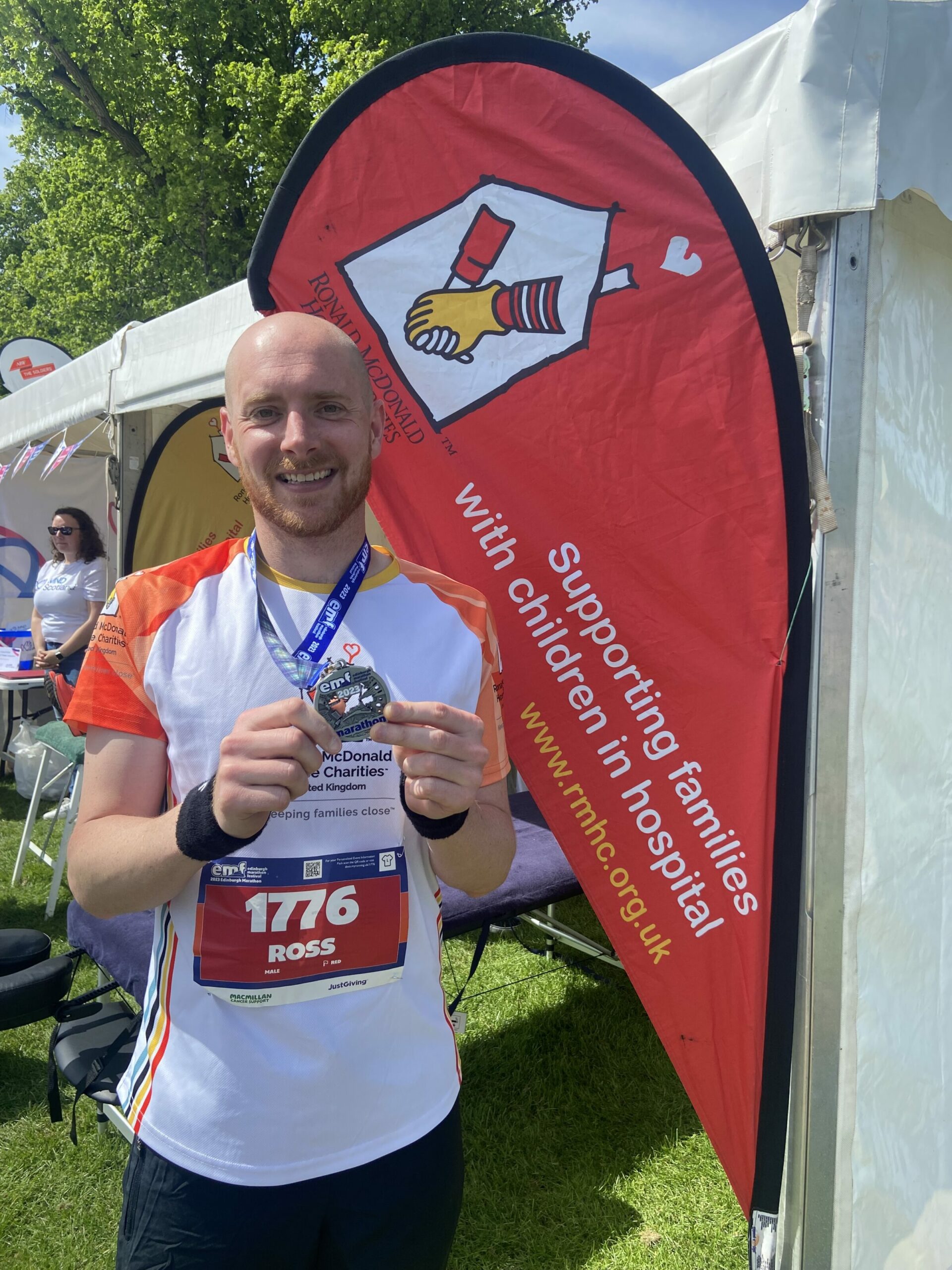 Edinburgh Marathon Festival 2024
Sat 25th May 2024 - Sun 26th May 2024
Edinburgh
Entries are OPEN for the 2024 Edinburgh Marathon Festival! Join #TeamRMHCUK and with 11 race distances to choose from, there is something for everyone
Date
Sat 25th May 2024 - Sun 26th May 2024
Join #TeamRMHCUK at Scotland's biggest running festival
Following a successful 2023 race weekend, we are excited to be returning to Edinburgh Marathon Festival in 2024.  With multiple race distances on offer, there's something for everyone. Join #TeamRMHCUK and help us to support families with a child in hospital, including those receiving treatment at the Royal Hospital for Children and Young People in Edinburgh.
As a member of #TeamRMHCUK, you can expect to receive one-to-one support from our dedicated Challenge Events Team, a fundraising pack filled with top tips and tricks, and a technical top to wear with pride on your race day.
We have guaranteed places for all race distances at the Edinburgh Marathon Festival. We ask you to commit to raising the following sponsorship targets:
Marathon – £600 minimum fundraising with £20* registration
Half Marathon – £300 minimum fundraising with £15* registration
10K – £150 minimum fundraising with £10* registration
5K – £100 minimum fundraising with £5* registration
Relay - £600 minimum fundraising with £40* registration
Junior – Set your own target and FREE registration
*Please note: registration fees are non-refundable.
To register for your place, please click the booking link and choose your race distance. Once complete, we will receive your details and will be in touch with further information.
Sign up now to join #TeamRMHCUK
Have your own place?
If you have bought a place in the race already and would like to run for us, sign up here and we'll get a free Ronald McDonald House Charities UK running top sent to you. There's no minimum sponsorship, just raise as much as you can!
Why run for Team RMHC UK?
By choosing to support Ronald McDonald House Charities UK at the Edinburgh Marathon Festival 2024, you'll receive:
Knowledge that your fundraising will provide families with a 'home away from home' close to their sick child, ensuring they have more time and energy to focus on staying together (just £25 could help us accommodate a family for one night)
A #TeamRMHCUK technical running top to wear on race day
Support throughout your fundraising journey from a dedicated member of the fundraising team
A Fundraising pack full of hints and tips
#TeamRMHCUK cheer squad on route to give you that extra boost and support you at the end of the line
Event Accessibility
For questions regarding accessibility at this event, please contact the event organisers.
Register for a Charity Place
Sat 25th May 2024 - Sun 26th May 2024
Sign up and show your support
Keep updated with news from our Houses, the families we help, events and fundraising opportunities.