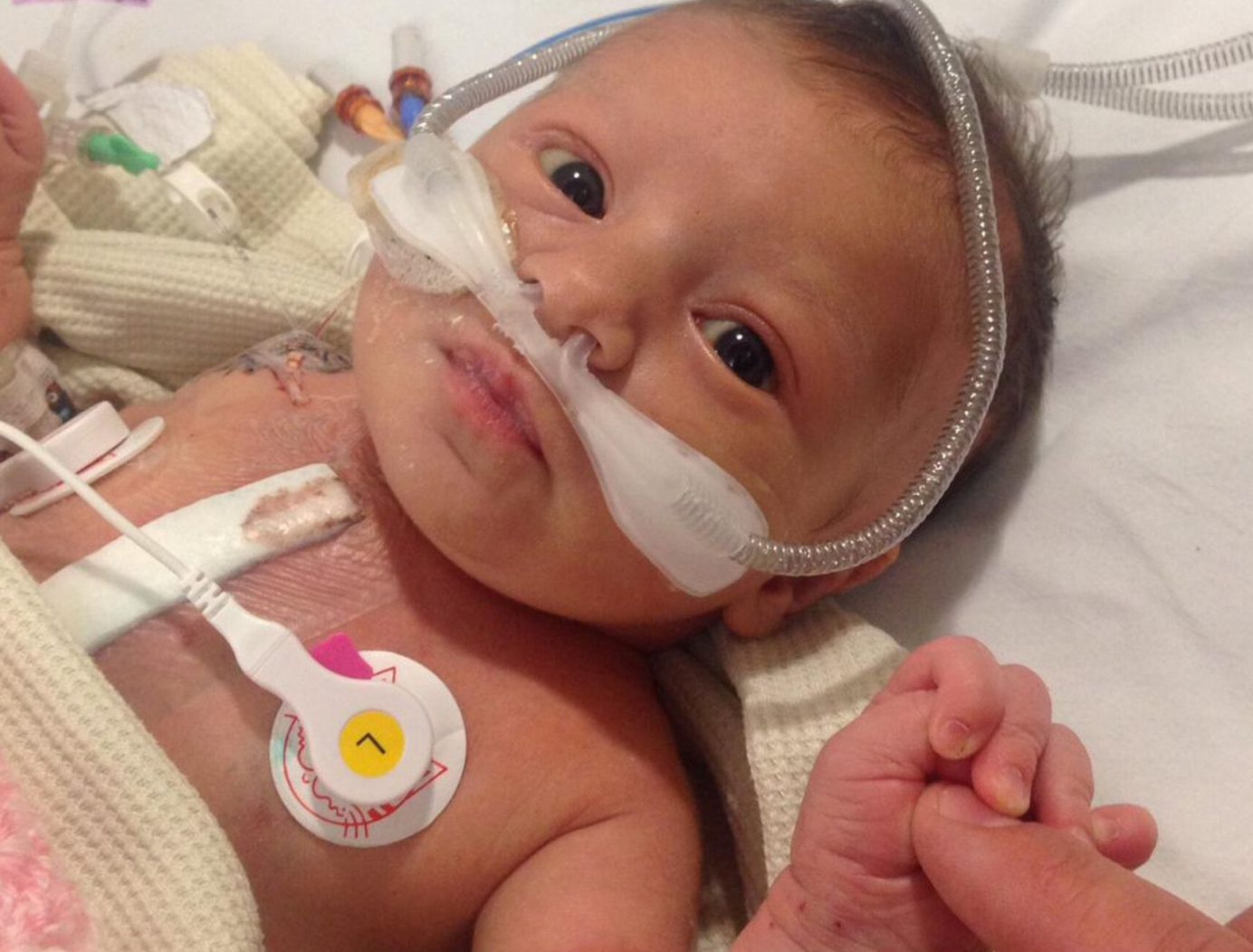 Two Houses, Two Homes: Beau's Story
Donna and Scott were looking forward to becoming parents and extremely happy to be expecting their first child.
During their 20 week scan, the sonographer spotted a problem and the couple learned their baby had congenital heart disease. It was not the news they wanted but they took it in their stride and prepared for what was to come. Little did they know – that was not the only thing they needed to prepare for.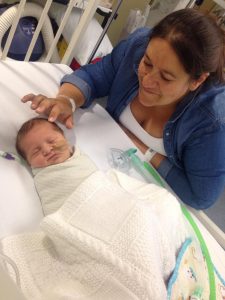 "We were told that our daughter Beau would be born with a hole in her heart," said Donna. "The foetal diagnosis was complete AVSD (Atrioventricular Septal Defect) and the severity of it was unknown until after she was born when the doctors could do further tests. They said Beau would most likely spend about a week in the hospital and need open heart surgery within three to six months.
"Our local hospital in Bournemouth only has a birthing centre and because Beau needed specialist care, the doctors advised that I gave birth in Southampton Children's Hospital. It's about a 45-minute drive from where we live but we were fine with that and knew it was the best solution for Beau. They gave us information and booked me in for an induction of labour. We did our own research and tried to prepare ourselves."
Southampton and Oxford provide paediatric cardiology care to 23 hospitals across Southern England. All the surgical interventions take place in Southampton and the hospital is also the lead centre for neonatal and paediatric intensive care for south-central England.
"Beau was born with the neonatal intensive care unit (NICU) on standby, but everything went well," said Donna. "We were able to see her and have a little cuddle before she was whisked off in an incubator.
"Beau had further tests and her foetal diagnosis changed to a partial AVSD, which sounded better, but she also had an LVOTO – an obstruction of the left ventricle's outflow tract.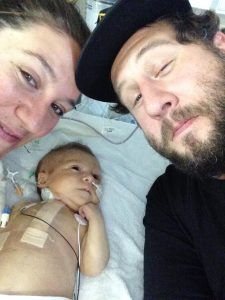 "She spent about nine hours in NICU and was then well enough to be transferred to the paediatric intensive care unit (PICU). I'd had two epidurals and was being kept in overnight. Scott was watching over Beau. It was late and one of the midwives asked him – are you going home tonight or staying at the Ronald McDonald House? He didn't know what that was. She explained, gave him directions, and the staff there welcomed him and gave him a room. I was discharged the next day and joined Scott at the House.
"Ronald McDonald House Southampton is on the hospital grounds and it took us just five minutes to get to Beau's bedside. The staff were so helpful, and the room and House had everything we needed. We now had somewhere to stay together, and we were so close to Beau. It took away the stress of Scott needing to go home or paying for a hotel nearby."
Despite showing a strong start, Beau's condition deteriorated fast and she had open-heart surgery at 12 days old. She resumed her strong recovery and spent only two days in PICU, before being transferred to the ward.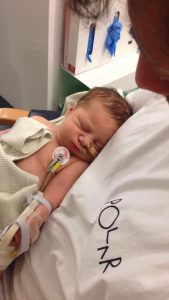 "Beau was doing really well, and everyone was pleased with her recovery," recalls Donna. "Then she contracted an infection in her sternotomy scar and the nurses noticed that her stools were quite pale in colour. That didn't sound serious and we worried more about the infection. The liver team became involved and then we were told Beau had a rare congenital liver disease called Biliary Atresia and she needed to be urgently transferred to a different hospital. It had to be a duel centre for paediatric cardiology and hepatology – Beau had to go to either Leeds or Birmingham, both hours away from home.
"It was completely out of the blue. We had no clue about the congenital liver disease. We knew about the heart condition and that was a big enough deal in itself. I felt numb during that conversation with the doctor. The news hit me hard and afterwards, it turned into a blur. Lots of medical jargon and you have no option but to trust the doctors and go with it. We asked questions and then realised there were a thousand other questions we should have asked. It was a total shock."
Beau was airlifted to Birmingham Children's Hospital that afternoon. She was just three weeks old. Donna jumped on a train, because there wasn't enough room in the helicopter, and Scott gathered their things and followed his family by car. Within two hours Beau was being examined by doctors and having further tests. Before she was even seen by the liver team, she had a debridement surgery to open up her sternotomy and have it all cleaned and repaired with super sutures. The cardiology team wanted to deal with the infection and ensure it healed properly.
"The journey to Birmingham and getting sorted was a whirlwind. We were now 170 miles away from home. We didn't know anyone in Birmingham, so we had no support network. I was more comfortable going to Leeds; I'm from Bradford and would have been able to stay with my Mum and I have friends I can count on. In Birmingham, I didn't know where I was going and until Scott got there I was on my own. We needed somewhere to stay and there was another Ronald McDonald House welcoming us with open arms."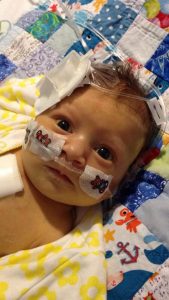 Beau spent one week in Birmingham PICU to recover and had further tests on her liver. Biliary Atresia causes bile to get trapped in the liver and it quickly causes damage and scarring of the liver cells and eventually liver failure. Beau needed a Kasi procedure and for the surgery to be successful it had to take place within the first 12 weeks of life. Beau had hers at six weeks old and then spent a further two weeks in hospital.
"Birmingham was much tougher than Southampton. We were further away from home and things were very different," said Donna.
"Scott had to work so I was on my own during the week. Life doesn't stop – it keeps going. We still had a mortgage and bills to pay and Scott needed to keep his business running and make sure we had a home to go back to when it was all over.
"I was looking after Beau, dealing with the doctors and making decisions about her care. I had to communicate with Scott by phone or Facetime and relay what was happening. Scott was working and then driving up to Birmingham every weekend. We both found it really overwhelming at times.
"That's why it was great to find another Ronald McDonald House. It's a bit of respite from the situation you're in and it feels like a sanctuary. I arrived in Birmingham and didn't know where I was going, but I felt secure knowing I had somewhere to stay.
"The Houses have everything you need and more. They have the creature comforts you need to bring you happiness and you're not having to pay out for it like you would in a hotel. And you need that space and comfort. You can't be at the hospital 24/7 because you would go mad. When Beau was really poorly, we were there but when she didn't need us or was sleeping; we could retreat to the House and get a break or catch-up on sleep. Even when it's really bad you need a little breather to relieve the stress and anxiety for even just a moment, so you can gather your thoughts and strength to go back in there."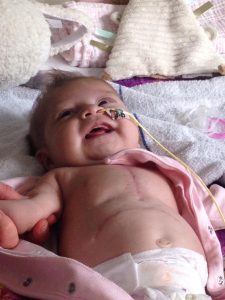 Eventually, Beau recovered enough to be transferred back to Southampton with the hope that she would be discharged shortly after. Beau was taken by ambulance and this time Donna was able to accompany her.
Then things took a turn for the worst again. Beau had an RSV (Respiratory Syncytial Virus) that caused Bronchiolitis, which is a lung infection that produces swelling and mucus in the small breathing tubes of the lungs. This put Beau right back to the beginning. She was very poorly and kept in isolation on oxygen with a feeding tube. Beau actually contracted three RSVs and spent six weeks moving back and forth between quarantine and the ward.
After two hospitals, two Ronald McDonald houses and more than 12 weeks in specialist care; Beau was finally discharged home.
"What we went through wasn't a normal situation," said Donna. "We couldn't take Beau home and do most of the things that people with newborn babies get to experience. That's why Ronald McDonald House Charities is so important. It's so precious to be able to stay close to your child, to do what you can, bond with your baby and be there for them.
"We're forever grateful to Ronald McDonald House Charities and alongside our friends we've raised more than £2,300 for the Charity and will continue to support it. Beau is two years old now and doing well. But she'll need another open-heart surgery within six months, and we hope to stay at the House in Southampton again."
Help us provide free home away from home accommodation to support families with children in hospital with a donation.