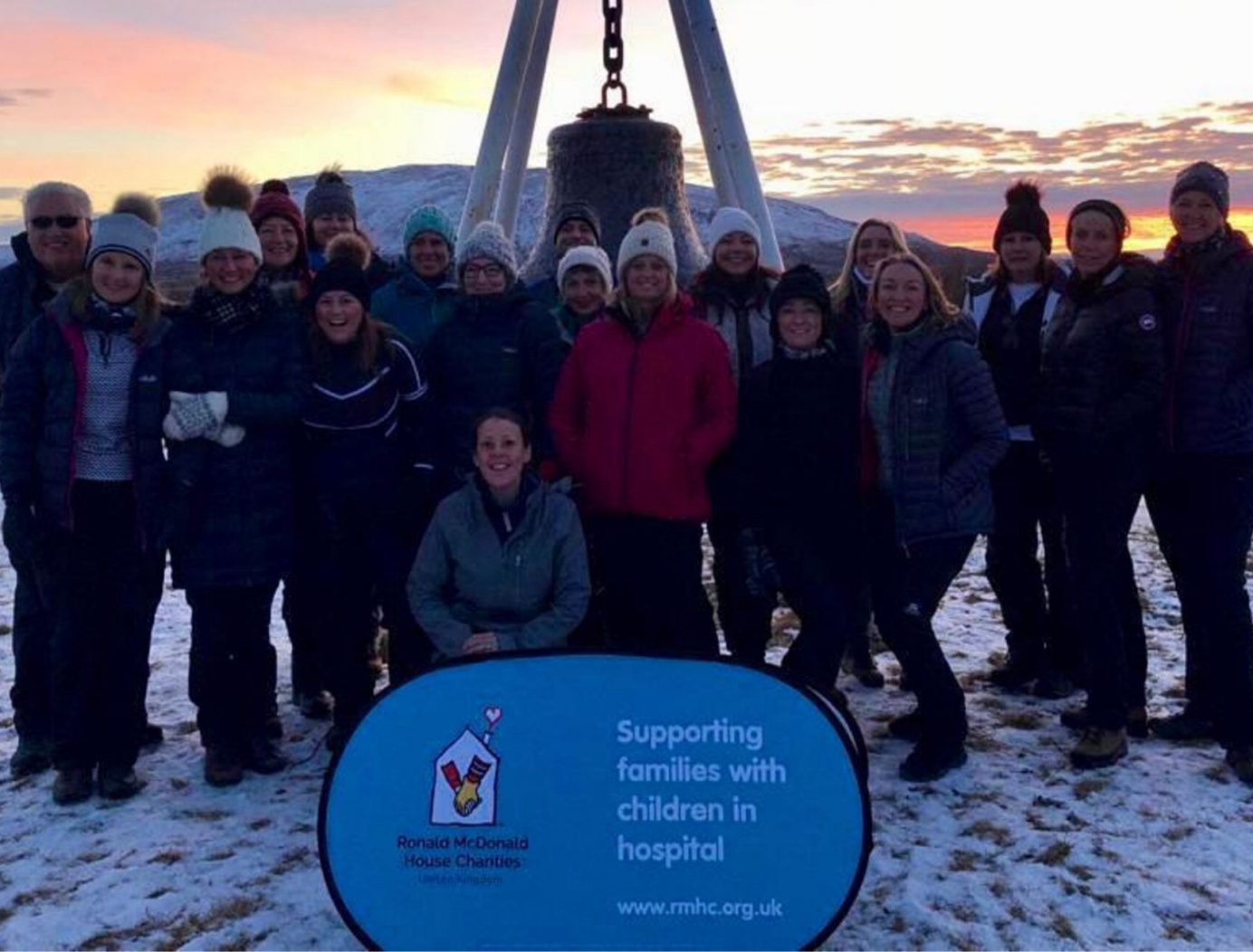 Jane was part of a group of 18 brave supporters who took on a tough trek across Iceland, braving snow, ice and sub-zero temperatures to raise funds for Ronald McDonald House Charities UK in memory of our friend Steve Burne.
We were blown away by the fundraising total; the group raised an incredible £46,200, plus £3,000 in Gift Aid, which will help us keep families together while they have a seriously ill child in the hospital. Jane shared her story with us in an amazing blog, to inspire others who may want to take on an adventurous challenge for Ronald McDonald House Charities UK.
Back in early January, I was sitting with a friend chatting about exercise and challenges and whether I had ever thought about taking on something more than just a park run or a gym class. I said I fancied some kind of walk or trek and had always fancied Iceland. Literally two minutes later a Facebook message popped up from another friend, Jo – would I be interested in joining a trek to Iceland for Ronald McDonald House Charities?! Fate had moved very fast! How could I refuse?! A few friends have benefitted from the amazing work Ronald McDonald House Charities do so it really was a no brainer – of course, I would do it and of course, I would fundraise for this wonderful charity. I signed up immediately and set about raising my £3000 target. Friends were incredibly generous – we held a number of events – tennis club brunch was a big hit as was the frequent sale of protein balls and granola bars I rustled up. The best event was a Royal Wedding Breakfast I held where we drank champagne and celebrated Harry and Meg's nuptials, raising a healthy £300 to boot. Frequent updates on my JustGiving page posted to Facebook helped keep my fundraising profile up and the money kept coming in. I asked for donations instead of birthday presents and cards – every little helps. The Ronald McDonald House Charities team were great with constant supportive emails, training plans and endless positivity.
Training for me took the form of dog walks along the Cotswold Way, weight training sessions three times a week and an ascent of Snowdon with friends. By the time November 1st came round, I felt ready. Nervous but ready. Meeting everyone at Manchester Airport was nerve-wracking initially, but rapidly I felt at ease, all bonding over our shared goal. Laughing together whilst panic buying drinks and crisps for the days ahead, I knew I was surrounded by kindred spirits and all would be well. I was even looking forward to getting started on the challenge ahead.
Arriving at the northernmost scout hut in the world was a shock in a good way. I had expected to be sleeping in rough wooden huts with no showers or electricity. I hadn't brought any toiletries or electrical items for exactly that reason! My surprise continued as the lovely Bearta rustled up a healthy fare and an endless supply of custard creams and tea in the communal dining room.
The trek itself started on Friday morning and we were chomping at the bit! Once I'd got my first outdoor, cold bum wee behind a boulder out of the way there was no stopping me! The walking at times was much harder than I had expected – the terrain ever-changing, almost otherworldly. The wind sometimes almost lifting us off our feet. The snow at times knee-deep and the ice almost seemed impossible to navigate. But we all managed to get through all we encountered – countless stream crossings, building dams, stepping stones and getting the occasional soggy foot.
A real highlight for me was on the final morning after a tough hour and forty-minute hike up a steep icy path, the air thick with eggy sulphuric smells, the sight of hot bubbling streams and little booths to undress in. Surely we weren't really going to drop our walking trousers, strip down to swimsuits and brave -9 temperatures? Were we?! Well a hardy few of us did just that – stripped down to cossie and bobble hat and took a lovely dip in the bath temperature natural streams before hurriedly dressing and heading off for another six hours of trekking. A moment to remember for sure.
That final day was a really tough one with all of us having to dig deep to keep going – steep icy climbs, stream after stream to cross and some really treacherous areas to navigate in knee-deep snow. A steady supply of damson gin from a hip flask and jelly babies from a friend helped to keep spirits up.
After eight hours that sometimes felt like 28, I never thought I'd be so delighted to see a power station looming large in the distance. But just beyond that power station was our bus back to the scout hut! We were cold, knackered and ready for a beer! We were done – literally!
Looking back now I feel immensely proud of what we all achieved and hugely privileged to have been part of a fantastic team of people all pushing ourselves out of our comfort zones for such a worthy cause. And the fundraising total keeps on rising – I've gone over my target and will continue to pester friends and remind them of just how cold it was and just how hard it was!
Between us, such an incredible amount of money has been raised to help improve the lives of people struggling through the darkest of days with their loved ones. As I said at the beginning, choosing to do this really was a no brainer. And I loved every minute.
Help us provide free home away from home accommodation to support families with children in hospital with a donation.