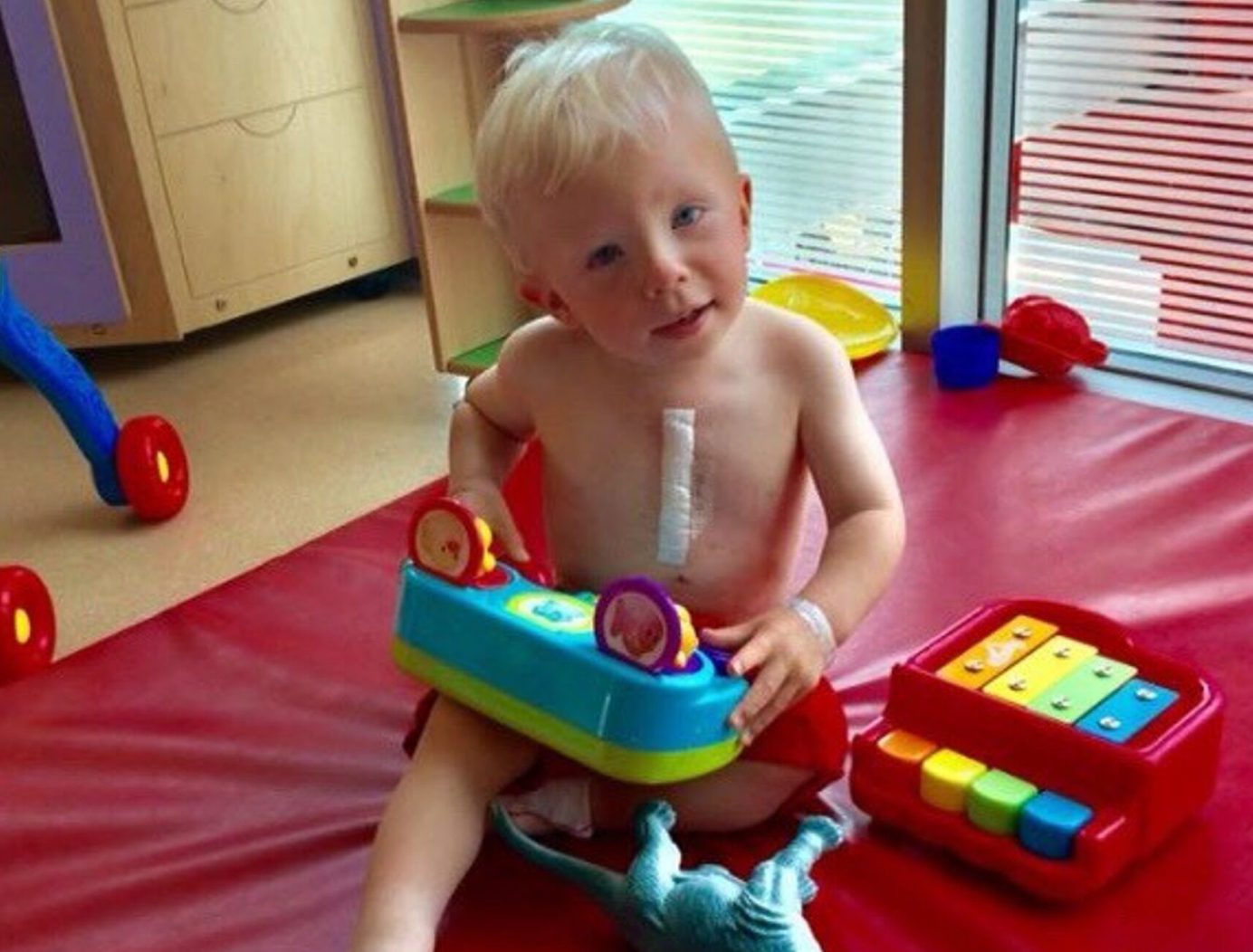 Scary Christmas Surprise: Sebastian's Story
The day before Christmas Eve, our three-month-old Sebastian was suddenly rushed to the hospital after collapsing with bronchitis. It was then we found out that he had three different heart conditions, Ventricular Septal Defect, Atrial Septal Defect and Subaortic Stenosis… They were intimidating names and we were shocked and scared even more so when we were told he would need open-heart surgery at Evelina London Children's Hospital, 70 miles away from our home.
Not only were we worried about our baby Sebastian, but we also had our four-year-old daughter Grace to think about. How would we be able to explain to her what was going on?
Of course, we had all the normal worries that come with having a child heading into surgery, but we also realised we needed somewhere to stay with our daughter, as we had no idea how long it would take Sebastian to recover from his operation.
"KNOWING THERE WAS A FREE FAMILY ACCOMMODATION NEAR THE HOSPITAL MADE A WORLD OF DIFFERENCE."
We spoke to the consultant, and they told us about the Ronald McDonald House Evelina London. Knowing there was a free family accommodation near the hospital made a world of difference. We had a referral from the hospital put in and were offered a room.
Walking into the Ronald McDonald House, we felt immediately calm and thankful that we had somewhere to stay with our daughter and being close to Sebastian.
There are lots of little moments that stand out from our stay in the Evelina London House. Mostly, it's the generosity of the people that work there. Volunteers come and take the time to cook for the families, staff will make cups of coffee and other families will talk to you about what you're going through. You only have to pay a deposit of £25 for the room key to access this amazing facility.
"I STILL THINK HE COULD TELL THAT WE WERE CLOSE BY AND I THINK THAT HAD AN IMPACT ON HIS RECOVERY."
Grace was only a two-year-old when we first stayed in the House, but she remembers it well. The playrooms, our bedroom, the garden… it meant a lot for her to be there with us as it was a lot to take in at that young age.
I really believe the House had a positive impact on our family. We were able to stay together and go somewhere calming away from the beeping machines of the hospital. There were other families who were going through a similar situation, so we could chat with them after a long day. Even though Sebastian was just four months old, I still think he could tell that we were close by and I think that had an impact on his recovery.
After Sebastian had recovered, we were so happy to be taking our baby home, but leaving the House made us sad. All I know is that we are very thankful. When you have a child in the hospital, plus other children, knowing what to do can be a nightmare, but with the House, it made it possible to be together.
If someone wanted to raise money or donate to Ronald McDonald House Charities UK, I would tell them what it means to be able to have the House at that moment in time and how helpful it is. They rely on donations to run and build new Houses. So get fundraising!
Help us provide free home away from home accommodation to support families with children in hospital with a donation.