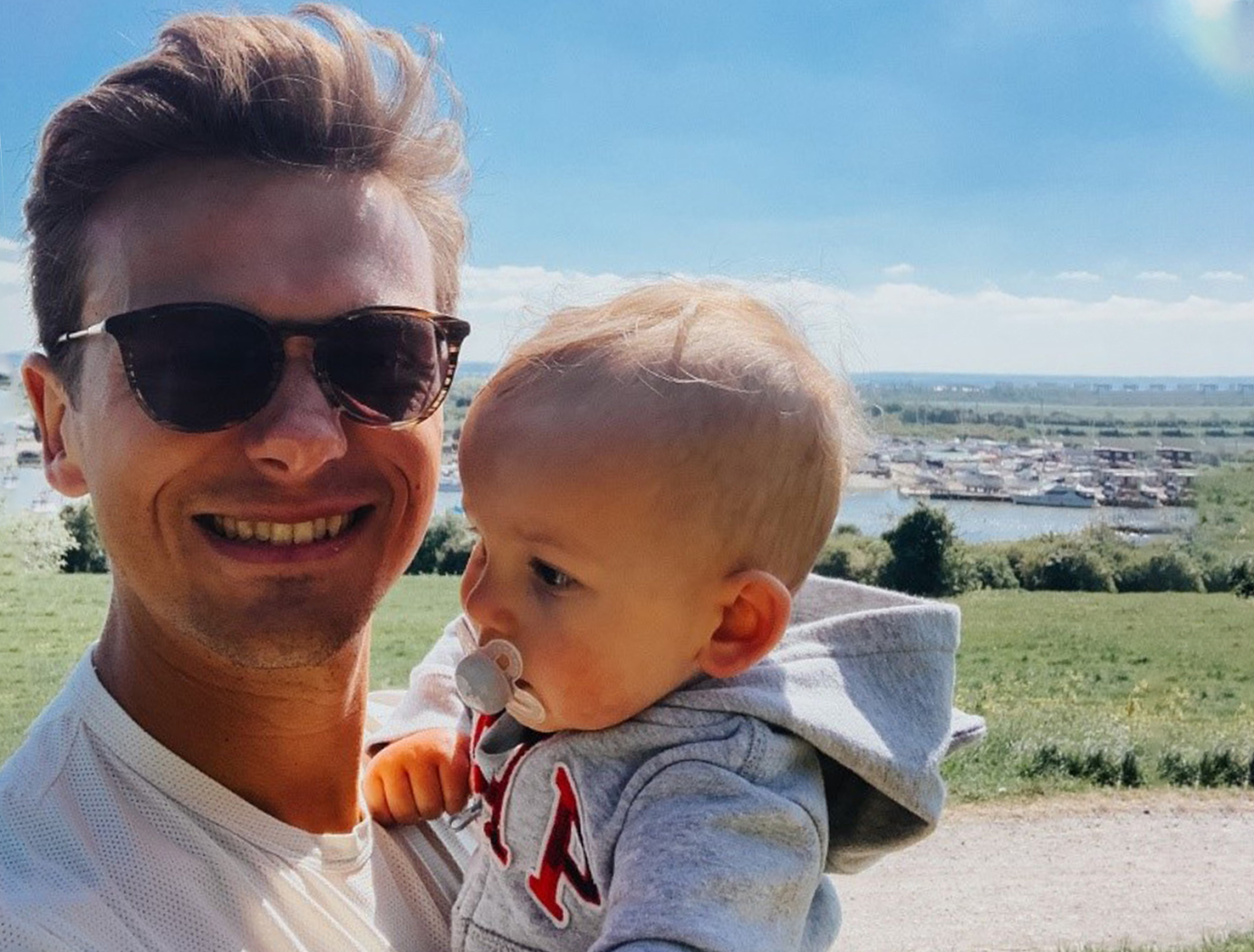 Going the extra mile: Mike's story
"The second we walked into the foyer, we started to cry. Being on the other side of charity was a new thing for us, and the realisation that we now had somewhere as comfortable as this to recharge our batteries every night to support our son was overwhelming."
Four weeks into the lockdown and with another weekend of chores and gardening looming, an email hit my wife's inbox from Ronald McDonald House Charities UK, encouraging people to take part in the #twopointsixchallenge over what would be the London Marathon weekend. After further reading, we realised that RMHC UK have lost a huge amount of revenue from charity events being cancelled during the COVID-19 pandemic, but are still supporting families, helping them stay together when they have a child staying at hospital. We realised they needed fundraisers more than ever.
After a quick brainstorm, we came up with a 26.2 mile walk across two days with our one-year-old son, Jesse. Just over a year ago, Jesse was born at St. Thomas' Hospital, London and required life saving surgery to correct Oesophageal Atresia, a gap in his food pipe. After a week living in the hospital, we were mentally and physically exhausted. St. Thomas' did the best they could to ensure we didn't have to do the two hour trip home everyday, but it was hardly ideal taking up a hospital room, and myself sleeping in a chair every night.
Then, a rep from RMHC UK let us know there was space for us to move into their accommodation at the Evelina House, just a short walk from the hospital. The second we walked into the foyer, we started to cry. Being on the other side of charity was a new thing for us, and the realisation that we now had somewhere as comfortable as this to recharge our batteries every night to support our son was overwhelming.
During our stay it was all the little things that made a difference in our most challenging hour. The complimentary meals, the Mother's Day flowers, friendly staff checking in on us every day… it saved us. Luckily we only needed to spend a week there till Jesse was strong enough to be moved to our local hospital, but we'll never forget the difference RMHC UK made to us and wanted to do something to help them.
Our corner of South-East Essex is surrounded by country parks and woodlands, so we were lucky enough to devise routes that were going to be quiet so we could maintain social distancing practices while completing the challenge. We also knew that both 13.1 mile routes would need to be completed in one go to adhere to the government restrictions of one form of exercise a day. We took regular breaks to make sure Jesse was happy all the way around, and so he could practice his own walking. He's teasing us every day in making that first step on his own!
With tired legs, and in a state of delirium after ten hours of walking, at 4pm on Sunday, we were done! Our target was to raise £260, but thanks to the generosity of our friends and family who have all come to know our story, we raised over £700! The good folks at RMHC UK have informed us that this will accommodate a family for 28 nights – amazing!
We look forward to raising more money for such a wonderful charity in the future.
Help us provide free home away from home accommodation to support families with children in hospital with a donation.