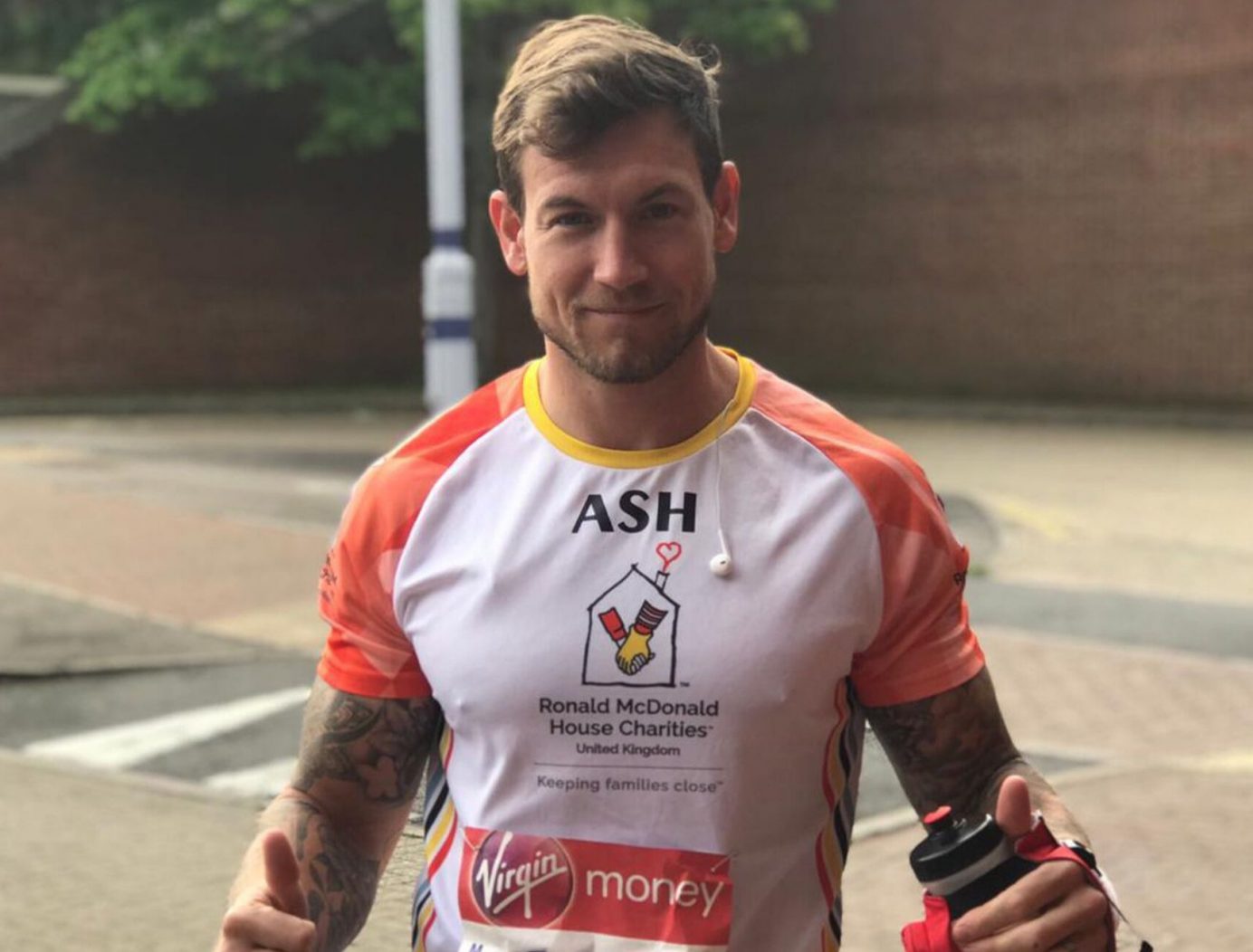 London Marathon: Ash's Story
Ashley ran the 2019 Virgin Money London Marathon and raised more than £2,780 for Ronald McDonald House Charities UK. He wanted to raise awareness of how the Charity supports families like his, which benefited from the help of the Camberwell House. Here's Ashley's London Marathon story:
WHY DID YOU DECIDE TO FUNDRAISE FOR RONALD MCDONALD HOUSE CHARITIES UK?
"My nephew Oscar was born 11 weeks premature in his local hospital in Kent but had to be transferred to King's College Hospital, London, shortly after. When he was born, he weighed just 2lb 1oz and he spent his first five weeks in intensive care before going home. Later, Oscar had problems with his bowels and had to be rushed back to King's College Hospital for surgery.
"Throughout both times in hospital, my sister remained close to Oscar's bedside by staying at Ronald McDonald House Camberwell free of charge. We'd never heard of the Charity before and it was fantastic for her. King's College Hospital is more than 35 miles away from my sister's home, which is about one hour's drive. She didn't want to leave Oscar and the Camberwell House meant that she didn't have to. Being able to stay at the House also helped take the stress of the situation away and it saved my sister a lot of money that she would have spent on trains, parking and hotels. She stayed at the House, just a few minutes' walk from Oscar, for five weeks before he was discharged back to their local hospital for a couple of weeks before being well enough to go home.
"I wanted to raise money and awareness of the Charity because I don't think many people understand exactly what it does and how it supports people. It has helped my family out a lot and it's a really good cause.
"Oscar is two years old now and doing well, but he may need to have another surgery in the future to repair scar tissue."
WHY DID YOU DECIDE TO RUN THE LONDON MARATHON TO RAISE MONEY?
"I liked the idea of running a marathon. It's a big thing and people respect you for doing it. I went along as a spectator once and I loved the atmosphere and it was a really good day out. I'd never run before, so it was a bit of challenge for me. I work out a lot in the gym and am fit, but running on the road and doing long distances was new to me.
"I entered the ballot for the London Marathon and was lucky enough to get in. I then chose my charity and decided to raise money for Ronald McDonald House Charities UK."
HOW DID THE FUNDRAISING GO?
"I started fundraising at the end of January and published my Virgin Money Giving webpage. By the end of February, I'd raised more than my £1,000 through the support of friends and family.
My wife is a journalist and so she helped me gain publicity; I've been in my local newspaper and she promoted my fundraising on Instagram and Facebook to help me raise money."
WERE YOU NERVOUS ABOUT DOING THE LONDON MARATHON?
"I was actually quite excited about it and felt confident about doing it. The weather this year was warm for winter, so it was good to run and train in. The weather was hotter at the end of April for the actual marathon but having that warm winter really helped me prepare."
"Training went well. I started not long after Christmas doing short runs and doing more in the gym. Then I began building my running distance gradually starting from about five miles. In the gym I was building my leg strength, speed and improving my running technique.
"I decided to try and run the whole marathon in under four and a half hours. I didn't know whether I could but needed a target to aim for. I bought the kit that I wore and had some new trainers fitted and moulded to my feet.
"Towards the end of my training, I started doing longer distances and the last one I did was 21 miles which was my peak. That went OK but it was hard.
I gradually slowed my running down to about five miles a week and then I did a half marathon and a quarter the week before the London Marathon.
The week of the marathon I didn't do any training; I had a massage to make sure my legs were in the best condition, ate plenty of carbohydrates and protein and conserved my energy."
WHAT WAS IT LIKE TO RUN THE LONDON MARATHON?
"The temperature was a bit cold to start with, but it soon warmed up and it felt perfect. The time went quickly; I remember getting to the halfway point and feeling really surprised. There was such a buzz throughout; the support from the spectators was fantastic. The atmosphere helps the time fly-by; before you know it, you've done 5 miles – sometimes I didn't even realise I was running.
"I found the marathon easier than I thought I would. Where I trained there are a lot of hills and in London, it's a lot flatter. For 18 miles, I felt pretty good and had no problems but from 19 miles onwards I had a bit of cramp and so I had to work hard to stick to my target and work my way through the last six miles. I didn't stop or walk because I thought I might not get going again, instead, I slowed right down and tried to pick up the pace and then slowed right down again and kept going like that. The crowd really helped take my mind off the pain. The hardest part is the last 200m when you can see the finishing line, but it feels like it's going to take everything you have to get you to it!"
ANY TIPS FOR OTHERS THINKING ABOUT TAKING ON A MARATHON CHALLENGE?
"Make sure you wear a shirt with your name printed on it. Ronald McDonald House gave me a running shirt with my name on it and the number of people who were shouting my name and giving me encouragement was amazing. It does help even when you get to the quiet spots of the marathon; someone will shout your name and it boosts you up."
YOU SMASHED YOUR TARGET; HOW DID THAT FEEL?
"I'm still buzzing from the experience of doing it. I was hoping for four and a half hours and I actually managed four hours and seven minutes. I'm really happy with that.
I probably could have pushed myself harder but given that I got cramp it's probably a good thing that I didn't. Everyone I've spoken to who has done the London Marathon has said that was a great result."
"Yes – I've already re-applied to run the Virgin Money London Marathon next year! I think if I train for longer, I can do it in under four hours next time easily."
Help us provide free home away from home accommodation to support families with children in hospital with a donation.