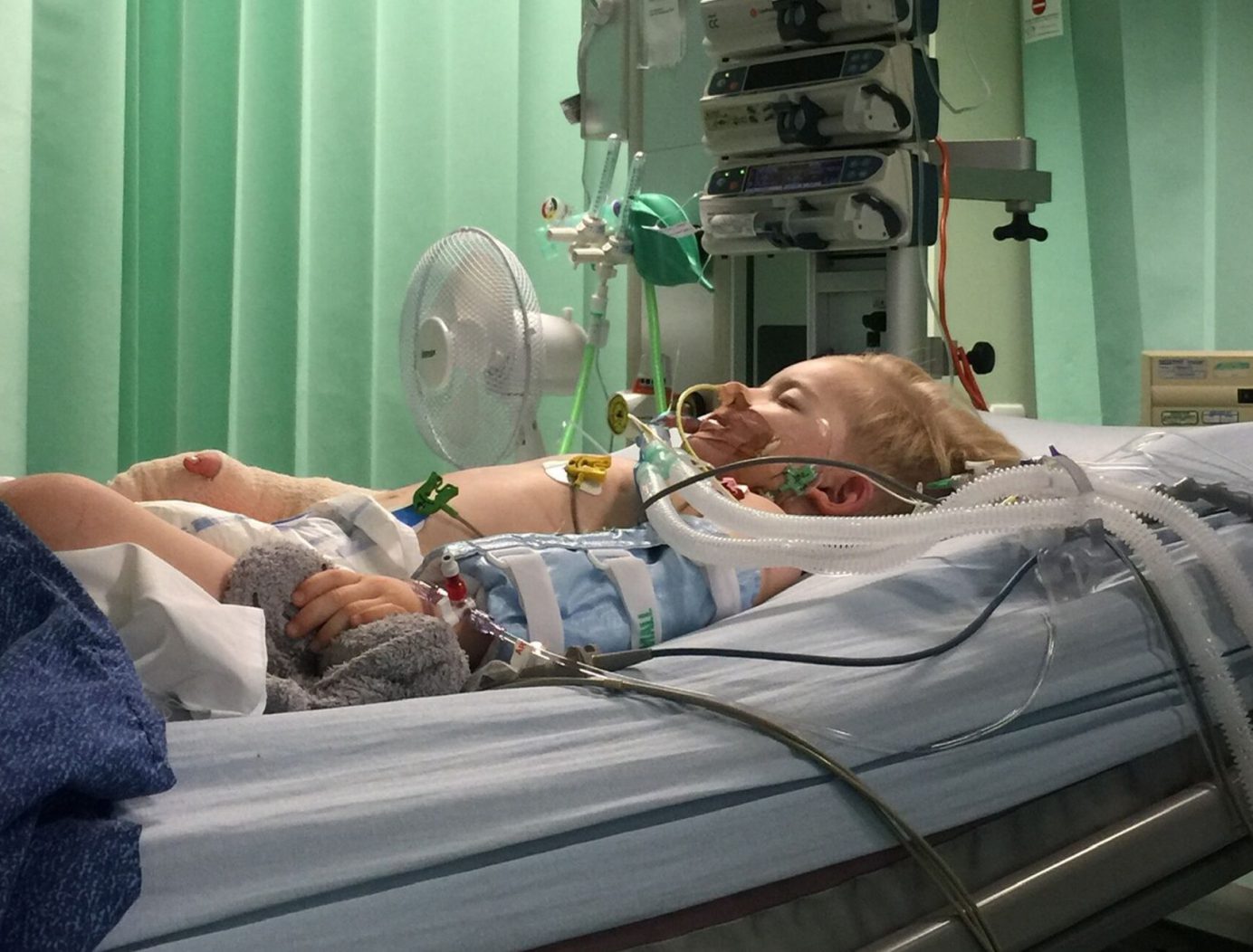 Fight with Sepsis: Blake's Story
"Sepsis kills five people every hour in the uk, and can take hold in unexpected ways, even from something as simple as a grazed arm."
Blake, from Wallington in London, was enjoying his sixth birthday party when he fell and hurt his arm. He got back up and started playing again and there didn't seem to be a problem. But Blake became increasingly unwell and the family became embroiled in a bitter struggle against sepsis to save his arm. It is a horrifying story that demonstrates how deadly sepsis can be. Sepsis kills five people every hour in the UK and can take hold in unexpected ways, even from something as simple as a grazed arm.
Sepsis (also known as blood poisoning) is the immune system's overreaction to an infection or injury. Normally the immune system fights infection but sometimes it attacks the body's own organs and tissues. The symptoms of sepsis can initially look like flu, sickness or a chest infection. If not treated immediately, sepsis can result in organ failure and death, but if spotted early enough it can be treated with antibiotics.
"HE TOOK ONE LOOK AT BLAKE AND REALISED HOW SERIOUS IT WAS."
"Blake had been poorly for a couple of weeks before his birthday, but he still wanted to celebrate with his friends. He fell over during his party and hurt his arm, but he got up and started playing again and we didn't think anything of it," recalls Blake's mum, Michelle.
"Later he was complaining about his arm, so we took him to our local hospital, and they said nothing was broken. Blake was feeling unwell with a high temperature and our GP dismissed it as a viral infection and said not to worry. But he got worse, so we took him back to the hospital and luckily the consultant we saw that day had a specialist interest in infectious disease and he took one look at Blake and realised how serious it was.
"When we took off Blake's shirt, we were very shocked to see the size of his arm. It was extremely swollen and looked like nothing I'd ever seen before! Blake had developed compartment syndrome; a painful condition restricting the blood flow to his arm and damaging its muscles and nerves.
"Blake was transferred by ambulance to Evelina London Children's Hospital where he had emergency surgery to save his right arm. The surgeons had to make big incisions to open the skin surrounding the muscles to immediately relieve the pressure.
"The doctors said Blake had a bacterial infection, but they didn't know which one and we had to await test results. The next day I had to sign an emergency surgery consent form because he'd developed a big, red, lacy rash on his arm and the doctors feared necrotising fasciitis – the flesh-eating disease. It was later diagnosed as toxic shock syndrome; a very serious condition that results from uncontrolled sepsis.
"Blake was receiving treatment but the next day his temperature was still high. An MRI scan highlighted a pocket of fluid around his elbow. On further investigation, they found an abscess requiring surgery to drain. By this time, his arm had a number of large open wounds requiring a series of surgical wound wash procedures and each time, thankfully, the doctors were able to close up each wound a little bit more to avoid the need for skin grafts.
"THE WHOLE EXPERIENCE WAS VERY SCARY. I FOUND IT A LOT HARDER TO DEAL WITH THAN BLAKE'S HEART SURGERY THAT HE HAD AS A BABY."
"Blake was on very strong antibiotics and his kidneys malfunctioned under the strain. His left lung collapsed, and he required a chest drain after developing pneumonia.
"The whole experience was very scary. I found it a lot harder to deal with than Blake's heart surgery that he had as a baby. We knew that was coming; it was a planned operation regularly carried out. This was something entirely different and it challenged the surgeons. They were scratching their heads trying to get a handle on it. Blake's diagnosis and recovery were not straightforward; it was one step forwards and two steps back.
"It was very difficult for Blake. Towards the end of intensive care, he was ventilated, awake and aware of what was happening. It was heart-breaking seeing him unable to speak but trying to communicate. There were lots of things that meant we had to work harder to help Blake and he wanted us there all the time.
"Blake's bacterial infection was invasive Group A Streptococcus which probably entered his body through a graze on his other arm and caused toxic shock syndrome. The doctors think it was like the perfect storm; Blake was already a bit under the weather and when he fell over at his party, the bacteria set up home in the damaged soft tissue of his arm causing the abscess and the swelling.
"It's rare for Strep A to penetrate deeper inside the tissues and organs – usually the bacteria just causes sore throats! Had Blake been given antibiotics when he grazed his elbow, all of this could have been prevented, but at that point there was no sign of infection.
"EVERYONE AT THE HOUSE WAS SO WELCOMING AND SUPPORTIVE."
"We stayed as a family at Ronald McDonald House Evelina London for 21 days while Blake received treatment. When one of the nurses recommended the House, we thought we'd never heard of the Charity before. We searched for it online and recognised the logo and remembered seeing it on the donation boxes in McDonald's, but we'd never realised what the money was for. Everyone at the House was so welcoming and supportive. We were blown away by the quality of the facilities and amazed by how many companies donate food and come in and cook for families staying in the House.
"THE HOUSE IS A JUST A SHORT WALK AWAY FROM THE HOSPITAL BUT THOSE FEW MINUTES OF FRESH AIR MADE SUCH A DIFFERENCE."
"My five-week-old baby, Jed, was able to come to the House so I could see him. My mum and other close family members were looking after him while Blake was in the hospital. Because Jed hadn't had his vaccinations and we knew that Blake had a bacterial infection, we had to be cautious. Once Blake was well, Jed was able to visit and stay in the House and he really lifted Blake's spirits.
"Usually I would stay in the hospital with Blake and then after rounds in the afternoon, my husband or my mum would be with Blake while I went to the House to shower and have a nap. I needed that time away from the intensive care unit. The House is a just a short walk away from the hospital but those few minutes of fresh air made such a difference.
"FOR US THE HOUSE MEANT WE COULD SLEEP, SHOWER AND HAVE A PLACE TO STAY THAT WAS CLOSE TO BLAKE."
"For us the House meant we could sleep, shower and have a place to stay that was close to Blake. It helped take our minds off what was happening. I think people underestimate the level of worry about where you're going to sleep or eat and how much your child needs you when they're in hospital. When Blake had his heart surgery we stayed in the hospital for a few days and ended up paying for a hotel because we couldn't get any sleep and shower. Staying in the House was so much better. Everyone we know now fills up those donation boxes in McDonald's with all their spare change; they realise how invaluable the House was to us.
"Blake is now seven years old and has nine whopping scars on his arm and he has scar therapy. There was always the possibility his muscles and nerves would be damaged, and he had lots of physiotherapy, but he does have full use of his arm.
"Blake is very kind; he loves life and is just brilliant. Every year we celebrate his heart day – his 'heart birthday' – which is quite common for heart surgery kids. And Valentine's Day is now another celebratory day for our family because that's the day Blake came home after surviving his fight with sepsis."
Help us provide free home away from home accommodation to support families with children in hospital with a donation.