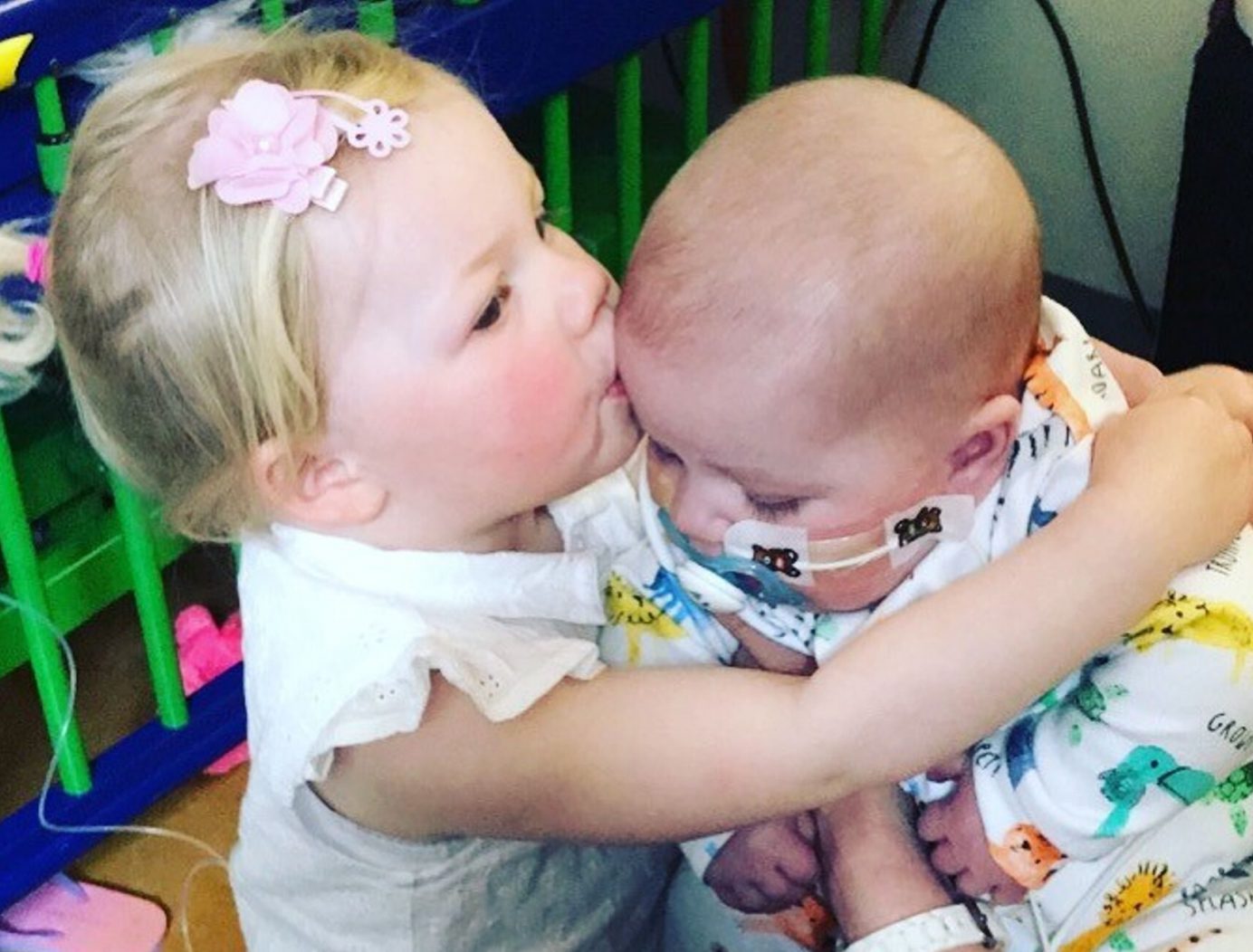 Belfast to Birmingham: Ollie's Story
"It was the best 'home away from home' we could have hoped for"
Two-year-old Aria adores her little brother, Ollie. Thanks to Ronald Mcdonald House Birmingham, she could be by his side when he was recovering from emergency surgery.
"Our daughter Aria had one of her best Christmases in Ronald McDonald House Birmingham. Even though her baby brother Ollie was really poorly, everyone there made sure it wasn't a sad day for her.
My husband Damian and I had been all prepared for Christmas back home in Ireland, but Ollie needed heart surgery when he was born. We were airlifted to Birmingham Children's Hospital when he was just two days old. There was no time to pack anything, let alone presents. When Aria woke up Christmas morning, there was a sack full of presents for her organised by the staff there.
Aria spent her second birthday in Ronald McDonald House too. The staff made sure it was an extra special day for her. There were eggs at Easter and pampering for mums on Mother's Day.
Of the first eight and half months of Ollie's life, he spent five and half in hospital. Ronald McDonald House was the best 'home away from home' we could have hoped for.
If the House wasn't available, we simply wouldn't have been able to bring Aria over with us. We couldn't have afforded to stay in a hotel. I just don't know what we would have done.
"THE GENEROSITY WAS AMAZING"
Our liaison nurse here in Belfast told us about Ronald McDonald House Birmingham as we knew we'd have to go to Birmingham Children's Hospital for Ollie's operation. We had looked it up online, but when we arrived we were completely shocked. They'd just had a massive donation from a supermarket – there was food and cakes and chocolate. The generosity was amazing, and so were all the staff.
We knew from Ollie's 20-week scan that he had a heart condition. The left side of his heart is so underdeveloped it doesn't work at all. We're waiting for a heart transplant, but he's stable now.
It made a massive difference to us financially to be able to stay in the house. There's no way we could have afforded to spend over five months living in another country without working, with a sick child. With all the facilities there, we could make sure we had proper meals and didn't have to eat out all the time. The rooms were fantastic. Having just given birth, I was so exhausted and especially grateful to be able to have a bath.
It was the little things that made it easier too – like being able to wash and dry Ollie's baby grows. We'd had to leave home in such as rush, there wasn't time to bring many clothes. It was great that we could wash stuff to tide us over, as we couldn't get to shops for a couple of days.
"ARIA COULD BE WITH HER BROTHER"
Thanks to Ronald McDonald House Charities UK and its free family accommodation, our parents could come over and support us. My mum was there a lot to help out with Aria when we had to attend to Ollie. Being so close to hospital meant that whenever the doctors needed to speak to us about something, we could be there in two minutes.
There's a great network of support with the other families. We were all staying at the House for the same reason – we all had sick children in hospital. We've made some great friends.
Most importantly, it meant we could stay together as a family. And Aria could be with her little brother. Every time she saw the Ronald McDonald House, she got excited as she knew she was only a few minutes away from Ollie. Her face just lights up whenever she sees him.
Help us provide free home away from home accommodation to support families with children in hospital with a donation.