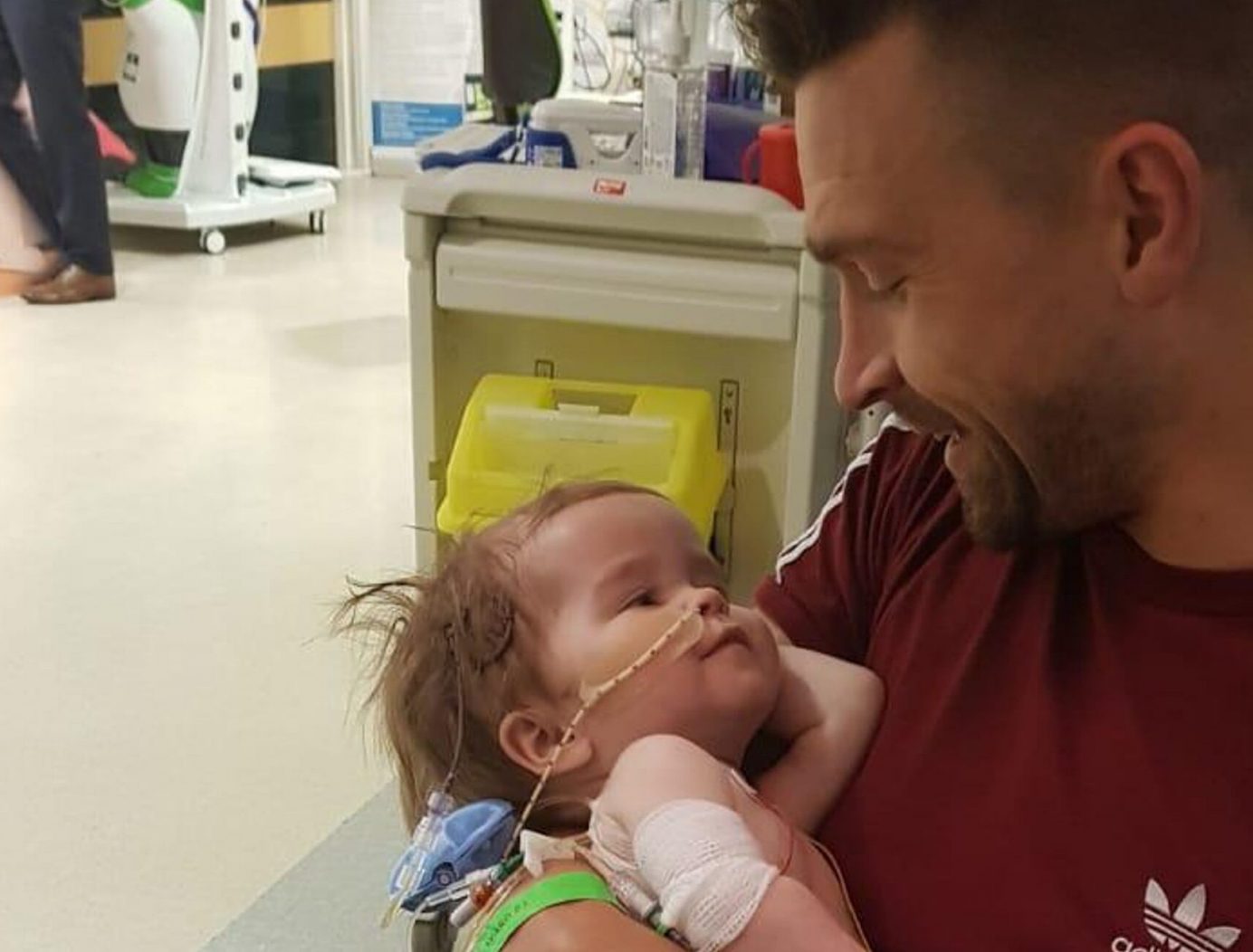 30% Chance of Survival: Molly's Story
When our third child Molly was born, she had been born with a congenital diaphragmatic hernia. She needed to be taken immediately to the neonatal intensive care unit. As well as that, she has a condition called Hydrocepolus (fluid on the brain), which meant she needed numerous operations.
She was given a 30% chance of survival at birth, so we were terrified of losing her. We also worried about the impact the situation would have on our other children Isla and Arlo. We wanted to be there for all of our children whilst Molly was so ill.
"THERE WAS SO MUCH SPACE, A BIG PLAYROOM FOR THE CHILDREN AND A LOVELY GARDEN – IT WAS ALL VERY IMPRESSIVE!"
The day after Molly was born at Royal Manchester Children's Hospital, we were offered a room at the Ronald McDonald House. We had been told about Ronald McDonald House Charities UK at our last hospital appointment before Molly was born, and they had taken our details as they knew we'd need somewhere to stay as soon as she was born.
When we first stepped into the House, we were so surprised. We hadn't thought about what to expect, but there was so much space, a big playroom for the children and a lovely garden – it was all very impressive!
Over the last year, we've stayed at the House for various amounts of time – the longest being 71 days. Each time we leave, we make the old joke of "hope we never see you again!" but knowing that the House is there for us the next time we have to go to hospital is very comforting.
Last Christmas was a great memory for our family. Of course, we would have loved to be at home during the festive season, but the House got all the families into the Christmas spirit with dedicated parties and activities. In fact, every time we've been there there's always something for the kids to get involved with like arts and crafts, movie nights and the fun parties. They love spending time at the Manchester House so much, sometimes we have a job getting them home again!
Staying together as a family is really important to us, and having a room available at the Manchester House during each of our hospital stays has saved us an absolute fortune. If it wasn't for the House, we would have had to rely on staying in local hotels and that would have been financially impossible.
And it isn't just having a room to stay in that makes the difference, it's the staff and the families that you meet. They're always very approachable and friendly – so great with our other children! There are families who have a similar situation to us, or there are families with a completely different story. We all have one thing in common though – our babies are in hospital.
As Molly has gotten older, knowing that we're so close to her bedside – I believe – has made an impact on her recoveries after surgery. When she was first born, there was so little we could do for her, but now she recognises when we're around.
On Father's Day, I was able to be just minutes away from my little girl, and also be with my other children and my wife Kimberley. It meant everything to me. If it wasn't for the Manchester House, I would have been apart from my family and had no quality time.
I'm now busy thinking of great ideas of how I can raise money for Ronald McDonald House Charities UK so they can continue to support families just like ours. It really is an incredible charity, and if anyone is thinking about raising money for them – do it!
Help us provide free home away from home accommodation to support families with children in hospital with a donation.