After discovering during her pregnancy that her baby would be born with a hold in the middle of her heart, Helen was filled with fear and anxiety. After Rosie was born, the family were able to stay close and be right beside her throughout her journey in hospital. Here mum Helen tells us how she coped when her baby received a life-changing diagnosis.
Guest Blogger: Helen
We went into our 20-week scan for our second child with the usual nerves and excitement. However, the consultant took a very long time scanning our baby, and then shared the devastating news that our baby had a problem with their heart. By the end of that week, we had a fetal heart scan at the Evelina London Hospital, and the confirmation that our baby had a complete AVSD (atrioventricular septal defect).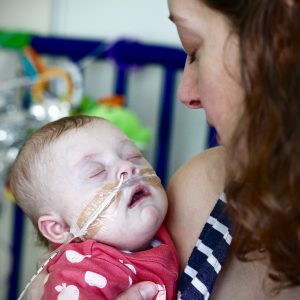 A complete AVSD is where there is a hole across the middle of the heart, and instead of two lovely healthy valves, one flat valve that leaks. In terms of heart conditions that require surgery, it's bad, but not the worse. We were reassured that Rosie should be well at birth, although being told she'd go into heart failure at four to six weeks is pretty terrifying.
A complete AVSD typically goes hand in hand with a Down's Syndrome diagnosis, which was the case with Rosie.
Such a diagnosis is life-changing. We were grateful that with surgery, her heart could be repaired, but suddenly I was filled with fear and anxiety. As a parent, it's a safe assumption that although your child will face the usual illnesses, all will be generally well and able to make their own way in the world.
Suddenly that was all in question. I didn't know if our baby would make it through pregnancy, let alone the first year of her life and beyond.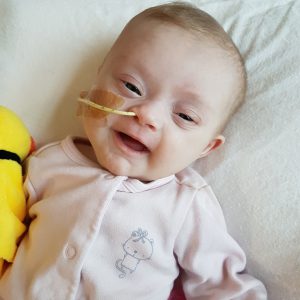 When Rosie was born she came out fighting! She was a really healthy, chunky baby. Initially, she was relatively heart-healthy, but she had two bouts of bronchiolitis within her first month and then went into heart failure. Whilst we were expecting this, it was still terrifying!
We're now 18 months on from her heart surgery and we feel incredibly blessed. Rosie's heart surgery went remarkably well, her heart Consultant described it as being the best possible outcome we could have hoped for.
During this time the Ronald McDonald Houses were invaluable. The House at Brighton was my second home, I spent more time there from January to March, than I did my own home. It was wonderful to have a space to escape to, somewhere to cook a proper meal and to spend time with my eldest daughter away from hospital. In London, we stayed together as a family in the Evelina London House. Having a home environment, close to RoRo, while we're going through this incredibly challenging environment, was incredible.
Thankfully she was already an inpatient at the Royal Alexandra Children's Hospital, where we stayed for over five weeks. We kept hoping to go home with her, but just as she was stabilised on one medication, she'd deteriorate and require further intervention.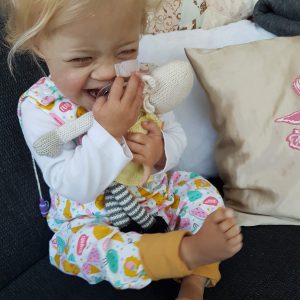 At 11 weeks we went up to the Evelina London Children's Hospital for her surgery, where she deteriorated rapidly, and we thought we might lose her.
At 12 weeks old, on my birthday, she had her heart surgery. Rosie might be tiny, but she's incredibly strong. She bounced back from the surgery, even though she picked up a cold in PICU and then the flu within ten days!
Ronald McDonald Houses will always have a place in our families' hearts. Although we were going through such a difficult time, we were able to celebrate my eldest birthday there (filling the House with balloons and cake!), see friends and families outside the hospital environment, and gain some normality. We remain blown away by the generosity of others that allow families like ours to have homes away from home.